The 10 Best Egg Chairs of 2023 - Extraordinary and Convenient Shapes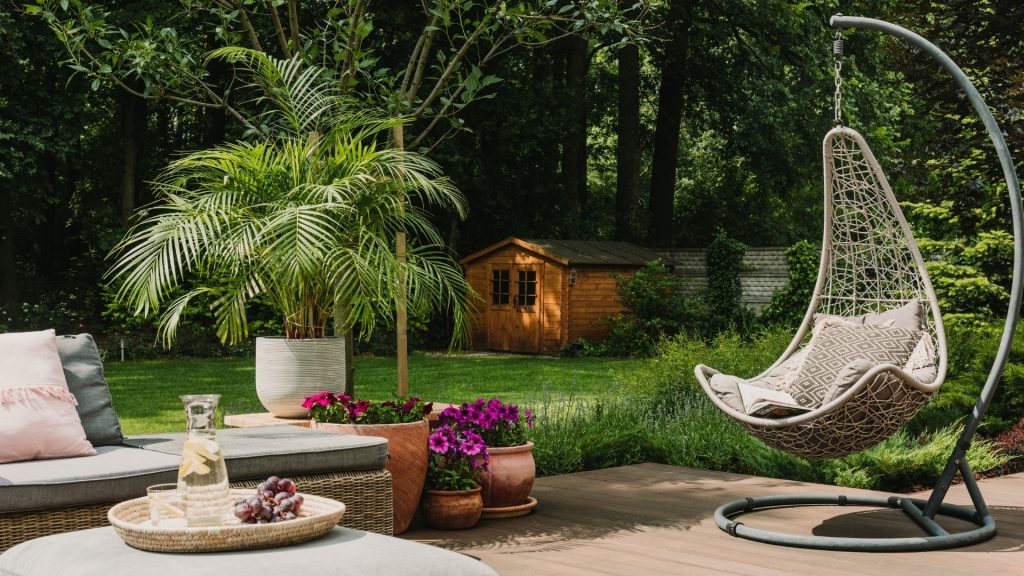 LAST UPDATED: MARCH 21, 2021
The contemporary manufacturers are ready to offer us new, sophisticated cushioned solutions to make modern interiors even more stylish, cozy and original. Egg chair models are the brightest representatives of modern upholstered furniture. These are unusual chairs, not like the furniture we are used to. However, they have some similarities with classic hanging papasan chairs (rounded shapes, voluminous soft cushion, imitation of a cozy nest).
Our Best Choice Egg Chair
The best egg chair for your apartment or house
Material: Metal frame, polyester cushion Detachable: Yes Color: Multibrown frame, beige cushion Weight: 34.83 pounds Dimensions: 33 x 37.75 x 60.25 inches
Take a look at this amazingly stylish, luxurious egg shaped chair from the Christopher Night Home. The robust drop-shaped metal frame on 4 legs acts as secure support. The outer frame surface is resin wicker, luxurious looking, and durable. Each leg is equipped with a rubberized sole to prevent accidental sliding of the chair. A comfortable white cushion imitating an armchair complements the wickered frame harmoniously.
A team of our competent experts has carefully researched the modern furniture market to propose you the best egg chairs. Next, you can take a closer look at each of our recommended chairs to decide whether they will become your home's inhabitants. Get ready for the choice throes – every egg chair with stand appears to be a combination of an excellent sense of style, high-quality materials, thoughtful design. Likewisу the best saucer chairs these furniture items are incredibly fashionable and comfy!
Best Choice of 2023 Top Egg Chairs
Let us offer you the best egg chairs
Barton Premium X-Large Patio Hanging Swing Egg Chair
Material: Metal frame, resin rattan wicker, polyester cushion
Detachable: Yes
Color: Black frame, blue cushion
Weight: 59 pounds
Dimensions: 50 x 41.5 x 78.5 inches
Are you looking for the best chair to create a unique interior for your balcony, terrace, backyard, or pool seating area? Consider that you are on the right track! A submitted hanging egg chair will overturn your old ideas of coziness and comfort. You haven't definitely seen anything more stylish, ergonomic, and intimate before. The renowned Barton brand represents this chair. The manufacturer guarantees the high quality of the materials from which this product is made. It contains a reliable metal frame, which serves as a base with 4 legs and a curved tube from which the egg chair is suspended. This hanging egg chair with stand can easily support serious loads, even up to 265 pounds.
The teardrop-shaped seat design gently follows the curves of your body for an extraordinary sense of coziness and comfort. The volumetric, soft cushion made of polyester material is responsible for absolute convenience. The resin wicker material covers the metal frame (synthetic rattan imitation). Both frame and the cushion are unpretentious in care, can be used outdoors for a long time, are not afraid of rain and dust. This chair will allow you to retire and work a little on a laptop, read a book that has been gathering dust on the shelf for a long time, have a little rest, and sit alone with yourself.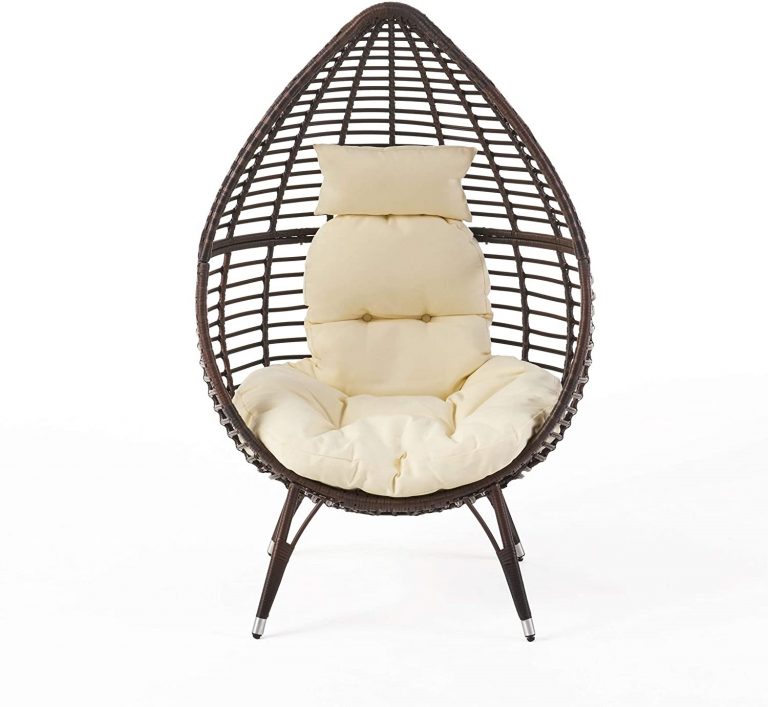 Christopher Knight Home Cutter Teardrop Wicker Chair
Material: Metal frame, polyester cushion
Detachable: Yes
Color: Multibrown frame, beige cushion
Weight: 34.83 pounds
Dimensions: 33 x 37.75 x 60.25 inches
The appearance of this chair is notably original. The frame is shaped like water or teardrop. This is why it is called the Teardrop chair. The frame is made of sturdy metal wrapped in resin wicker. This frame design creates a rich and luxurious look. The reviewed outdoor egg chair from the Christopher Knight has an incredibly soft, voluminous, and therefore comfortable pillow. Its shape is different from the classic pillows that complement standard papasan chairs. This pillow is made in the form of a seat with soft armrests, a backrest, and a headboard. The observing egg chair cushion guarantees impeccable comfort and coziness.
The chair is capable of withstanding loads of up to 250 lbs. It is ideal for one adult. 4 legs act as a support (each features a rubber base, preventing the chair from accidental slipping during exploitation). The polyester cushion is made of beige fabric, though it is easy to take care of. Any dirt remains on the surface of the material, and therefore you can remove it by lightly wiping the pillow with a damp cloth. The cushion is attached to the frame with straps and secure fixators. If necessary, you can always remove it (for washing or replacing with a new one). The offered chair is a perfect solution for pool or backyard zone organizing.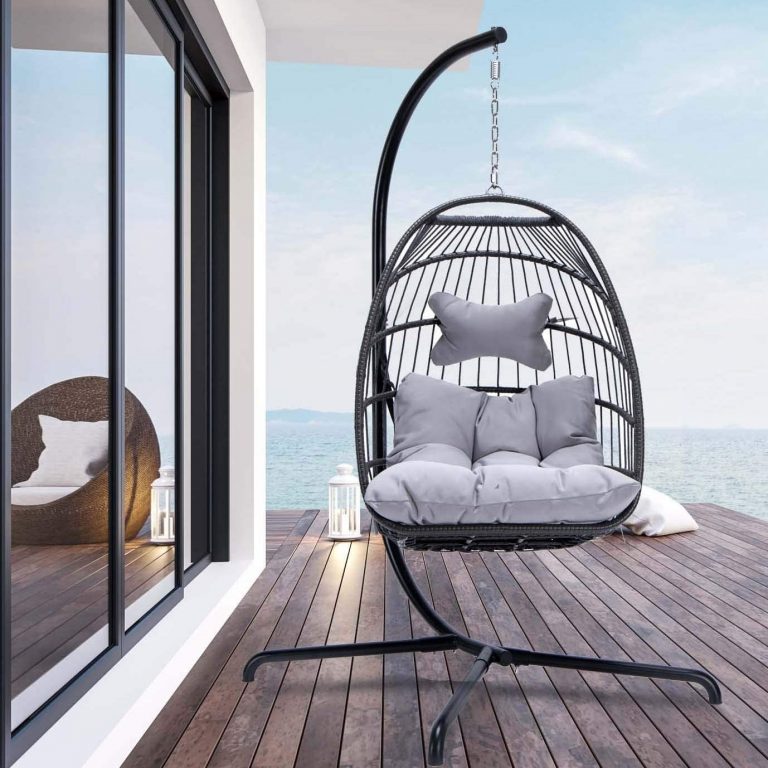 Indoor Outdoor Patio Wicker Swing Hammock Egg Chair
Material: Aluminum frame, polyester cushion
Detachable: Yes
Color: Black frame, grey cushion
Weight: 59.5 pounds
Dimensions: 43.3 x 43.3 x 77.1 inches
Refined, stylish, and unique – this is how you can characterize the armchair from the NICESOUL brand. The sturdy aluminum frame has an unusual shape – a curved bow that reliably supports the seat with a cushion, fixed on three legs. The strong chain holds the egg-type frame, providing you with extraordinary comfort and the ability to sway slightly, like on a swing. The outer surface of the frame is covered with rattan imitation – synthetic resin material. Despite the artificial origin, such a wicker cover looks rather attractive and, besides, is water-resistant. This egg chair swing mechanism will be highly appreciated by comfort and relax lovers.
The device is perfect for outdoor exploitation – it is not afraid of sun, dust, or humidity changes. Enjoy the chair's convenience with 2 cushions – the large one is designed for full-body comfort, and the small one serves as a headrest. The presented egg swing chair will become your secluded corner where you can take a break from the hustle and bustle of the modern world, immersed in meditation or reading useful literature. This chair, despite its seeming sophistication and grace, is very reliable. It can support weight up to 350 pounds.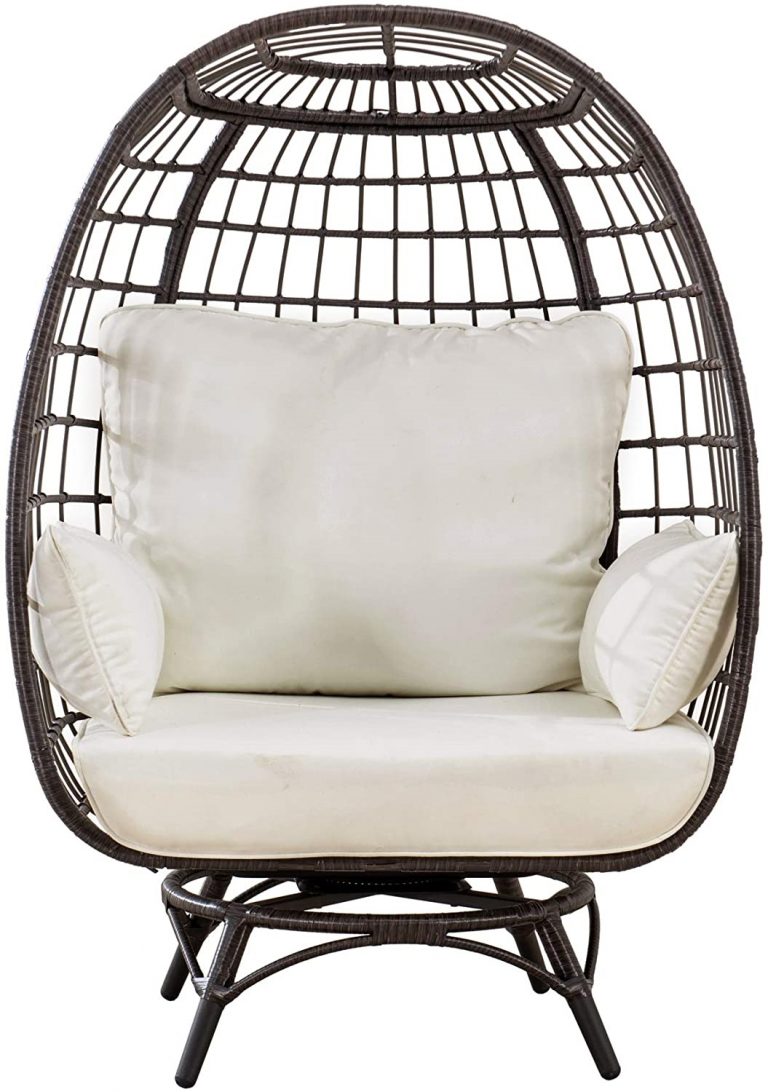 Sunjoy Laura Swivel Egg Cuddle Chair
Material: Steel wicker frame, polyester cushion
Detachable: Yes
Color: Brown frame, white cushion
Weight: 35.27 pounds
Dimensions: 40.16 x 34.06 x 58.07 inches
This fashionable outdoor chair from the Sunjoy brand offers unconditional convenience. The oval metal frame creates a semblance of a cozy nest in which one person can sit. There is a metal frame base; the outer coating is all-weather resistant and durable resin wicker. The observed patio egg chair stands on 4 sturdy legs, ensuring you a safe rest. The cushion is a combination of 4 elements – two large pillows serve as a base and support for the back, two smaller pads act as armrests. This wicker egg chair features a swivel base, so it may rotate as the user prefer.
This is truly a godsend for outdoor use in your backyard or terrace. This extremely stylish white egg chair combines practicality, convenience, and modern design idea. The frame is strong enough and may support a person with a weight of up to 250 pounds. Several cushions' presence turns your rest into a heavenly relaxation, full of warmth and comfort. Each furniture element is made of durable, qualitative materials, so you can safely use this item outdoors. The egg chair is guaranteed to retain its unrivaled luxury look for a long time.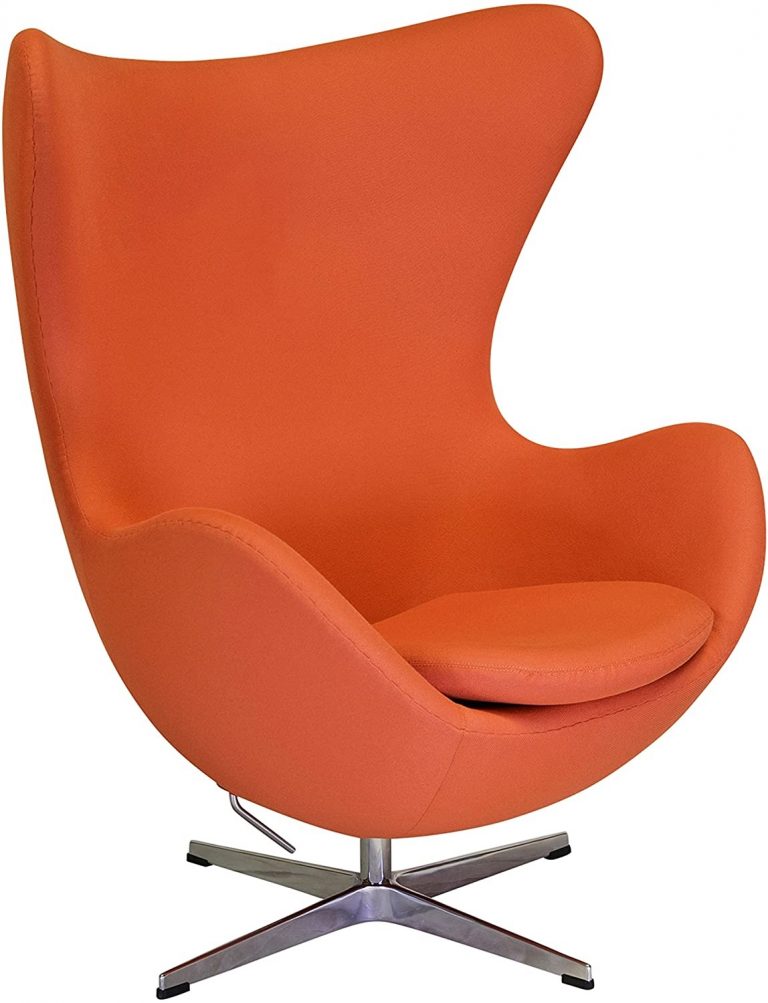 Arne Jacobsen Inspired Egg Swivel Chair
Material: Aluminum frame, polyblend, fiberglass seat
Detchable: No
Color: Orange
Weight: 35 pounds
Dimensions: 28.25 x 32 x 40.5 inches
The presented piece of furniture is a perfect Arne Jacobsen Chair replica. The product perfectly replicates the shape of the original, its stylish outlines, and unsurpassed convenience. This chair repeats the best Arne Jacobsen egg chair traits. It is made of qualitative materials combination (aluminum base and fiberglass cushion). Similarly, as the mentioned egg chair Arne Jacobsen it has an original design. The shape of the frame resembles an egg. This is the perfect solution for a comfortable stay. A small but soft enough cushion serves as an additional harmonious accessory. The Design Tree Home brand has done its best to offer you exquisite, stylish, and ergonomic upholstered furniture for your home study room, living room, office. The original Are Jacobsen chairs were previously used strictly to complement the expensive hotel interiors (conference rooms, receptions).
The presented orange chair has a swivel-type base, so it is rotating, creating maximum comfort. You can always adjust the desired chair's height (use the small lever under the seat). The bright orange color of the cover creates a stylish, eccentric interior. This chair will easily become the highlight of your home, its stylish addition, and an unusually cozy piece of furniture.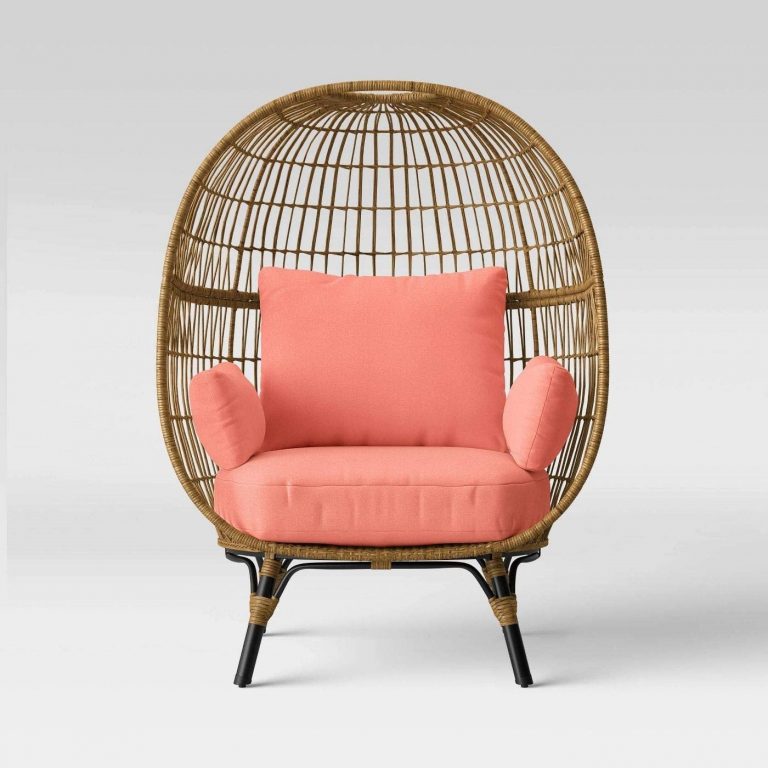 Coral Southport Patio Egg Chair
Material: Steel, all-weather wicker, textile cushion
Detachable: Yes
Color: Brown frame, coral cushion
Weight: 60 pounds
Dimensions: 43 x 45 x 59.37 inches
Look at this ergonomic, modern, and surely convenient Southport patio egg chair from the Opalhouse brand. It has a strong metal frame, ready to withstand loads up to 250 pounds. The metal frame looks quite luxurious and attractive, thanks to the synthetic wicker covering. This is an all-weather material capable of withstanding fluctuations in temperature and humidity.
The offered Opalhouse egg chair model has 4 stable legs. The whole structure is held firmly and securely on them. The comfortable and soft seat cushion (4 pieces) is a luxurious addition to the metal frame. The cushion is made of qualitative coral textile (dense, durable material). A smart, stylish cushion provides excellent support for the whole body (there are a basis, armrests, and a headboard). The egg-shaped design makes this chair truly unusual and sophisticated. This armchair will look great on the terrace of your country house – it is so convenient to have a cup of aromatic tea in it, watch the sun go down below the horizon, or enjoy reading a novel.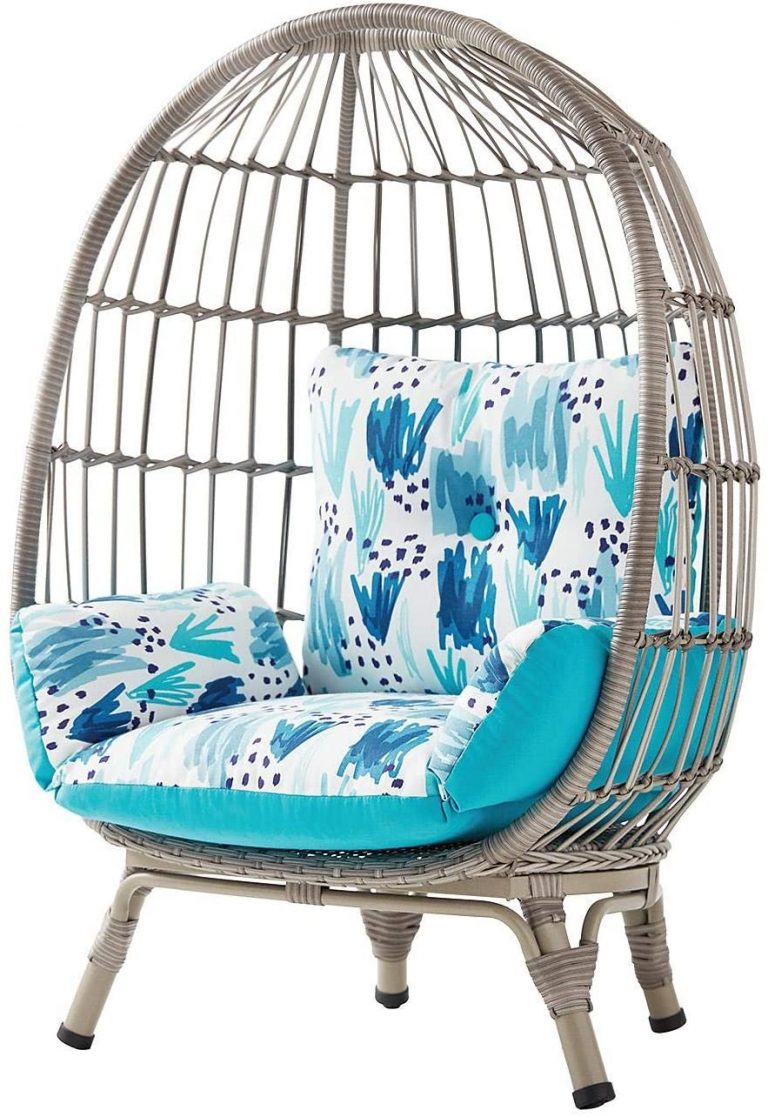 Handwoven Wicker on Steel Frame Kids Egg Chair
Material: Metal frame, handwoven wicker, olefin cushion
Detachable: Yes
Color: Gray frame, blue cushion
Weight: 30 lbs.
Dimensions: 28 x 21 x 40 inches
The Sunvilla brand suggests estimating this wonderful kids egg chair. Why is this piece of furniture so attractive? The sturdy metal frame, which looks like an egg, is covered with stylish gray weaving (handmade). To make your child comfortable to sit on this chair, the manufacturer has equipped it with a soft ergonomic pillow with armrests and a headboard. It is noteworthy that these kids egg chairs feature reversible cushions. There is a funny multi-colored fabric on the onу side and a monochromatic – on the other. Choose the right side, according to the mood of the owner of the requirements of the interior.
The manufacturer offers two color schemes – blue for boys and pink for girls. You have found the perfect chair for your child's room. It is incredibly stylish, comfortable, with handmade wicker covering and a cozy pillow. The chair can be placed and used in the playroom and on the terrace or balcony. The maximum weight for which this product is designed – 120 lbs. The cushion material is tight and easy to clean. Egg-shaped design makes this outstanding furniture solution one of the most attractive and cozy as well.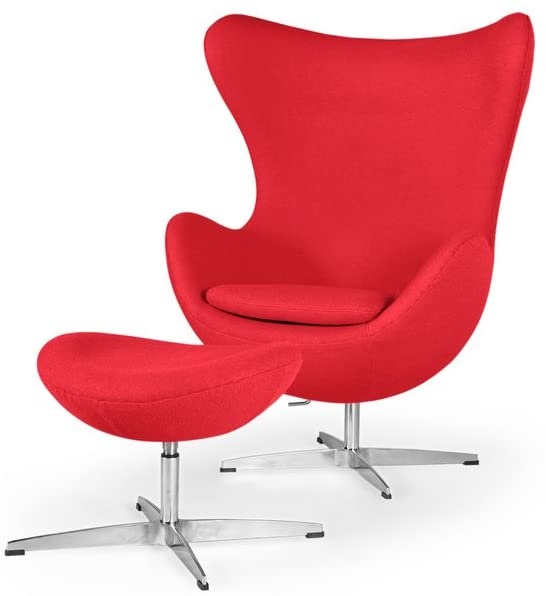 Kardiel Egg Chair & Ottoman
Material: Aluminum frame, cashmere blend
Detachable: No
Color: Red 
Weight: 110 pounds
Dimensions: 31.5 x 34.6 x 41.7 inches
This exclusive furniture solution from the Kardiel brand will win your heart! It will attract true connoisseurs of beautiful and, at the same time, comfortable interior items. This exquisitely curved armchair comes complete with a small yet comfortable ottoman (footrest). This compact but lovely and stylish detail makes the chair one of the best and most genuinely comfortable. The offered egg shell chair has an aluminum base with a satin coating and red cashmere woolen seat. This is a premium quality material, pleasant to touch.
The bright color of this upholstered item instantly attracts attention, makes it a highlight of any interior. Is this egg chair ottoman added really comfortable? Definitely. It is so comfortable to sit in after an eventful day. Sit back in a chair and place your feet on a stand. The elevated legs position is comfortable and good for health (allows you to relieve puffiness, relax muscles, give quality rest to your legs). The chair can rotate, which undoubtedly makes it as functional and practical as possible.
Flower House FHPC100-DCBLK Pumpkin Loveseat
Material: Metal frame, weaving, textile cushion
Detachable: Yes
Color: Black frame, sand cover, black cushion
Weight: 78 pounds
Dimensions: 50 x 43 x 66 inches
This is an ideal double swing chair with an egg-shaped design. It has a catching eye sand-colored cover made of dense textile. The metal frame is colored in black. The chair is distinguished by practical, non-marking colors, thoughtful design, spacious seat (suitable for two people). The sturdy metal frame is responsible for up to 400 lbs. supporting. It can easily accommodate 2 adults or 2-3 children. The mentioned FlowerHouse hanging egg chair is entirely safe and stable. Stylish woven mesh serves as a frame around the seat.
It wraps around the chair and makes you feel protected, like a chick in a nest. The curved frame is firmly fixed and stands on 4 legs. The seat is attached to the frame with strong straps. After receiving the chair, it will take only a couple of minutes to assemble it (fix the seat to the frame). This FlowerHouse egg chair will be a harmonious addition to your balcony or terrace. It is so comfortable to sit down with your loved one, discuss recent events, a movie, or a book. Both adults and children will highly appreciate this furniture.
Aviator Aluminum Modern Classic Arne Jacobsen Replica Lounge Chair
Material: Metal frame, foam seat, leather cover cushion, aluminum sheets (back)
Detachable: No
Color:Grey frame, caramel brown cushion cover
Weight: 73 pounds
Dimensions: 31.5 x 34.6 x 42.9 inches
Welcome the one more flawless Arne Jacobsen chair replica. This is a brainchild of the ARTISANBRAND. This expensive product fully justifies itself. It evokes admiration and delight! Pay attention to its luxurious colors – it combines Caramel brown and grey aluminum shades. Original combination, isn't it? The base of the chair is made of polished aluminum. The cushion has a leather cover. The inner part of the pillow is made of fiberglass material. This vintage armchair is exceptionally stylish and original. It will be a great addition to your workplace.
The specific coating on the frame of the product creates an exciting vintage mood. The reviewed leather egg chair may withstand weight up to 300 lbs. The back of the chair is made of aluminum sheets fixed with screws. This is another nuance that creates the vintage style of the product. The presented brown leather egg chair not only stylish but also extremely comfortable. The egg-shaped construction provides an opportunity for perfect relaxation during or after a busy day.
Guide to Buying the Best Egg Chairs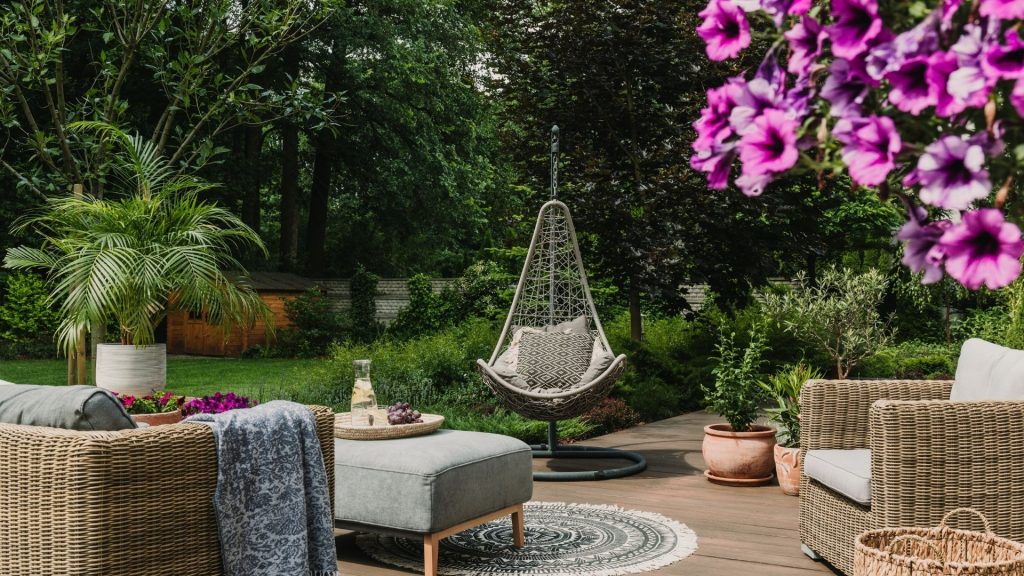 How is the price for the egg swing chair with stand forming? The egg chair price depends on the concrete brand popularity and the materials used, the indoor egg chair designation (for example, children's egg chair is slightly cheaper than those intended for adults). As you know, the original Arne Jacobsen chairs are too expensive, though their replicas cost significantly less.
How much do Egg chairs cost?
Price tags for the wicker egg chairs may vary. It can be as much as a couple of hundred dollars or even several thousand dollars. Before buying the egg chair, it is worth determining your acceptable budget, identifying the intended users and their weight (this is an important parameter always indicated by the manufacturer), and deciding which room it will be placed in. Some species of the egg shaped swing chairs can be used both inside and outside the house. Of course, the egg chair outdoor or indoor model's cost is not a decisive factor when buying it. Pay attention to the design, frame, and cushion color of the swing egg chair. Sometimes you can find an extraordinary attractive armchair that suits your interior and fits your needs at a very budget price. Conversely, not every expensive indoor hanging egg chair will be truly comfortable and suitable for your family. Consider all possible options and choose the best egg chair. Fortunately, the modern market offers an incredibly rich assortment of standing and hanging egg chairs. You may even purchase an egg hammock chair, a convenient and pretty solution for the country house.
What is the best egg chair?
The purpose of our review is to help you find the best rattan hanging egg chair (or placed on the stand) in terms of the ratio of such parameters as appearance, quality, reliability, and, of course, price. Only if all these criteria meet your needs, we may rightly call such a rattan egg chair the best. As a result of our research, we concluded that the reviewed earlier Christopher Knight Home Cutter Teardrop Wicker Chair is the most worthy position. If you are interested in the decent quality of the egg chair cheapest variants should be excluded. Sometimes, you can find good options among cheap furniture solutions. Nevertheless, do not forget about the criteria of the final price of the egg pod chair forming – usually, we are talking about the usage of the low-quality materials. Therefore, it is difficult to talk about the long service life of such products. We believe that the Christopher Knight Home egg swing chair indoor may be positioned as the best due to its advantages: sturdy frame, voluminous and soft pillow, stylish contrasting colors (dark frame and light pillow).
How much weight can an egg chair take?
Considering this or that egg-shaped swinging chair for purchase, be sure to check its carrying capacity. This parameter tells us the maximum weight of one or several persons who can rest on such a chair without the risk of injury and its breakage. Usually, the average swinging egg chair designed for one person, can withstand up to 200-250 pounds. However, you can find sturdier designs that may cope with 350 lbs. weight. But this is rather an exception to the rule. If we are talking about double egg chair swings or solutions on the stand, they can usually support up to 400 lbs. We have already mentioned one of these swivel egg chair models in our review (Flower House Pumpkin Loveseat). Please do not underestimate the carrying capacity parameter when choosing and purchasing an egg hanging chair because it directly affects the quality and durability of the product.

If you are ready to buy an egg chair cheap price tag should embarrass you. Be sure of high-quality materials and the whole construction reliability. Too cheap chairs sometimes cannot support even the weight indicated by the manufacturer as acceptable.
What are the egg shaped chairs called?
The name of such furniture is directly related to the images that arise in people's heads when they see them. Someone once imagines an egg; others, on the contrary, believe that such a specific shape of the egg chair hanging models is like a drop of water or a tear. That is why such chairs are called egg or teardrops. Their shape is very similar to the form of an egg or any liquid. Each modern outdoor egg swing chair combines the smoothness of lines, robust construction, and the provision of a physiologically correct position of a seated person. And all these thanks to the original egg shape.
thepapasan.com is a participant in the Amazon Services LLC Associates Program, an affiliate advertising program designed to provide a means for sites to earn fees by advertising and linking to Amazon.com.