The 10 Best Floor Chairs of 2023 - Stylish, Convenient and Safe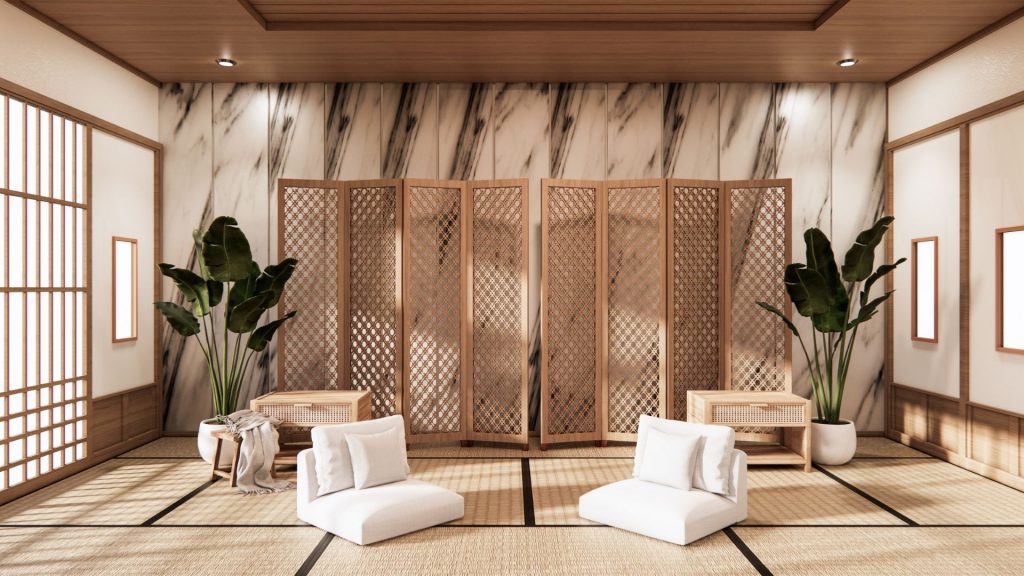 LAST UPDATED: March 05, 2021
Floor furniture is once again becoming a fashionable interior trend. Soft, comfortable, set directly on the floor chair solutions will make a lasting impression on both children and adults. No doubt, there is a suitable place for such a stylish and insanely comfortable chair in every home. It is enough to choose the desired type of product and its optimal color. Such chairs may offer you the best papasan cushions – so cozy and attractive looking! Today such furniture suggests individuality, extraordinary comfort, and fresh interior trends. Choose your style – country, hi-tech, classic, pop art, or any of the many available.
Our Best Choice Floor Chair
The best floor chair in our experts' view
Material: Flannel Memory Foam Collapsible: Yes Color: Grey Weight: 13 pounds Dimensions: 40 x 21 x 4 inches
Indulge in a cozy floor space by  owning this stylish, legless armchair. Soft, cuddly material, construction safety and stylish appearance – all these nuances create a delightful experience! Qualitative and durable memory foam material provides a comfortable rest for the whole body
We've analyzed the current market for upholstered furniture solutions and the best moon chairs to bring you something really worthwhile – attractive, trendy looking, and truly comfortable chairs. Check out the top 10 best floor chair models right now.
Best Choice of 2023 Top Floor Chairs
Look through the best floor chairs for your cozy home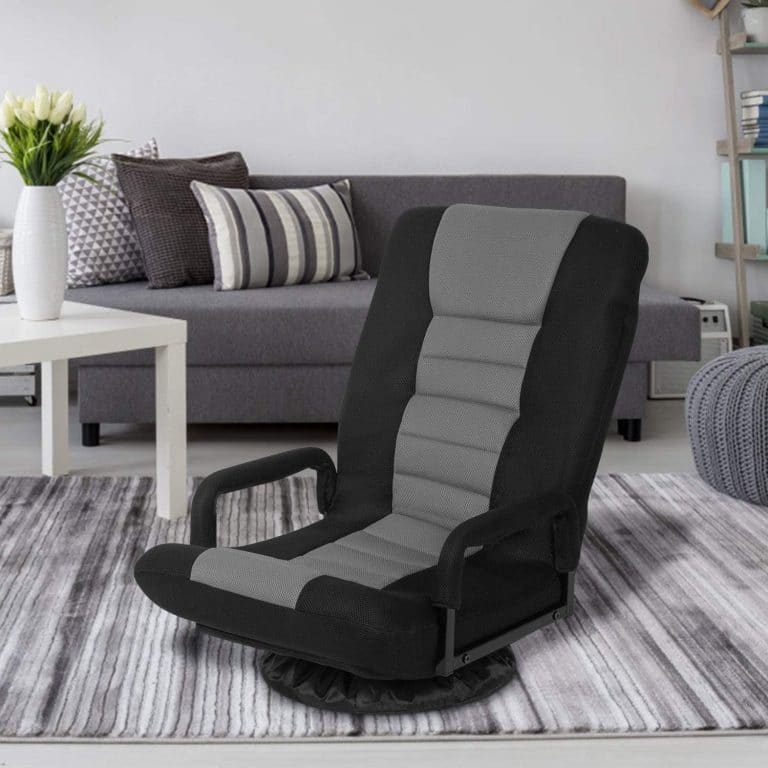 Swivel Gaming Floor Chair with Arms Back Support
Material: Polyester Fiber, Steel
Collapsible: Yes
Color: Grey
Weight: 18.92 pounds
Dimensions: 22.83 x 22.64 x 13.19 inches
This comfortable armchair is ideal for a playroom, home cinema, or the modern teen's room. The offered floor gaming chair from the ORISTUS brand in addition to the stylish design and the abundance of available colors features a swivel type construction. This unique trait allows the person sitting in it to feel as comfortable as possible, rotating from one side to the other if desired. The rotation mechanism will let you turn the chair in the direction you want without getting out of it. This gaming floor chair has a strong steel frame and convenient soft cushion (polyester fiber).
Though the offered model has a black and grey color combination, one may choose 4 other no less attractive color solutions. Also, the proposed swivel floor chair has 5 adjustable positions. Adjust it according to your wishes (the back of the chair can be tilted 50-90 degrees). In any of its positions, the back of a seated person is provided with reliable, comfortable support. The chair is ergonomic, allows you to relax and comfortably sit down for an exciting game of console or watching an exciting movie.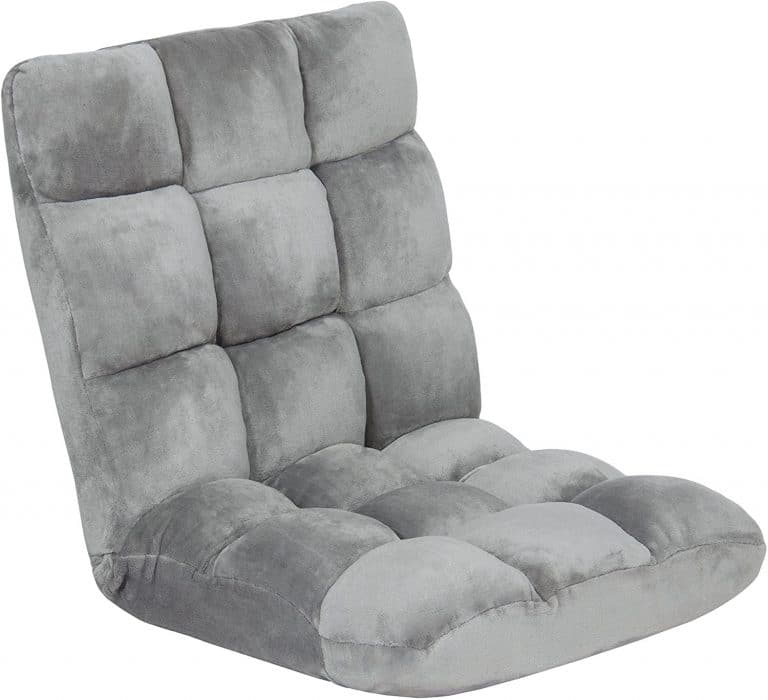 Best Choice Products Memory Foam Floor Chair
Material: Flannel Memory Foam
Collapsible: Yes
Color: Grey
Weight: 13 pounds
Dimensions: 40 x 21 x 4 inches
Take a look at this fantastic floor chair! This is not just a folding pillow, as it might seem at first glance. This is a lovely floor chair from the Best Choice Products brand, offering you up to 14 positions (safe and easy-to-adjust construction). Such foldable floor chairs are made of special memory foam material, so it gently and carefully envelops your body, remembers its curves. Memory foam allows the chair to conform to your body's shape, resulting in impeccable comfort. Equip your teenager's room, living room, or even home cinema with these attractive and stylish-looking floor lounge chairs.
One chair is ready to withstand weight up to 250 pounds. Therefore, this soft floor solution is perfect for both teenagers and adults. The backrest of the chair allows adjusting it according to your needs. Apply up to 14 positions, from sitting to almost lying down. This option is very convenient and makes the chair an indispensable piece of furniture for a luxurious, cozy rest. The chair can be folded flat and stowed away in a closet or attic for convenient and compact storage.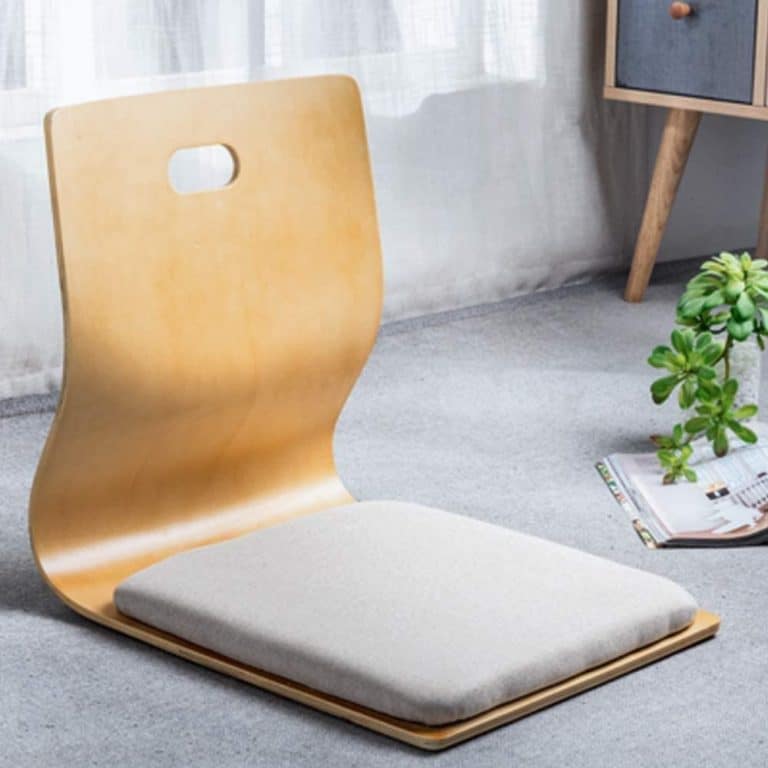 Japanese Floor Seating Chair with Back Support
Material: Wood frame and textile cushion
Collapsible: No
Color: Beige
Weight: 4.94 pounds
Dimensions: 21.4 x 13.9 x 0.2 inches
The presented Japanese floor chair solution attracts with a modern view, natural materials, versatility. You may place it in any room of your home – hall, bedroom, playing zone or home cinema, terrace, or balcony. Every member of your family will enjoy this comfortable floor chair. The offered Japanese floor chair from the HYMIC brand is made of natural wood (frame). Soft textile cushion adds its structure and provides comfortable sitting.
If you are searching for an eco-friendly floor chair Japanese solution will surely attract your attention. It is lightweight though safe enough for adults' and children' exploitation. A slight curvature of the backrest ensures the correct physiological position of the back of a seated person. It is ready to hold weight up to 200 lbs. The construction is robust, durable, and safe. This is a piece of multifunctional furniture – use it for reading books, breastfeeding your baby, working, or just resting.
Also the presented model may be made of Micromink fabric. The synthetic material is durable, strong, easily cleared of the pollution. Three colors of Micromink fabric are available – Black, Gray, Navy.
One more papasan chair metal frame of such a type is the item with Faux Fur material. This seat has an incredibly soft surface. It is very pleasant to relax on.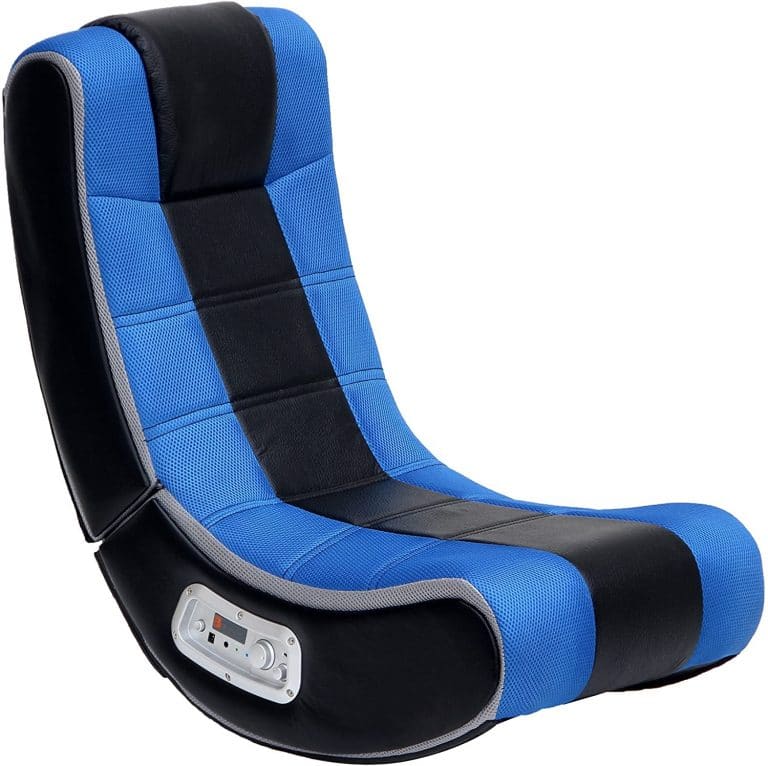 Ace Casual 5130001 Gaming Chair
Material: Foam, textile, artificial leather
Collapsible: Yes
Color: Blue
Weight: 27 pounds
Dimensions: 33.46 x 16.14 x 25.59 inches
Look at this wonderful gaming chair! It was constructed specially for demanding video games and watching movie fans. Perhaps the first thing you'll notice for sure is the built-in audio system. It provides a better and more impressive sound effect (for example, during a video game). Also, this floor solution features built-in speakers (in the headrest). This chair supports almost all modern video games. Just connect your gaming device to it and start an exciting journey into the world of video entertainment.
The presented gaming chair floor solution from the Ace Casual brand has a memory foam cushion. This is a smart material that adapts perfectly to the shape of your body, providing irreproachable comfort and coziness. Apply this floor pillow chair while playing your favorite video games! The product is perfect for both teenagers and adults. It is capable of withstanding a weight of up to 242 pounds. The construction is foldable, ergonomic, absolutely safe for your back (provides reliable back support from head to lumbar).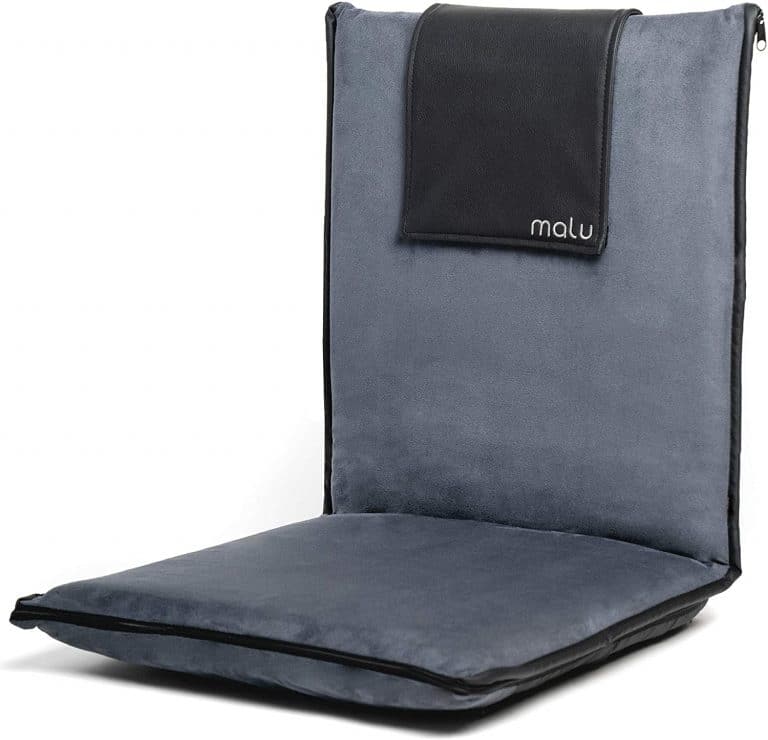 Malu Luxury Padded Floor Chair with Back Support
Material: Microfiber and steel frame
Collapsible: Yes
Color: Grey
Weight: 5.49 pounds
Dimensions: 18.5 x 6.1 x 21.46 inches
Check out this stylish, comfortable, yet compact armchair from the Malu brand. Enjoy a relaxing stay not only at home. Its foldable, lightweight design can keep you company on a picnic or any other outdoor party. This adjustable floor chair easily folds up and may be transported with the help of an adjustable strap. Move the comfortable folding chair wherever you want. The removable cover that can be washed in the washing machine is another obvious advantage.
The reviewed floor recliner chair from Malu features 6 different back positions, up to the flattest (lying position). The floor chair ensures the correct position of the back while sitting, prevents back pain, and provides the most comfortable rest. The cushion of the chair is moderately soft, made of soft-touch fabric (microfiber). The reliable steel frame acts as a chair frame. This is a perfect portable floor chair for indoors and outdoors exploitation. Ideal for children and adults (handles up to 220 lbs.).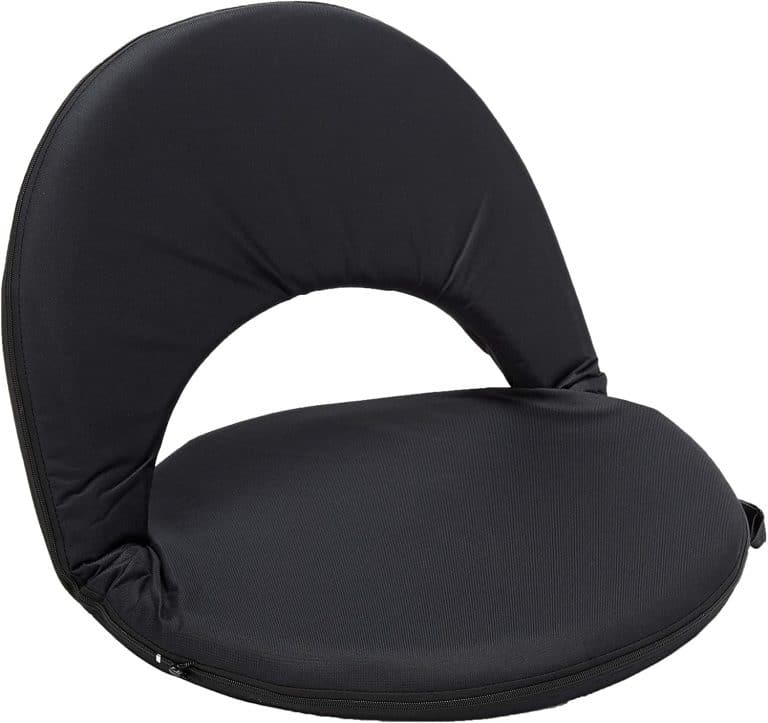 Trademark Innovations Portable Recliner Picnic Seat
Material: Metal frame, textile cushion
Collapsible: Yes
Color: Black
Weight: 4 pounds
Dimensions: 29 x 21 x 3 inche
This portable floor chair from the Trademark Innovations brand is your best companion for any outdoor events and parties. Removable cover (you can always wash it if necessary) and a comfortable strap add the compact cushioned seat. Use the strap in order to carry the chair easily. A light but reliable iron base acts as a chair frame. A soft, comfortable pillow is fixed on it. The removable cover is an excellent solution for a washable and tidy appearance for a long time. The backrest can be adjusted as you wish (5 positions available).
The mentioned foldable floor chair is truly versatile. You can use it both outdoors (forest, beach, park, backyard, lawn, terrace) and at home (for arranging a playroom, nursery, living room). This product is presented in black; however, there are 4 more attractive colors to choose from. Apply this picnic seat for the most comfortable and pleasant outdoor recreation.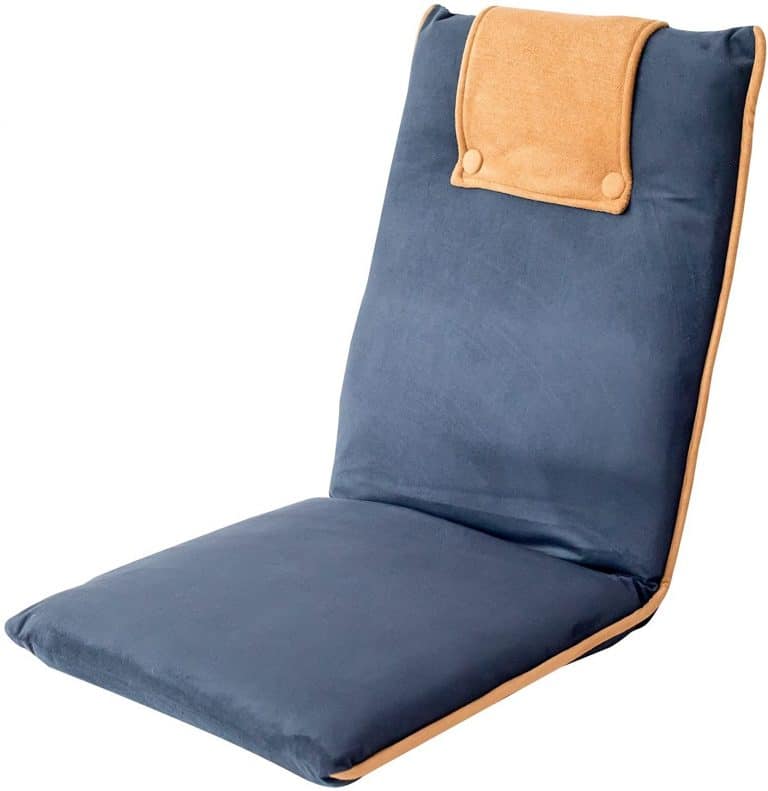 BonVIVO Easy II Padded Semi-Foldable Floor Chair
Material: PE and PU foam
Collapsible: Yes
Color: Blue and beige
Weight: 5 pounds
Dimensions: 7.4 x 16.9 x 21.3 inches
Use this wonderfully convenient floor furniture solution in order to rest, read a book, meditate, or just enjoy watching a movie. The chair is equipped with a simple, but at the same time, reliable folding structure. You can adjust the backrest position as you like (title it from 90 to 180 degrees). The presented folding floor chair is easy to carry (use a comfortable handle). The material of the is a PE and PU foam – very comfortable and ergonomic.
This material adjusts to you, providing fine support for the whole body. The product can hold up to 220 pounds. Place this meditation floor chair at the dormitory, playing room, home cinema, your home office. The chair is made of soft material, pleasant to touch, creates a feeling of comfort and coziness. Blue and beige colors create a wonderfully pleasant color gamut and look pretty stylish.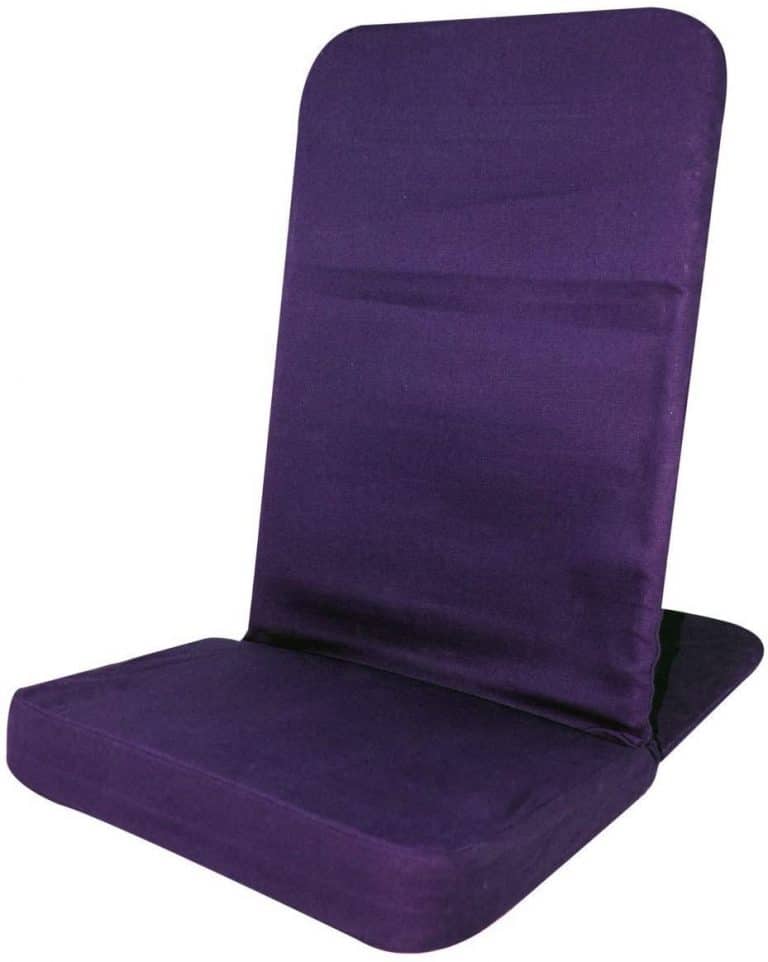 BackJack Extra Large Purple Floor Chair
Material: Steel frame, textile cushion
Collapsible: Yes
Color: Purple
Weight: 4 pounds
Dimensions: 24 x 16 x 23 inches
This comfortable ergonomic chair from the BackJack brand offers impeccable comfort and convenience. The practical, robust design is simple and reliable. The armchair is characterized by a classic, ordinary design and democratic price. This is an inexpensive but really convenient and successful purchase for anyone who appreciates comfort and convenience. The stylish-looking purple cushion is soft and cozy.
The steel frame is durable and safe. The observing BackJack floor chair has 2 backrest positions (horizontal and vertical). The abundance of colors pleasantly surprises and allows to choose the optimal color of the chair following your interior. This piece of upholstered furniture is characterized by versatility and practicality. Use this chair to comfortably watch sporting events, campfire gatherings, parks, or at home. The suggested BackJack meditation chair provides excellent support for the lumbar and the entire back, eliminating the likelihood of pain or discomfort in the spine.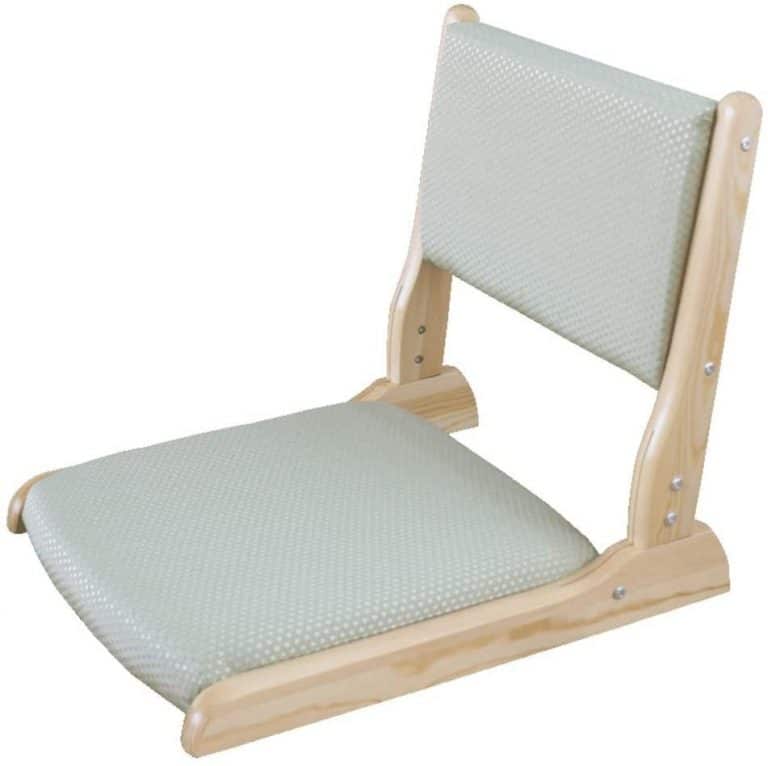 Material: Wooden frame, textile cushion
Collapsible: No
Color: Grey
Weight: 16.2 pounds
Dimensions: 20.4 x 14.7 x 17.7 inches
This amazingly stylish and uncluttered footless floor seat from the PLLXY brand is the perfect solution for Japanese-style interiors. The presented Zaisu floor chair has a wooden frame and soft textile cushion. This chair solution may be used for eating, meditating, relaxing, reading books, working, watching movies. The undoubted advantage of the chair is its ability to fold into a compact design. In this form, you can store the product when not in use. The chair takes up little space and will be virtually invisible in your closet.
The Tatami Zaisu chair is made from natural, environmentally friendly materials. Get even closer to nature with this product! It is incredibly comfortable and safe. The manufacturer guarantees the chair's ergonomics – it provides the back with the correct physiological position and prevents any spine problems. The floor chair looks stylish and fascinates at first sight. Set it in any room of your house and enjoy functionality, concise design, and convenience.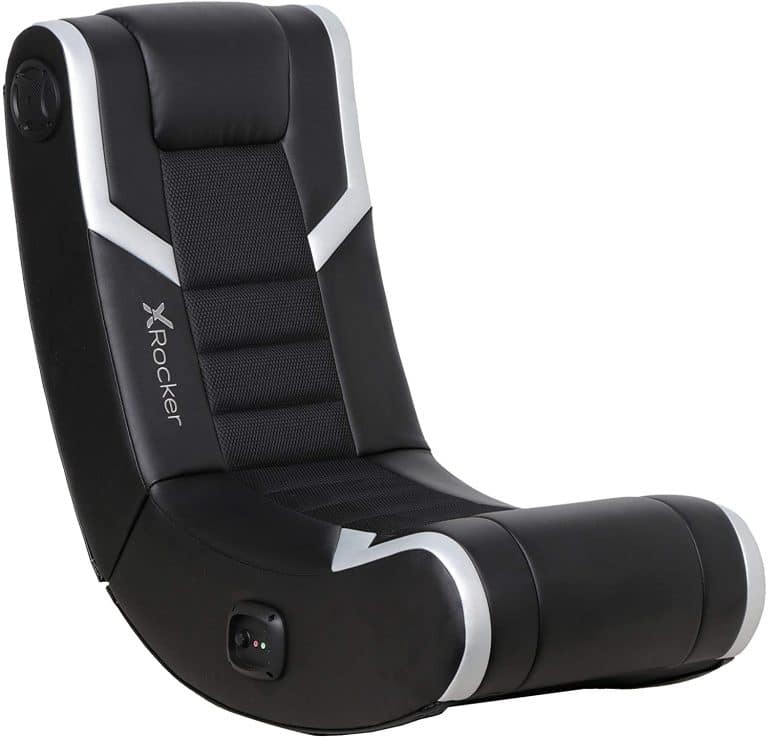 Black and Silver Eclipse Floor Rocker
Material: Plastic and textile, artificial leather 
Collapsible: Yes
Color: Black and Silver
Weight: 24.5 pounds
Dimensions: 31.1 x 16.5 x 27.5 inches
The perfect gaming chair for the video games fan. This is the brainchild of X Rocker – convenient, safe, and stylish. This chair is made of artificial but high-quality materials. Enjoy this floor rocker chair and the built-in Bluetooth audio system. This piece of furniture can interact with almost any modern gaming device. All you need is to connect your game console to this chair and get ready to receive a lot of pleasant, exciting emotions.
The offered floor rocking chair model may be easily adjusted following your demands and requirements. Even long hours of video games won't hurt your back. The chair guarantees good back support, and therefore it is provided with the correct physiological position. Stylish and versatile design (black and gray combination) will suit any interior and will make a lasting impression on your household and guests.
Guide to Buying the Best Floor Chair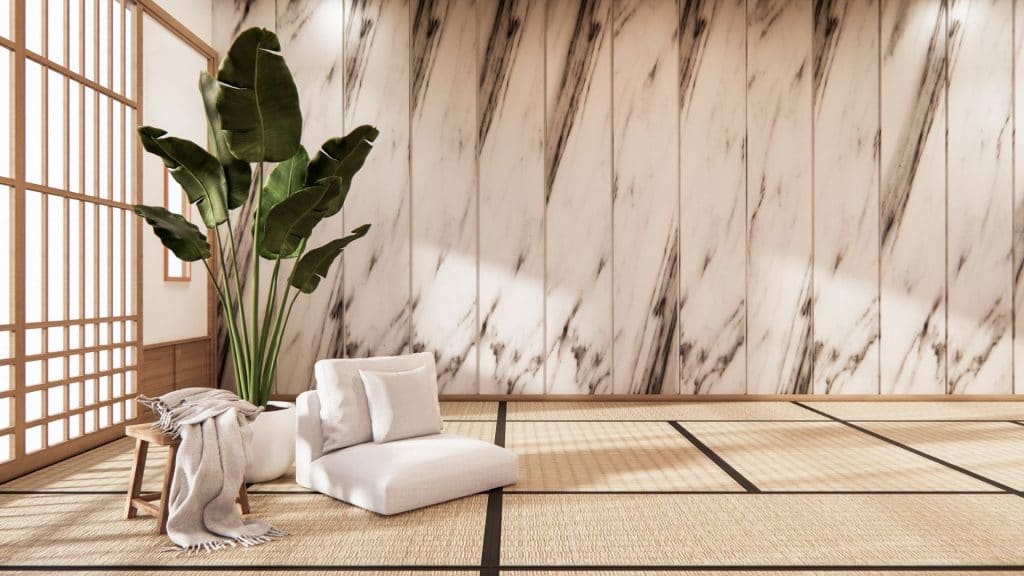 The modern floor lounge chair is a kind of upholstered furniture. Nowadays, it is highly appreciated for stylish appearance, ease of use, versatility.
Jappan zaisu chair models are popular in many countries. There are no legs in such a chair, and this is its characteristic feature. The body of the chair is placed directly on the floor, hence the name of such furniture. Every purchaser may find his own floor sitting chair in a wide variety of these upholstered units. Modern manufacturers offer a huge number of such chair solutions – for teenagers and adults. Web-shopping allows picking the best brand, frame, and cushion type, coloring, and additional chair options individually.
Are floor chairs good for your back?
Some incompetent users may believe that floor chairs have a negative impact on human health. Nevertheless, it is not in vain that people eat on the floor in Asian countries till this day, meet guests, communicate with each other, and relax. Not everyone knows, but sitting on the floor, especially in the lotus position, helps strengthen the back's muscles (in particular, the lumbar). Sitting on floor chairs without legs also helps to strengthen the gluteal and leg muscles. All this has a positive effect on the health of any person. That is why, if you have long dreamed of purchasing a gaming chair, be sure it will not damage your health.
What is the best chair for sitting on the floor?
Selecting your best floor cushion chair, pay attention to several criteria. First, consider the materials from which this or that chair is made. If closeness to nature is important to you, give preference to natural wood. These products are characterized by a warm, soulful design and are environmentally friendly. Steel frames are no less reliable and nice-looking, though some purchasers prefer wood to metal. It is also important to evaluate the type of cushion material and removable cover availability. Prefer the chair with a removable cushion cover. In this case, you may clean it when needed easily. If you appreciate conciseness and neatness in the interior, give preference to folding floor chairs. In the moments of non-use, such furniture solutions can be compactly folded and put into the pantry. Also, when buying such a chair, it is important to consider the principal place of use. The design requirements will be different if you plan to operate it indoors or outdoors. So, there is no definite answer to this question – each buyer must evaluate his list of requirements for this furniture and find the best chair.
Where to buy a floor chair?
With the global Internet advent, many people have no longer wonder where and how to buy certain things. Large retail chains that sell their goods both offline and online provide us with a massive range of options for choosing any product, including furniture units. Therefore, if you are still looking for your perfect floor chair, try monitoring online stores for the right model of such furniture. This shopping format has a number of obvious advantages – you can spend a minimum of time on the most productive and successful shopping ever.
thepapasan.com is a participant in the Amazon Services LLC Associates Program, an affiliate advertising program designed to provide a means for sites to earn fees by advertising and linking to Amazon.com.