The 7 Best Floor Sofas of 2023 - Cozy Couches Without Legs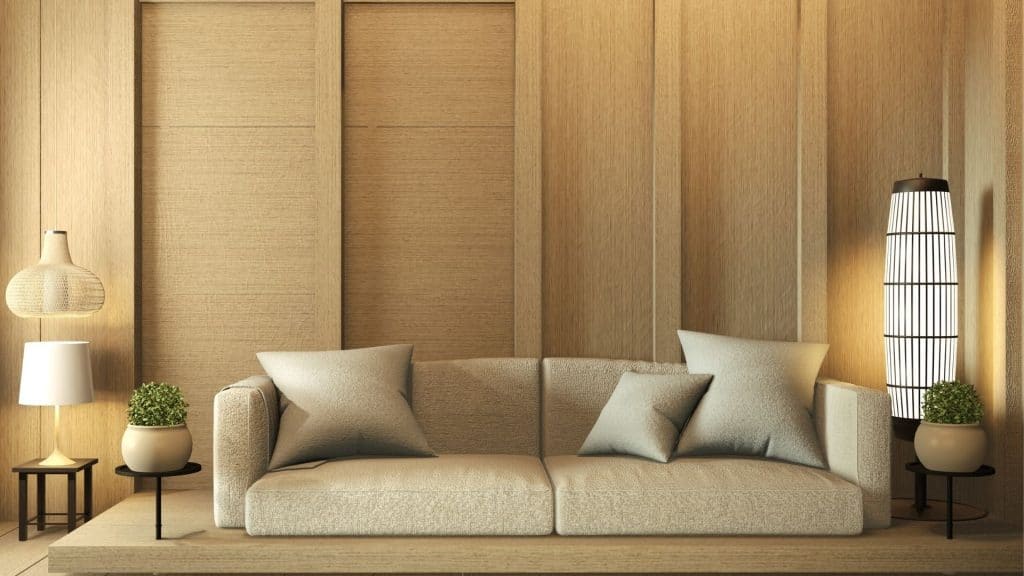 LAST UPDATED: APRIL 17, 2021
Upholstered furniture is constantly influenced by modern trends and overstated buyers' requirements. Refined, elegant, and comfortable floor sofa solutions will definitely attract your attention. Similar to the best floor chair, such an upholstered idea is placed on the floor, features no legs, and offers an amazingly soft cushion. These furniture models are capacious and cozy, like the mamasan chair reviewed earlier in our posts. Today we would like to submit 7 stylish floor ideas for your cozy and modern home.
Our Best Choice Floor Sofa
The best floor sofa for your cozy home
Material: Steel, fleece fabric Collapsible: Yes Color: Beige Weight: 31.53 lbs. Dimensions: 43.3 x 30 x 20.86 inches
Look at this wonderful floor sofa bed solution. It combines a stylish appearance, undoubted convenience, and construction safety (alloy steel frame). The adjustable design allows folding and unfolding it according to your desire (5 positions available). The floor couch is harmoniously complemented with 2 pillows. Attractive beige cushion material is surprisingly soft. Watch movies, read books or magazines, spend hours while talking with your loved ones.
The floor cushion couch combines convenience and attractiveness. It features a simple design (even children can fold and unfold such a sofa). The apparent advantage of the floor sofa couch models presented below is their proven versatility. When folded, such floor level sofa solutions perform the function of the armchairs, when semi-unfolded – as couches or sofas, and when fully unfolded – as a classic bed.
Best Choice of 2023 Top Floor Sofas
Let us offer you the best floor sofas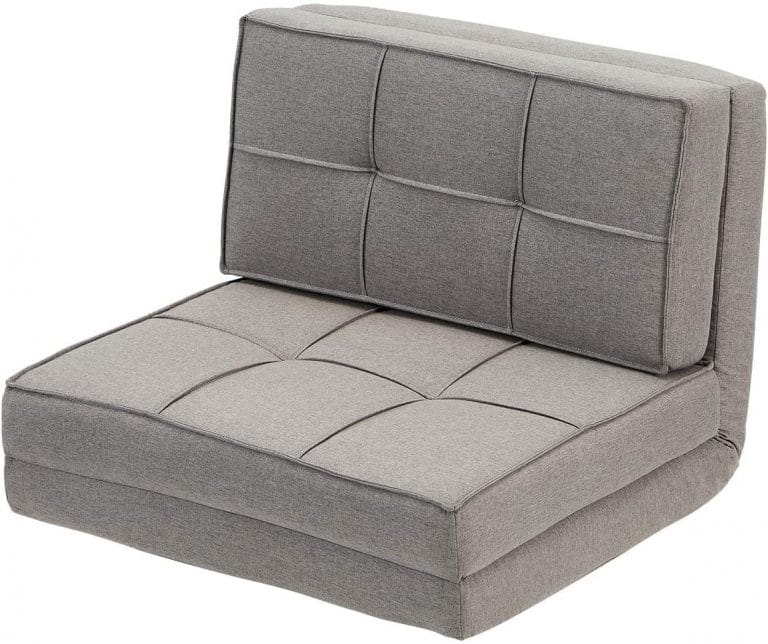 MELLCOM Triple Fold Down Sofa Bed
Material: Linen cloth,sponge, alloy-steel pipe
Collapsible: Yes
Color: Grey
Weight: 24.3 lbs.
Dimensions: 25.8 х 28.5 х 22 inches
Treat yourself and your household with this stylish, unusual, and extraordinarily comfortable furniture from the MELLCCOM brand. The offered folding floor sofa surprisingly combines the functions of several pieces of furniture. It can be used as an armchair, a sofa, and even as a bed (if you unfold the furniture entirely). The user has access to 5 comfortable positions for an unforgettable rest in the soft embrace of this sofa bed. Gray linen upholstery looks attractive and practical simultaneously (keeps a fresh, neat appearance for a long time due to dark fabric color). The upholstery material is breathable, pleasant to the touch, and therefore guarantees a luxurious, comfortable rest for anyone who decides to sit on it. The internal filler of the furniture is a soft sponge (qualitative, hypoallergenic).
Apply this rectangular sofa to complement your living room's interior, playing zone, bedroom, balcony, or terrace. The sofa is added with a cushion functioning both as a back supporter (when the solution is used as a chair or a couch) or a pillow (when used as a bed). The main feature of this furniture solution is legs absence. Relaxing on the floor is as comfortable and as useful as possible. It is recommended by many oriental practices to improve the spine's and the whole body's health. This sofa bed will be highly appreciated by all the members of your family – adults, teens, and children. Simple and reliable construction design allows exploiting this upholstered solution immediately after unpacking. No assembly is needed.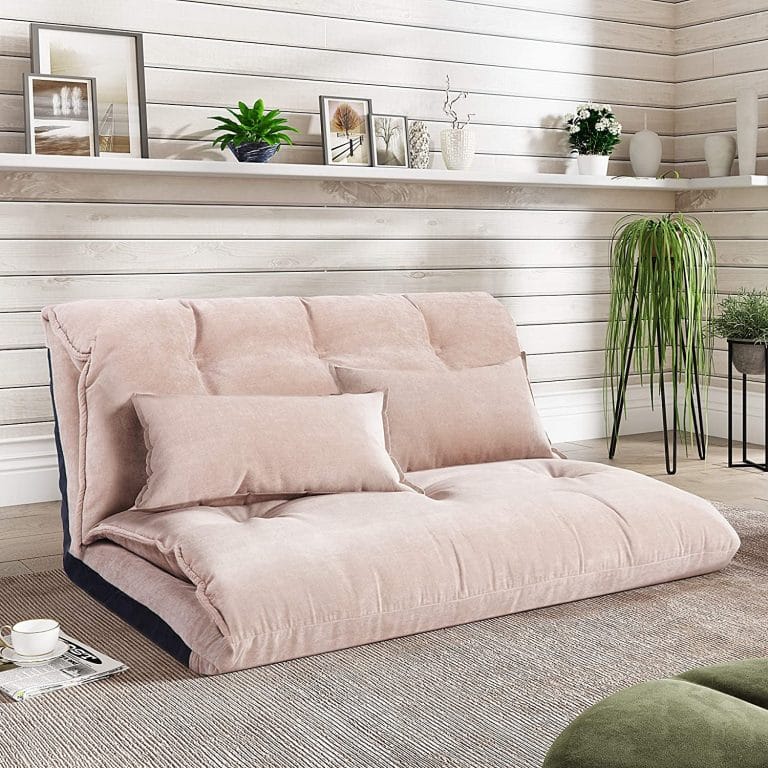 Adjustable Lazy Floor Sofa Bed with 2 Pillows
Material: Steel, fleece fabric
Collapsible: Yes
Color: Beige
Weight: 31.53 lbs.
Dimensions: 43.3 x 30 x 20.86 inches
This multifunctional upholstered furniture is elegant and simple at the same time. It offers an ergonomic design, soft yet resilient cushions, luxurious colors (beige). The represented floor futon couch is beautiful and comfortable in any of the available 5 positions. It can turn into the unit of furniture you need at the moment. What will you choose today? Cozy armchair, soft sofa, or comfortable bed? This floor seating sofa fits any interior type perfectly. Though the suggested sofa is lightweight, it guarantees your calm and safe rest. Apply this multipurpose furniture idea at any corner of your flat or house.
The armchair will look great and harmonious both in the teenager's room and in the living room, where you regularly meet with guests. This furniture can also become an excellent addition to the interior of a room for computer games or watching movies. Pay attention to the two oblong pillows – they are stylish and comfortable enough. Their moderate softness provides good back support (when you are sitting) and an equally comfortable head position (when you use the chair as a bed). The flexible solution is ideal for a modern interior. This furniture is incredibly convenient for a student dormitory or a small apartment (where it is impossible to install an armchair, a sofa, and a bed simultaneously).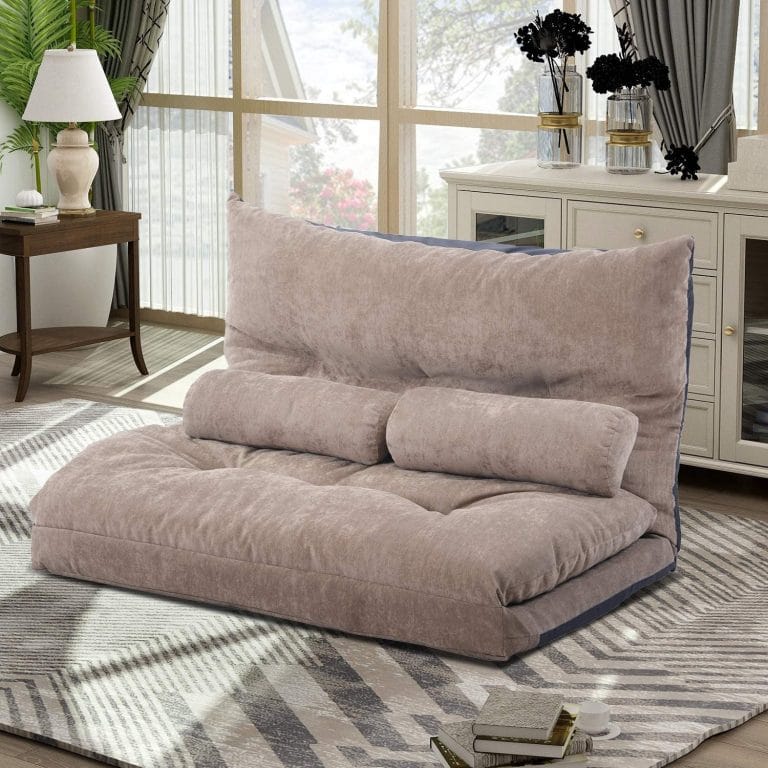 Merax Adjustable Floor Sofa Bed Sleeper
Material: Stainless steel frame, split foam, textile
Collapsible: Yes
Color: Light Brown
Weight: 30 pounds
Dimensions: 43 x 25 x 23 inches
This soft floorless couch without legs will be a favorite resting place for every member of your family. It combines the qualities of the most comfortable and reliable furniture. The offered Merax floor sofa is ready to please you with versatility and comfort. This solution can be adjusted to the needs and requirements of its owners. Use this upholstered unit as an armchair, sofa, couch, or even bed. The spacious seating area can easily accommodate up to 2 teenagers, children, or even adults. Durable soft upholstery guarantees amazing leisure hours. However, a reliable stainless steel frame provides excellent back support and promises safety throughout the whole rest. The product from the Merax brand is capable of supporting a maximum weight of 180 lbs.
Don't forget to consider this meaningful nuance during its operation. A stylish light brown cushion will fit any room interior, will be an exquisite addition to your home. You can place this sofa anywhere in your home (playroom, living room, lounge zone, bedroom). This furniture will create a real sensation for guests and households. Use any of the 5 available backrest positions and enjoy a comfortable sitting, or reclining rest. Most purchasers decide to select this item due to its compact but ergonomic design, democratic price, proven convenience.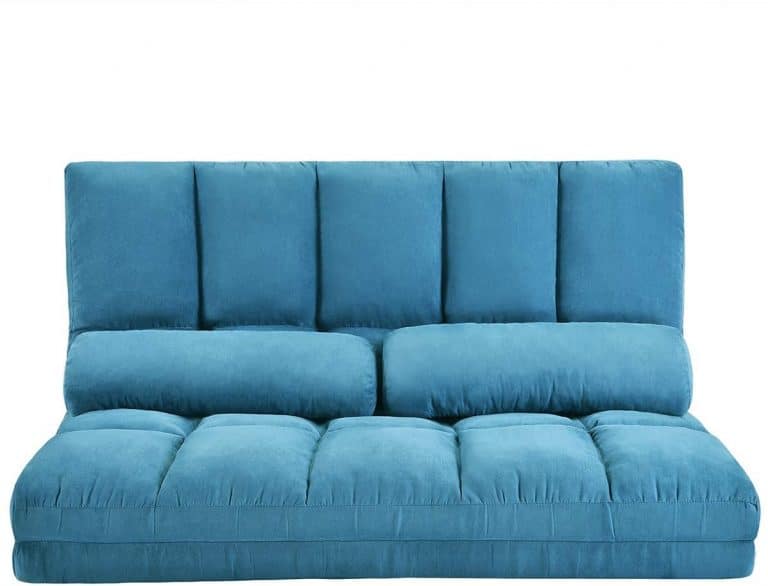 Adjustable Floor Couch and Sofa for Living Room and Bedroom
Material: Suede Fabric, Sponge Filling
Collapsible: Yes
Color: Blue
Weight: 31.2 lbs.
Dimensions: 70.87 x 45.28 x 5.31 inches
To make your lounge or bedroom the most functional and comfortable living area, we advise equipping it with modern furniture solutions. This folding sofa is considered to be one of the most noteworthy. Such floor cushions couch from the Harper and Bright Designs brand provides 5 comfortable positions. Adjust the furniture following your desire. Sit on it or lie – be sure, any position guarantees ideal relaxation. Besides, the mentioned foldable floor sofa features a pleasant blue cushion color. It will instantly refresh any boring interior and cheer you up. Pillow cover is a high-quality suede fabric. The filler is a soft sponge. 
The sofa's cushions are moderately soft, which means that the whole body will be provided with reliable support. Despite the lightness of the structure, the chair is quite reliable and safe to use. Enjoy a comfortable rest on this soft blue couch, read a book, play computer games with your child, watch a comedy with friends. If you do not have a bed in your home, you can use it directly for sleeping. This is incredibly convenient and beneficial for young families or students. The product folds easily and takes on a flat shape, so you can store this furniture under the bed or in the closet during periods of not use.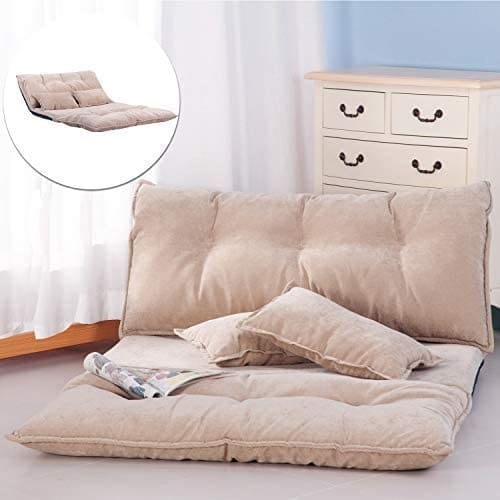 Foldable Sleeper Sofa Bed With 2 Pillows
Material: Steel, fleece cushion fabric
Collapsible: Yes
Color: Beige
Weight: 32 pounds
Dimensions: 90.55 x 43.3 inches
This is another stylish and convenient solution from the Harper and Bright Designs brand. The offered floor cushion sofa differs from others with an incredibly delicate beige color. This cute and cozy sofa will fit into any room (both in a small living room or a spacious playing room). 2 soft pillows harmoniously add the reviewed couch and create the most comfortable environment for relaxing or even sleeping. The maximum weight that the submitted floor couch bed may withstand is 176 lbs. This furniture solution is optimal for use by both children (teenagers) and adults. The robust metal frame is responsible for your safe and secure rest. This furniture is truly multifunctional and versatile. It can be used anytime and anywhere (for reading, playing computer games, studying, chatting with friends, watching movies, and even sleeping).
The soft fleece cushion fabric is so pleasant to touch. The backrest of this foldable armchair can be adjusted to 5 different positions. Customize the product and correct the backrest position according to your personal wishes. Use the suggested upholstered furniture like a chair, couch, or bed. Just a few movements, and it takes on a new shape as if by magic. Even a child will may cope with this furniture (very easy to fold and unfold). Pay attention to the unique design style – there are no legs in it, as in ordinary sofas. Perhaps this is its one more feature, attracting a lot of buyers.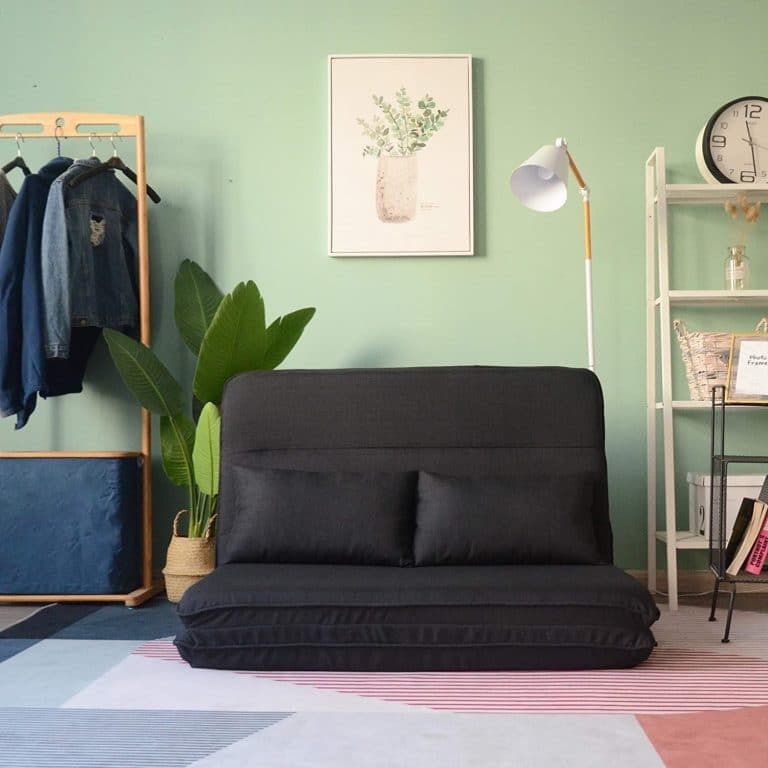 Material: Slub-polyester
Collapsible: Yes
Color: Grey
Weight: 30 pounds
Dimensions: 45.28 x 23.23 x 29.13 inches
Meet the soft foldable solution from the AMZCARS brand. The manufacturer offers a simple yet reliable design. The armchair can be easily transformed and as if by magic, turns into a cozy sofa or an equally comfortable bed. Please note that this couch belongs to the category of furniture without legs. Such solutions are often used in the East. However, recently European designers also use Japanese floor sofa models in their interiors. The fashionable grey cushion color perfectly harmonizes with any interior type. The colors are practical, and therefore the product will retain a neat appearance for a long time, even if there are small children in your house. The observed Japanese floor couch suggests 5 reclining backrest positions. You can sit upright in the chair or tilt the back a little. When fully unfolded, the chair transforms into a comfortable bed.
Use this furniture in any room of your home, but do not forget that the maximum weight that this structure can withstand is 176 lbs. The upholstery coating is a qualitative, durable slub-polyester. This sofa may be placed both inside the house and outside (balcony, terrace, backyard). Lounge in it outdoors in sunny weather, or enjoy an equally pleasant stay inside the house. The absence of an assembly procedure is an evident advantage of the furniture. No assembly is needed – start exploiting it immediately after receiving. Both children and adults will definitely like this cozy and spacious sofa.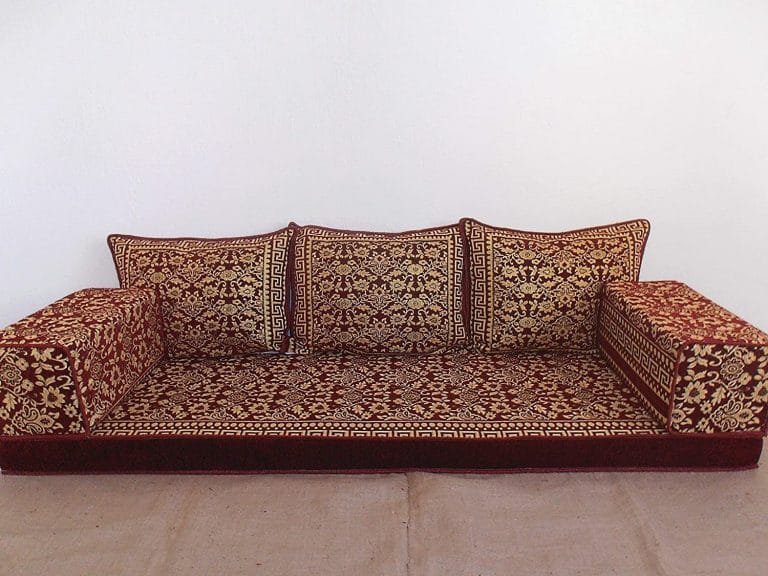 Material: Velvet
Collapsible: No
Color: Multicolor
Weight: 40 pounds
Dimensions: 75 x 27 x 4 inches
The beauty and charm of oriental furniture captivate at first sight. Luxurious patterns fascinate any buyer. Take a look at the presented model of an exquisite and distinctive furniture solution. This original Moroccan floor couch will delight you with a bright multicolor cushion, soft velvet upholstery material, proven convenience. To create a sophisticated oriental-style interior, it is worth paying attention to details. Furniture can change the look of any room completely. The presented Moroccan floor sofa features a spacious seat and reliable back support. Note that there are no legs on this sofa due to its eastern origin.
The charming Arabic floor sofa as if descended from the pages of a magical oriental fairy tale. Three voluminous, soft pillows provide back support. Both the sofa itself and the pillows have a similar pattern (burgundy, cinnamon, and gold tones). The couch is added with two armrests and allows you to relax to the maximum after a hard day at work. Allow your guests and household members to relax on such a wonderful and beautiful middle eastern floor sofa. It combines elegant appearance, convenience, high-qualitative and durable materials (both frame and cushion). A luxurious, stylish sofa will allow you to touch a real oriental fairy tale!
Guide to Buying the Best Floor Sofa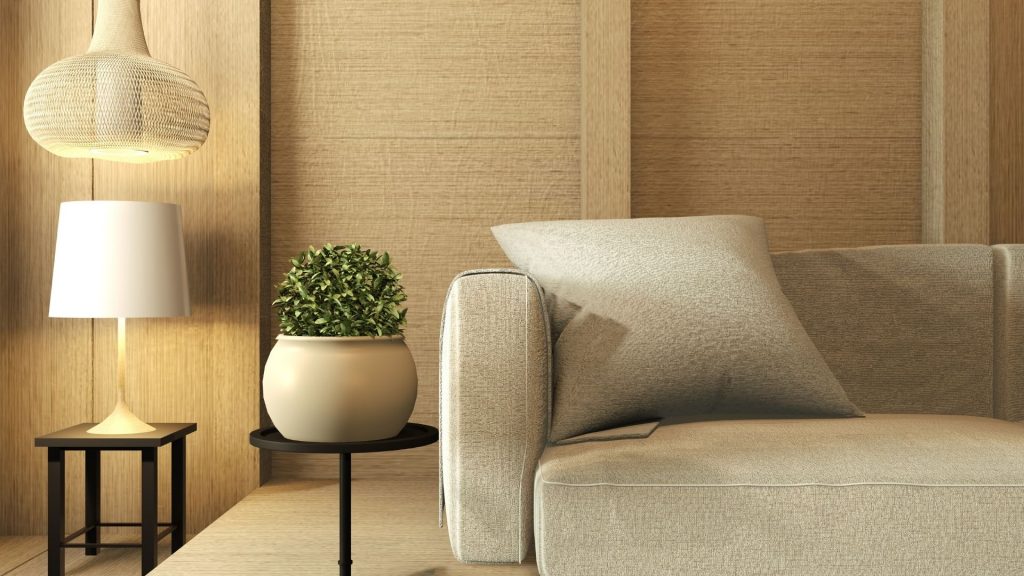 What is a modern floor cushions sofa? Traditionally, these are lounge couches with no legs placed right on the floor surface. The first floor couch cushions were created in the East, where people spend most of their time on the floor. Here they eat, rest, and even do their work. Echoes of this culture are reflected in modern furniture solutions.
Our review introduces you to the best floor sofa and allows to choose the most optimal solution for your family. Most of these upholstered furniture products have a folding design, which is very convenient and allows owners to change its shape easily. Such a low floor sofa may function as an armchair and bed as well. It is enough to find a suitable room in your home, purchase one of the proven furniture solutions and place it in a proper place. Almost all the floor sofa ideas do not require assembly and can be used immediately after purchase.
What is the best floor sofa to buy?
In order to determine, what is the best floor couch, it is worth taking into account your personal wishes. These are the basic interior requirements (cushions color, dimensions), personal users' parameters (detect the permissible weight that a particular sofa can withstand), individual household wishes and desires. According to our experts, the Adjustable Lazy Floor Sofa Bed with 2 Pillows is the most worthy consideration and subsequent purchase. It proposes practical colors, foldable construction, 5 various backrest positions, and an acceptable price. Of course, this is our opinion, and it may not coincide with yours.
Where to buy a floor couch bed?
Nowadays, any floor sleeper sofa may become your property through online or remote shopping. Modern realities dictate their own requirements, and therefore you won't surprise anyone with remote purchases. Visit the website of one of the well-known online marketplaces and browse the catalogs available for purchase floor level couch products. You will definitely be able to choose a product that is suitable in appearance, price, and functionality. The manufacturer includes data on dimensions (both folded and unfolded), exact color, type of materials, and additional technical characteristics in the detailed description for each piece of furniture. All this information allows you to understand as accurately as possible whether the selected product meets your needs. Choose any product you like, for example, the classic foldable floor sofa or the original Eastern couch. A visit to a regular furniture store in your city may be an alternative to popular online shopping. Do not forget that you will be limited in time and in the available assortment in this case.
What are the most comfortable floor couches?
The low floor couch furniture products are convenient and healthy solutions for your cozy home. What sofas may be called the most comfortable? Such furniture should be complemented with pillows (usually 2). Also, floor furniture sofa may deserve such a title due to its multifunctionality. Try to give preference to folding furniture solutions that can easily and quickly transform from one furniture type to another (for example, from an ordinary chair to a couch, and then from a sofa to a bed). Such a foldable floor gaming sofa bed deserves your attention. It saves your family budget and combines several furniture items.
thepapasan.com is a participant in the Amazon Services LLC Associates Program, an affiliate advertising program designed to provide a means for sites to earn fees by advertising and linking to Amazon.com.