The 10 Best Moon Chairs of 2023 - Extraordinary Soft and Cozy Solutions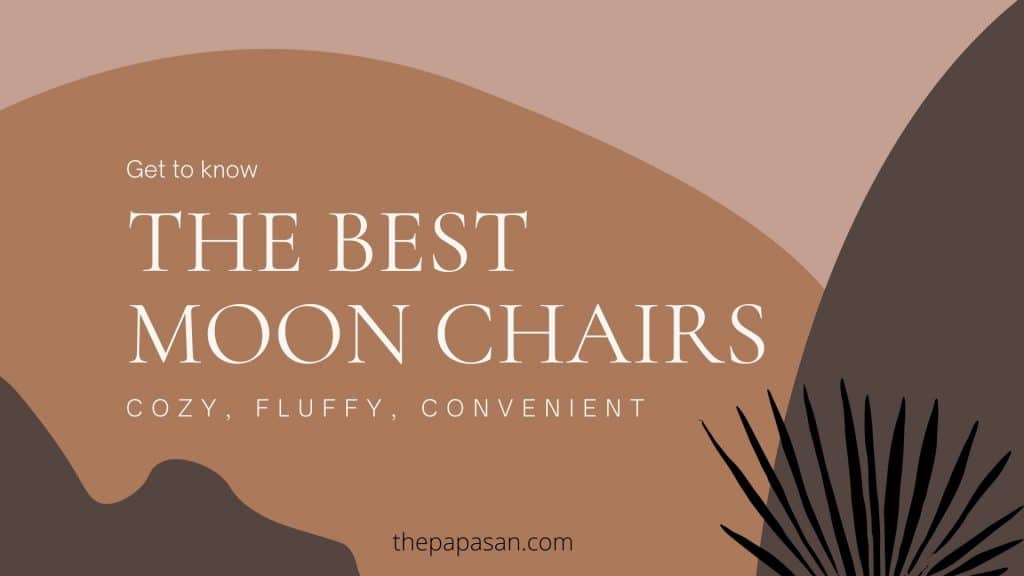 LAST UPDATED: FEBRUARY 05, 2021
What are the meaningful requirements for modern upholstered furniture? Home comfort connoisseurs want to see comfortable, beautiful, and at the same time practical furniture in their home. Look at the moon chairs – these pieces of furniture exactly meet the stated requirements. They are no less convenient like best folding papasan chairs, and combine functionality, coziness, stylish appearance. We have picked the 10 worthy moon chair models for your cozy house or flat. Along with the best saucer chairs they create harmony and true home comfort.
Best Choice of 2023 Top Moon Chairs: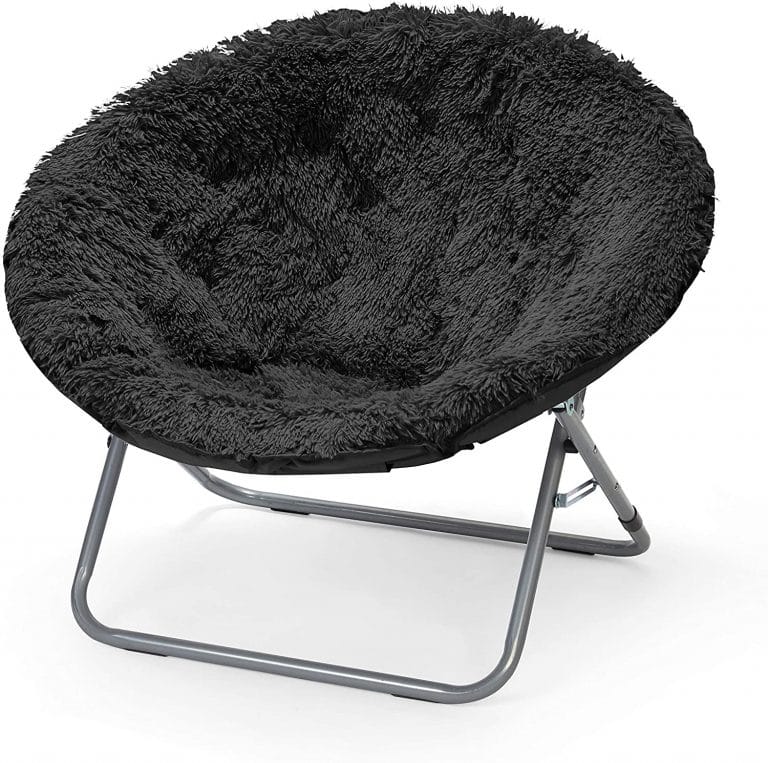 Convenient oversized idea for your teen's or living room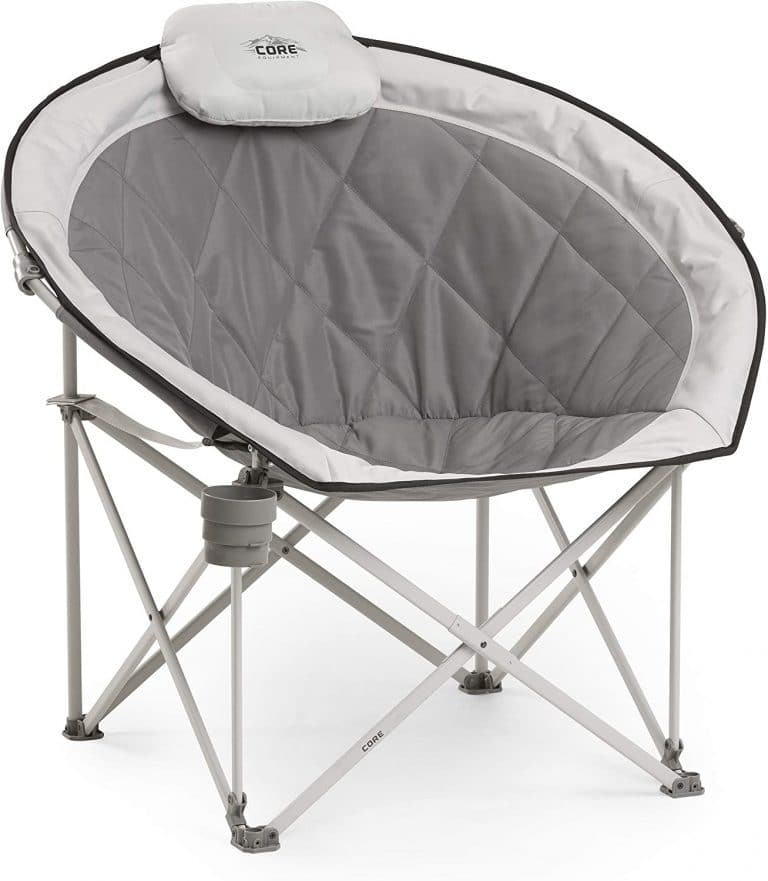 Wonderful solution for BBQ parties, camping and fishing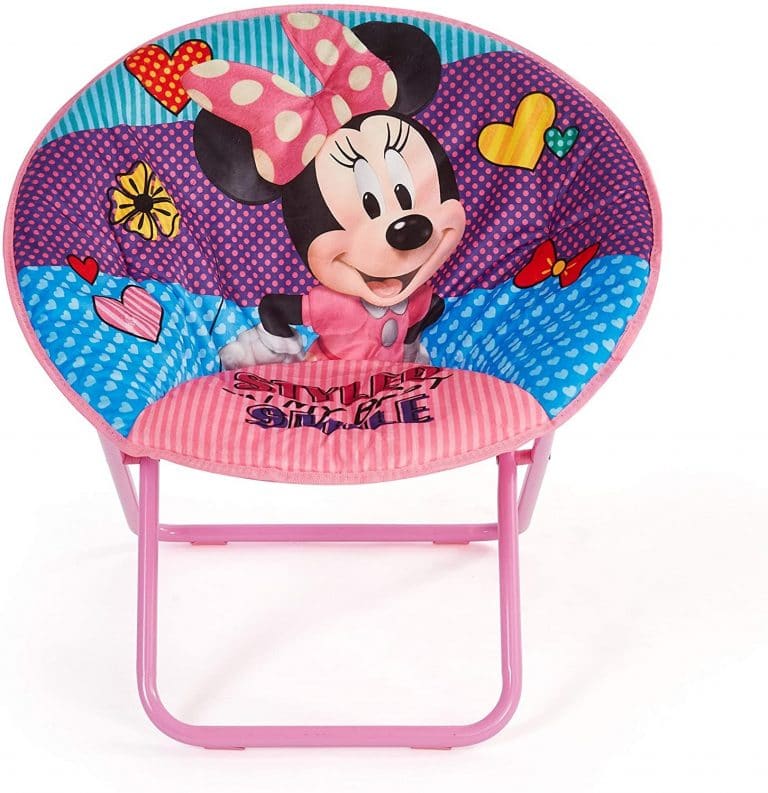 Pretty and convenient chair for your litte princess
The most volumetric and soft cushion you've ever met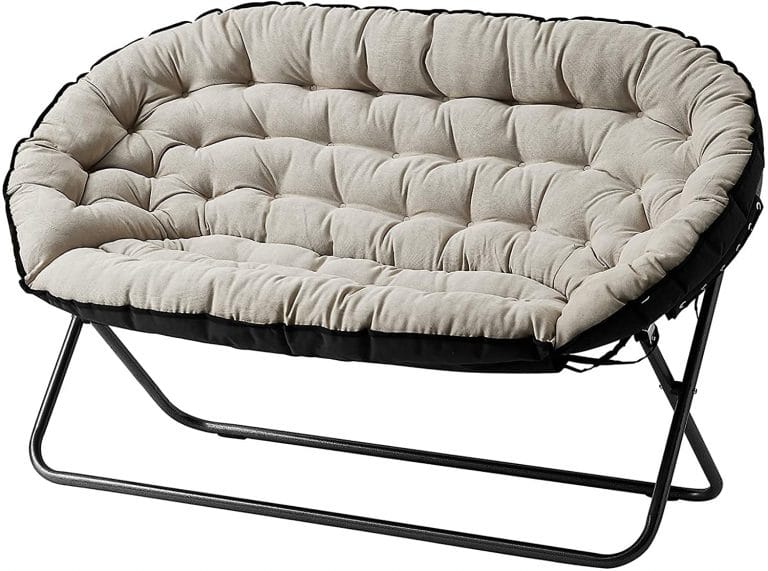 Cozy loveseat for 2 persons – enjoy soft and capacious cushion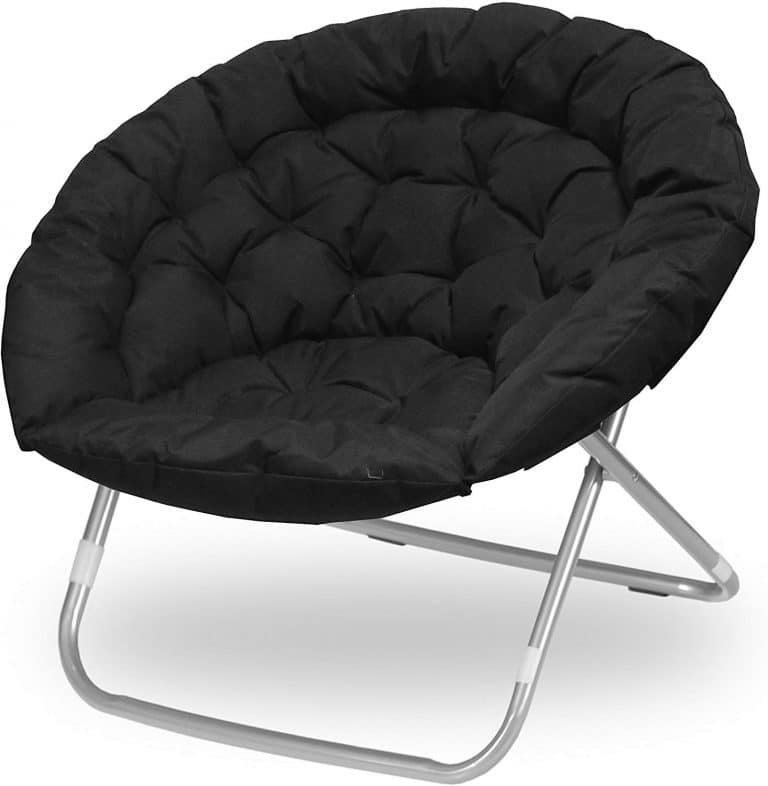 Large seat, practical black cushion, collapsible frame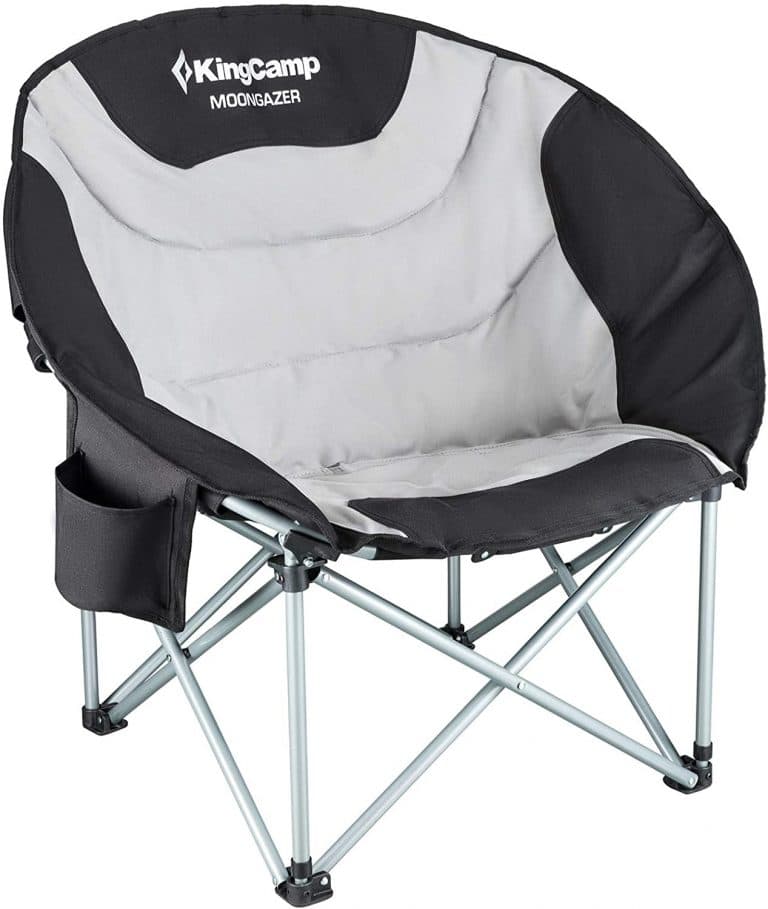 Convenient ourdoor device for the best camping or fishing ever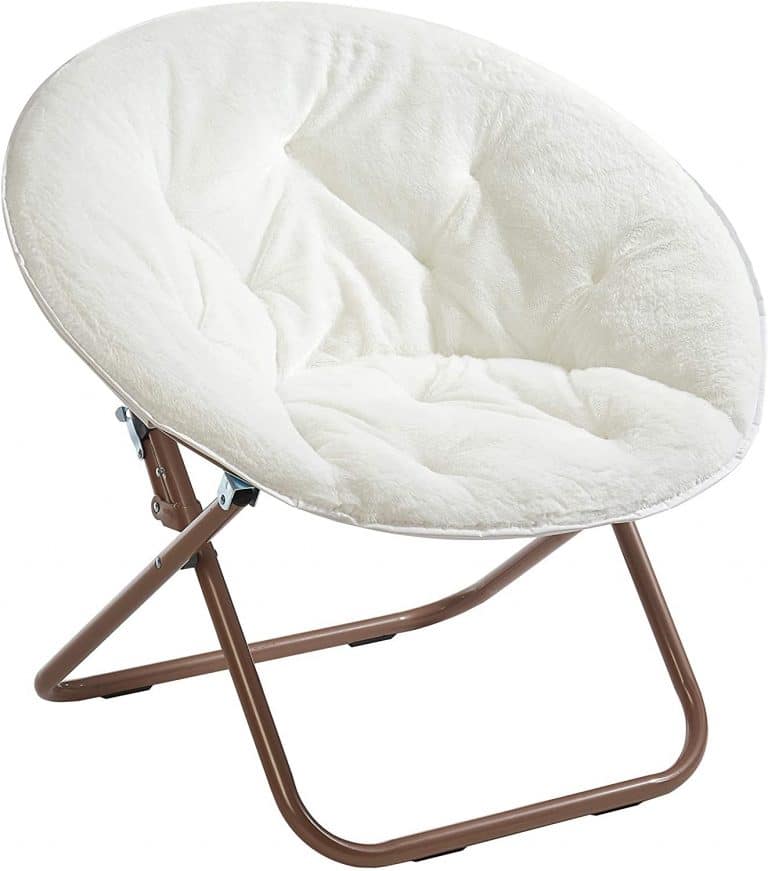 Stylish, attractive and cozy furniture for your living room
44.9 x 44.9 x 33.5 inches
Appealing furniture solution for modern living room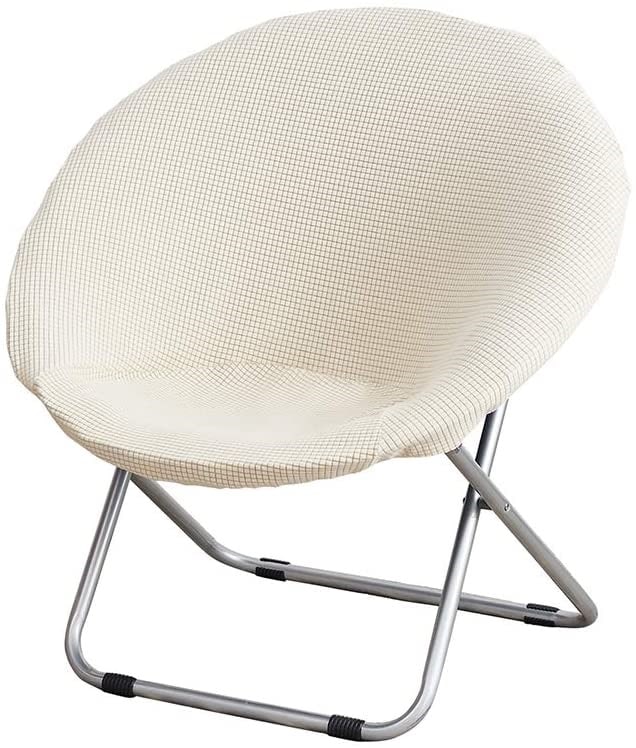 Smart and convenient cover solution for your moon chair
Black Urban Shop Oversized Mongolian Saucer Chair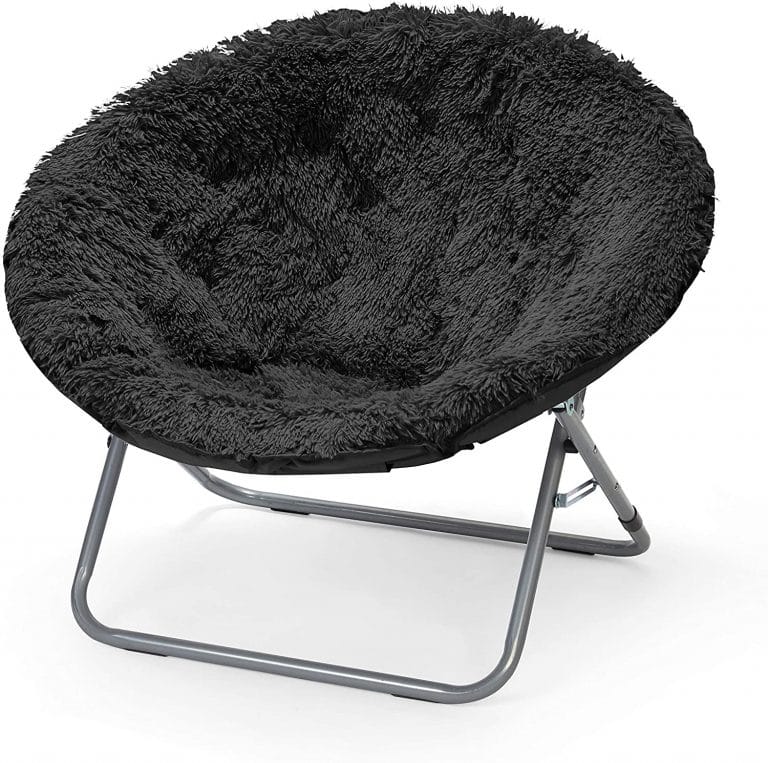 Material

: Metal frame, polyester faux-fur cusion
 

Collapsible

: Yes
 
Color: Black cushion, grey frame
 
Weight: 12.1 pounds
 
Dimensions: 37 x 30 x 30 inches 
 
Large, cozy, with a fluffy cover – this is how the presented chair model can be characterized. The fluffy black cover envelops your body gently, giving you affection, warmth, and comfort. This oversized moon chair from Urban Shop is a real finding for any modern interior. It has a practical black color. It retains its original appearance for a long time and is also not susceptible to dirt. This is especially true if you have small children and pets in your home. The presented extra large moon chair can accommodate one adult or several children. A sufficiently spacious seat provides maximum comfort. Seat here and relax after a busy day, read a book, chat on the phone or meditate. Its metal frame is foldable, so the chair is really convenient and usable. Fold it in few seconds when not used and keep in the storeroom. Polyester faux fur cushion looks stylish and amazing. The soft material is pleasant to touch. The mentioned saucer chair model may hold up to 225 lbs. So, this is a perfect home solution for teens and adults as well. This chair's structure is quite reliable, even though it weighs 12.1 pounds in total. This is an apparent product's plus.
Core Equipment Folding Oversized Padded Moon Round Saucer Chair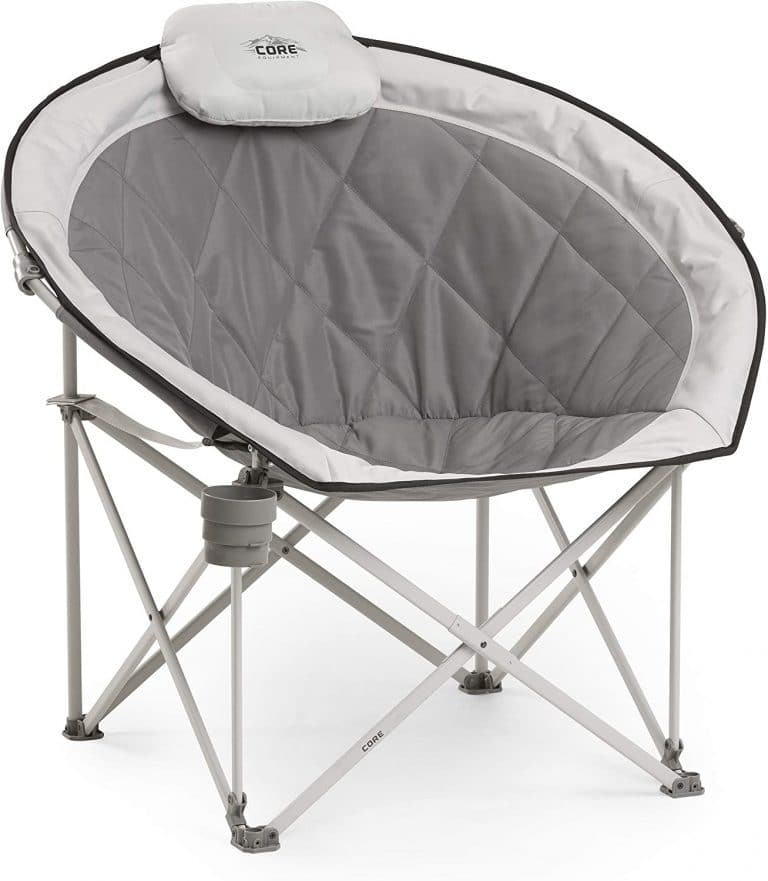 Material

: Metal frame, polyester cushion
 

Collapsible

: Yes
 
Color: Grey and white cushion, grey frame
 
Weight: 12 pounds
 
Dimensions: 40 x 29 x 37 inches
 
Meet the convenient egg-shaped folding moon chair from Core Store. It has a soft headrest for maximum comfort while relaxing, a stand for a thermos with tea or glass of another favorite drink, a spacious and secure seat. The chair can support up to 300 pounds. It is moderately deep and saucer-shaped. The specific design makes it incredibly convenient for outdoor recreation, fishing, BBQ party. If you exploit this moon chair camping will become really memorable and wonderful. Grey polyester cushion promises a long service-live. The material is dense enough, due to which it can withstand significant loads. The chair's stylish design, made in gray, white, and black, looks great and is sure to please any customer. The design is foldable and saves space in your trunk. The chair fits easily and compactly into a cute gray cover bag (included in the package) when folded. It is convenient to store a chair at home or transport it by car (planning fishing, picnic). Robust frame made of qualitative steel guarantees safe and long-term chair exploitation. Enjoy its convenience and have a nice day outdoors with your family or friends.
Disney Minnie Mouse Pink Saucer Chair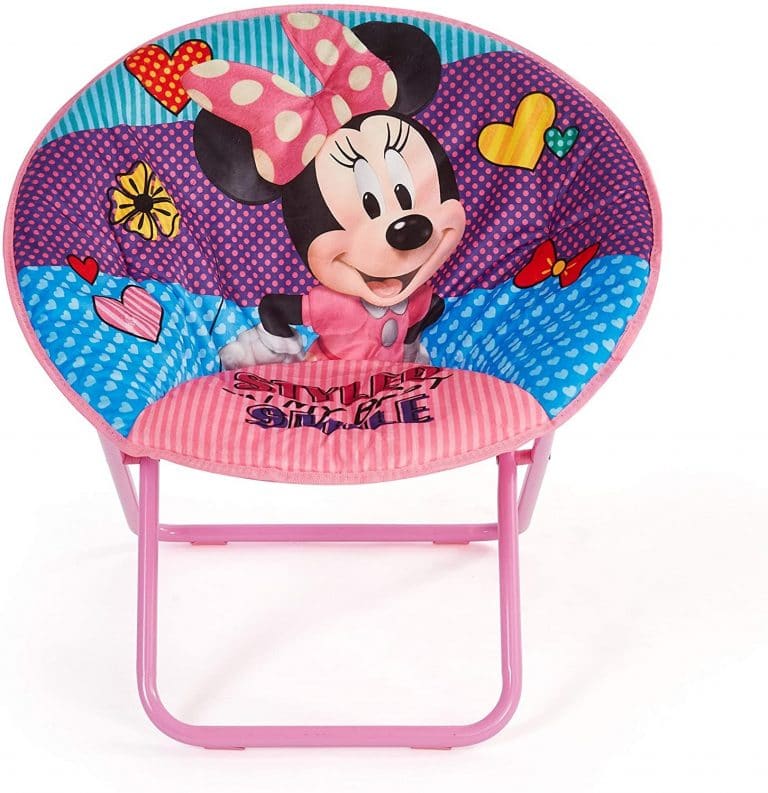 Material

: Steel frame, polyester cushion
 

Collapsible

: Yes
 
Color: Pink frame, multicolored cushion (Minnie Mouse image)
 
Weight: 5.04 pounds
 
Dimensions: 23 x 23 x 23 inches
 
Have a look at this amazing girls' chair with a pretty Minnie Mouse image! This is a wonderful furniture solution for any girls' children's room. Your little princes will highly estimate the bright dominant pink color. The offered kid moon chair has a collapsible steel frame, covered with a qualitative and safe pink coating. The chair's cushion (23 inches in diameter) is made of dense polyester. There is a lovely, cute Minnie Mouse image at the center of the pillow. This girl's kids moon chair features a special locking mechanism. Thanks to it, the chair will stand securely and stably, ensuring the safety of the child. This small but safe furniture unit may hold up to 125 pounds of weight. Despite its lightness, this is the perfect addition to the nursery or playroom. Any girl will be delighted with such a cozy and cute chair, you can be sure! Let the young princess sit comfortably in it and play board games, paint her favorite characters in the album, or read a fairy-tale. The cushion is not susceptible to dirt but can be easily cleaned with a damp cloth if necessary. Cute and beautiful Minnie is a favorite heroine for small girls, so they will surely fall in love with this chair.
OSP Designs BF25292-11 Papasan Chair with 360-degree Swivel
Material

: Resin wicker frame, polyester cushion
 

Collapsible

: No
 
Color: Black frame, white cushion
 
Weight: 16 ounces
 
Dimensions: 38 x 36.5 x 31.5 inches
 
This rotating (360 degree) chair will meet your best expectations. Its frame is relatively lightweight though stable (made of steel covered with resin wicker). This material imitates rattan but nevertheless looks wonderfully. The reviewed adult moon chair from OSP Designs astonishes with a surprisingly fluffy, soft cushion. It is huge and really comfortable. A moderately soft pillow creates the feeling that you are relaxing on a snow-white cloud. The practical white material is easy to clean, so you don't have to worry when buying. The chair will be a great addition to an adult's or teen's room. It will definitely become a favorite for all household members being pleasant to spend hours of relaxation in it, read newspapers, and enjoy telephone conversations with friends. The swivel option presented in this large moon chair makes it even more attractive for fans of a practical, comfortable and original interior. More than 10 stunning shades are available for your choice – all of them are beautiful and life-affirming. Choose the right shade that matches your home of apartment interior. This moon-shaped chair with a dark frame and snow-white cushion is a true classic that, perhaps, will easily fit into any interior.
Papasan Moon Sofa - Beige Taupe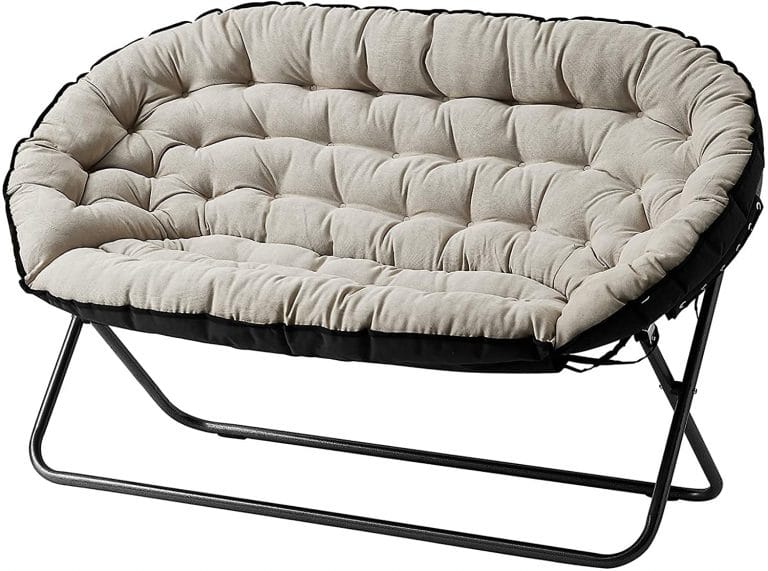 Material

: Metal frame, microfiber cushion
 

Collapsible

: Yes
 
Color: Black frame, beige taupe cushion
 
Weight: 24 pounds
 
Dimensions: 34 x 56 x 27 inches
 
DormCo brand suggests one more, no less convenient, and even more capacious double moon chair. It is intended for two adults. Locate on its spacious double cushion to guarantee yourself the best relaxing time ever. The unusually fluffy and soft pillow sewn of microfiber material pleases the eye with an appealing color (Beige Taupe). The fabric is durable and pleasant to touch. The spacious cushion is fixed on a black painted metal frame. Note that such double moon chairs, despite their large size, feature a collapsible construction. This makes it easy to fold them when not in use. When folded, the product takes up little space and can be stored in a closet or attic. The depth of the chair is 27 inches (enough for serene, comfortable rest). Though the cushioned solution is relatively lightweight, it provides a reasonably stable and secure place to rest. Complement your living room with this stylish and convenient solution. It may become an alternative to an ordinary sofa or an appealing addition to it. Beige Taupe coloring is nice and stylish, perfectly fitting almost any interior solutions.
Black Urban Shop Oversized Saucer Chair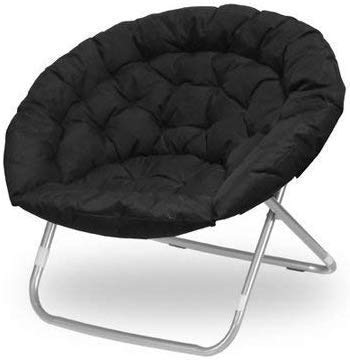 Material

: Metal frame, polyester cushion (poly canvas)
 

Collapsible

: Yes
 
Color: Grey frame, black cushion
 
Weight: 14.6 pounds
 
Dimensions: 37 x 30 x 30 inches
 
This black cushioned, comfortable round chair from Urban Shop is the best place for enjoyable rest time. Purchasing and receiving this chair, you do not need to assemble it. The furniture is already ready for direct use. It's enough just to spread out the presented oversized folding moon chair and start exploiting immediately. The metal frame is strong and reliable, responsible for the safety of the person sitting on it. The saucer chair is added with a comfy, soft black polyester cushion. This furniture has a moon shape and appears to be the best resting place. Locate it wherever you desire – TV or living room, children zone, guests' or playing room. The presented foldable moon chair takes up little space when collapsed and not in use. It only takes a couple of seconds to fold or unfold this product. It weighs little; nevertheless, it is an incredibly cozy nest for relaxation, communication with family, reading. The offered cushioned solution may easily hold up to 225 lbs. weight. So, it is strong and safe enough for both teens and adult users. The chair's main advantage is its practical synthetic covering – make a couple of movements with a damp cloth and remove any dirt easily.
KingCamp Moon Saucer Leisure Steel Camping Chair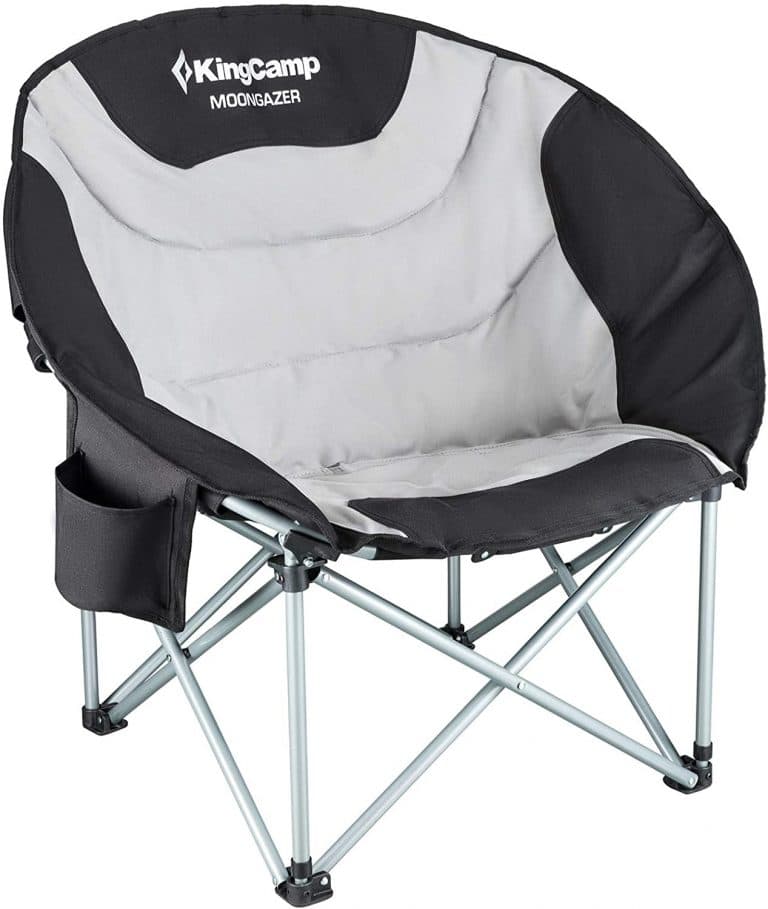 Material

: Metal frame, oxford cushion
 

Collapsible

: Yes
 
Color: Grey frame, black and grey cushion
 
Weight: 10.4 pounds
 
Dimensions: 88 x 23 x 20 inches
 
This is the second worthy camping solution with a robust foldable steel frame and comfy cushion seat. The presented outdoor moon chair from the KingCamp brand personifies a quality product worthy of your attention. The cover of his pillow is made of 100% Oxford material. This is a dense fabric that can withstand serious loads. A pleasant gray-black color distinguishes it. The king camp moon chair is added with a fabric pocket where you can store any accessories (place a bottle of water, some snack, a small book, a thermos, or a telephone in it). Another convenient pocket is located behind the headboard. Such small but essential details make it as convenient and functional as possible. Foldable design makes this chair one of the most demanded. It may be collapsed when transported and not in use. Compact folded furniture is very easy and convenient to carry with you on a picnic, fishing, or camping trip. It is also lightweight (though safe and reliable) – 10.4 pounds only. The offered furniture model from KingCamp can withstand up to 330 lbs. weight.
White Urban Shop Faux Fur Saucer Chair with Metal Frame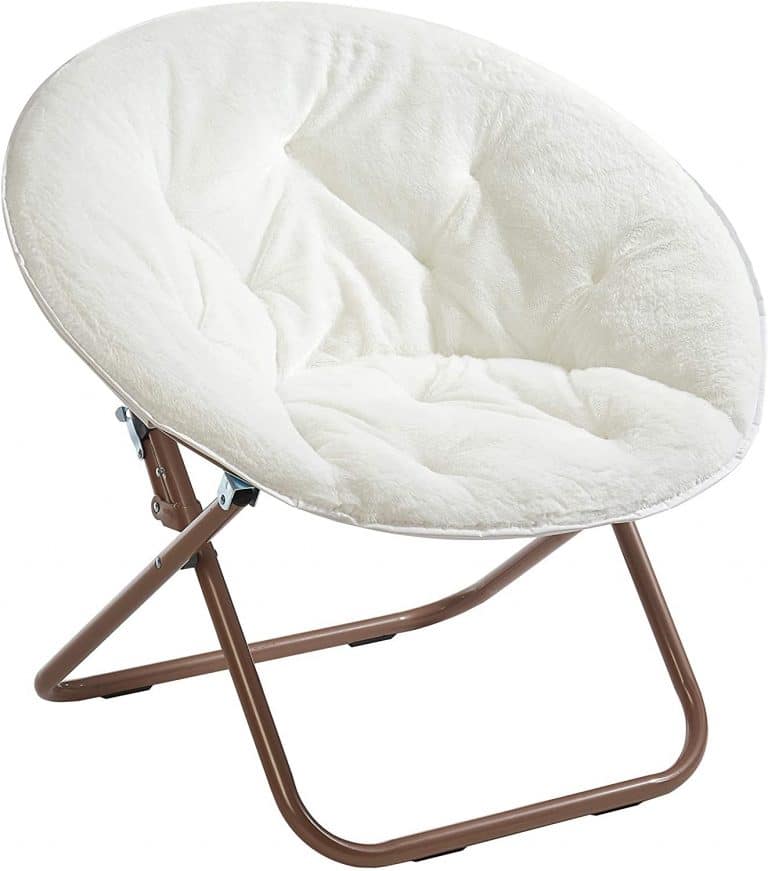 Material

: Metal frame, microfiber cushion (faux fur)
 

Collapsible

: Yes
 
Color: Brown frame, white cushion
 
Weight: 11.28 pounds
 
Dimensions: 29 x 32 x 22 inches
 
Meet the one more cushioned moon solution from the already well-known Urban Shop brand. This cozy and cute white moon chair looks attractive and comfortable. The cushioned white pillow (sewn from white microfiber material) is firmly fixed on the metal frame. No assembly is needed – this means that one may start enjoying the chair immediately after purchasing. The suggested faux fur moon chair model collapses in a few seconds. Even a child may fold and unfold it. The furniture is rather lightweight (11.28 pounds only), so it will be easy to move from one room to another. The construction may hold up to 225 lbs. weight. Try not to overload it in order to exclude injuries and chair breakage. Though the cushion is not removable, it is easy to be cleaned with a wet rag. White cushioned furniture will perfectly accomplish any of your rooms. This is a classic idea, harmonically adding any dwelling. The chair allows you to rest, read books, talk by telephone and even work with your laptop. The construction is durable and absolutely safe.
Better Homes & Gardens Papasan Chair with Fabric Cushion
Material

: Metal frame with wicker decoration, polyester cushion
 

Collapsible

: No
 
Color: Brown frame, pumice gray cushion
 
Weight: 29 pounds
 
Dimensions: 44.9 x 44.9 x 33.5 inches
 
The better Home brand offers one more cozy idea for your home. This is a convenient round chair with a soft fleecy cushion (original and nice Pumice Gray color). This reliable and strong papasan moon chair has a robust metal frame, colored in brown. It is added with wicked elements and looks stylish enough. The observed big moon chair from Better Home has a fluffy spacious cushion. The top of the material has a pleasant to touch fleecy surface. Stroke over it and feel this extraordinary softness. This pillow creates an unusually comfortable resting location. The chair frame's round shape makes the structure absolutely safe for use (stands stably on a flat surface). Note that the cushion cover is not removable (one should wash both the cushion and the cover). The pillow should be hand washed. The manufacturer recommends mild, liquid detergent usage (with no chlorine). Dry cleaning is not allowed. The moon chair may hold up to 300 lbs. weight. The thickness of the pillow is 4,5 inches.
ZC MALL Saucer Moon Chair Slipcover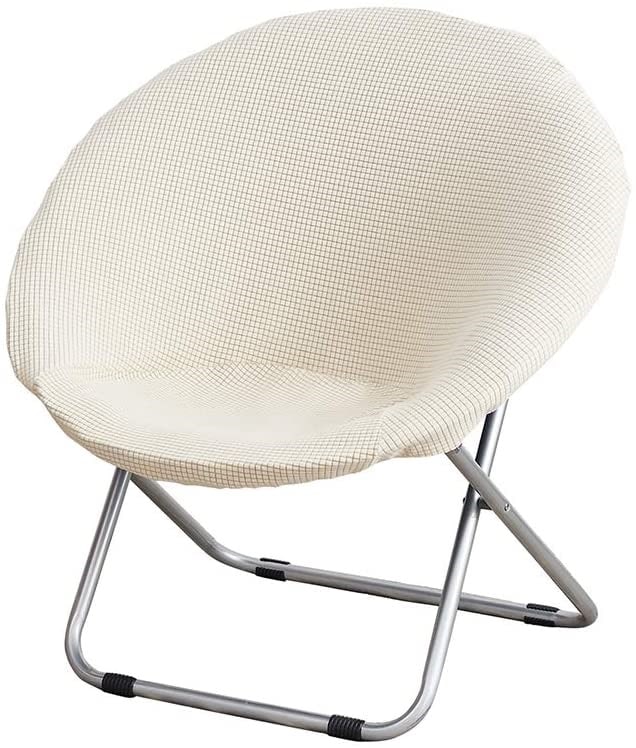 Material

: Polyester, spandex
 

Collapsible

: No
 
Color: Ivory
 
Weight: 6.4 ounces
 
Dimensions: 28-31 x 29-33 inches
 
ZC Mall brand offers extraordinary soft and convenient slipcover for your favorite moon chair. If you already possess such a furniture item, acquire the new cover, for instance, the offered solution. This ivory moon chair cover will perfectly fit chairs with the following seat dimensions: 28-31 x 29-33 inches. It is easy to put on your chair, create updated furniture and an interesting interior solution. Clean the cover in your washing machine without the risk of damage. It also may be dried automatically. Note that such moon chair replacement covers need to be washed with mild detergents (strictly without chlorine components). Ironing is restricted. The Ivory color is not a single option available. Look at the more than 10 color options and choose the preferable. The cushion is sewn from soft spandex material – that's why it is easily stretched and instantly takes the desired shape. Refresh outdated furniture, making it sparkle with new colors. Use the provided spandex cover to solve this problem.
Guide to Buying the Best Moon Chair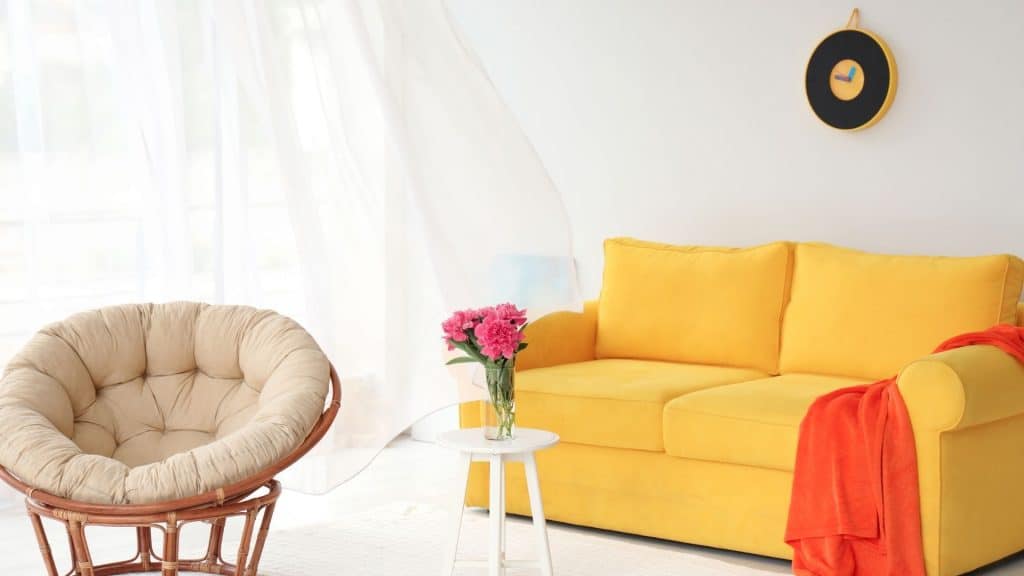 Moon chairs surprise with a variety of models, materials and colors. Follow the experts advice to create an exclusive, comfortable and extraordinarily sophisticated interior.
How high is the moon chair?
The moon saucer chair height depends on individual model parameters. It may vary between 20-50 inches. Note that childrens moon chairs will surely be lower than cushioned furniture destined for adult persons. The height of the wicker moon chairs should be selected individually. The taller you are, the higher the chair should be. Thus, you will ensure maximum comfort while relaxing in it. When buying wooden moon chairs via one of the well-known homeware websites, you can always familiarize yourself with the product's exact parameters.
What is the best moon chair for camping?
Camping, fishing, barbecue – any of these activities will surely become much more enjoyable and comfortable if you take with you the Core Equipment Padded Round Moon chair mentioned earlier in our review. It has everything for the maximum comfort of a person relaxing in the bosom of nature. A comfortable, soft headrest takes care of your comfort (you can even take a nap). A cup holder made of dense, high-quality plastic will be an excellent accessory for a glass of hot coffee or a thermos with aromatic herbal tea. It also has a spacious moon chair cushion made of high-quality polyester. Don't forget about the foldable design. When folded, the moon camping chair easily fits into a stylish compact cover (included in the package). In short, it is the best solution for travel, fishing, barbecue.
How high is the moon chair price?
Price tags fixed for various wood moon chair models vary. This parameter depends on the concrete manufacturer brand, materials, used during its creating, dimensions and other no less meaningful options. One may meet either cheap moon chair solutions or expensive. Choose the preferred option fitting your home interior and pursued goals. Of course, there is no point in purchasing too expensive chairs for camping and outdoor recreation. Cheap or mid-priced products are more suitable for this. Conversely, it is better to choose the more expensive, stylish looking, and long-lasting fuzzy moon chair for a luxurious living room or modern children's room.
Where to buy the moon chair?
Still searching for an oversized moon chair multiple colors painted? Don't waste your precious time and enjoy online shopping. Day by day it becomes more demanded and popular. Get acquainted with the moon chair appearance before purchasing and watch a short interacting video. One trading platform may contain millions of products presented by famous and little-known manufacturers. This gives you vast opportunities for quick and beneficial shopping. Choose the preferred moon chair ideas, read all the acquirers' comments and recommendations, and make a demanded purchase.
thepapasan.com is a participant in the Amazon Services LLC Associates Program, an affiliate advertising program designed to provide a means for sites to earn fees by advertising and linking to Amazon.com.