The 10 Best Outdoor Papasan Chairs of 2023 - Perfect Outside Furniture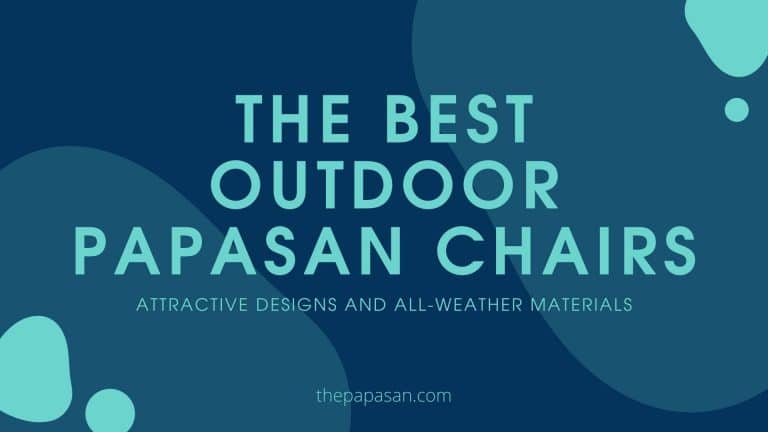 LAST UPDATED: AUGUST 25, 2021
Papasan chair is a surprisingly comfortable piece of furniture, the best designer's development. The idea of this soft round chair was born in Asian countries. Today, such upholstered products are popular all over the world. It is noteworthy that folding papasan chair can be used not only indoors, but also in open spaces (for example, on a balcony, in a garden, on a lawn near your private house). Hanging papasan chair is also a great idea for outdoors exploitation.
Our Best Choice Outdoor Papasan Chairs
The best outdoor papasan chair for outdoor usage
Material: Steel frame, Wicker rattan, Spun-polyester Collapsible: No Color: Brown frame, Beige cushion Weight: 32 pounds Dimensions: 37.7 x 35.4 x 33.4 inches
Pamper yourself with a luxurious experience from this stylish Milliard brand swivel chair. It features a noble frame and cushion colors, safe design, impeccable comfort. Ideal for indoor and outdoor use. High-quality, durable upholstery and frame materials. The construction rotates 360 degrees and provides the ability to load up to 265 pounds.
Outdoor papasan chair will accomplish your pool area, green lawn or fruit garden. Place it whatever you desire and enjoy its comfort, functionality, attractive appearance. What is better than standard papasan outdoor chair? The answer is the following – outdoor double papasan chair featuring extra space for your loved one only.
Best Choice of 2023 Top Outdoor Papasan Chairs
Let us offer you the best outdoor papasan chair solutions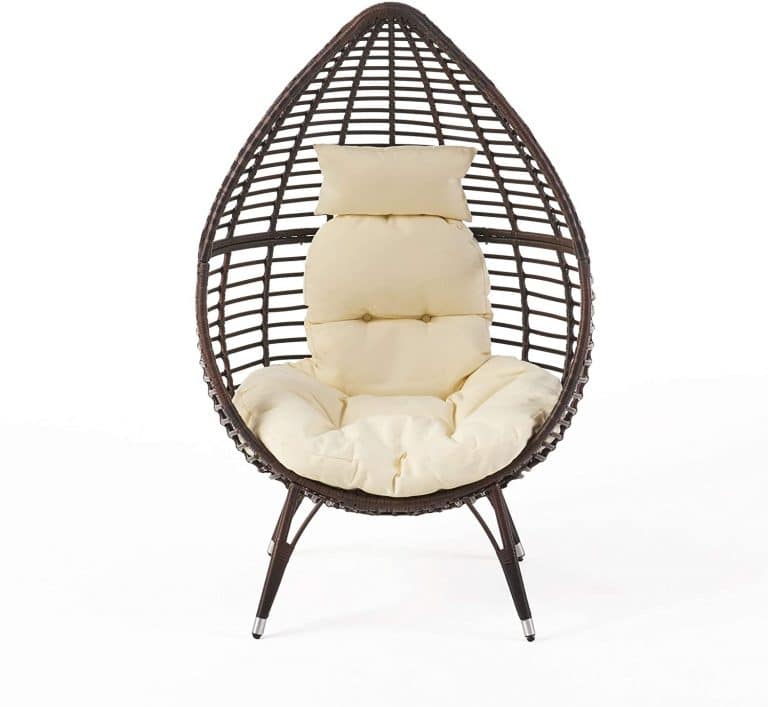 Christopher Knight Home Cutter Teardrop Wicker Lounge Chair with Cushion
Material: Metal frame, All-weather wicker, Polyester cushion
Collapsible: No
Color: Brown frame, Beige cushion
Weight: 34.83 pounds
Dimensions: 33 x 37.75 x 60.25 inches
This chair is one of the most original, stylish, and at the same time comfortable. The first thing that attracts any potential buyer is its non-standard frame made of metal base and all-weather wicker. The drop-shaped frame will amaze and make you choose this particular chair to decorate the pool area or lawn by the house. The frame stands firmly on the ground on 4 legs, providing even weight distribution of the person sitting in the chair. A non-standard frame is complemented by an equally unusual shape of a cushion. Its specific form offers comfort for both hips and back at the same time.
You can sit back and enjoy a beautiful sunset or relax, forgetting about all the worries and concerns. A cream-colored cushion gracefully shades the dark brown frame. This is unusually pleasing to the eye and trendy for today's color scheme. The shades of the furniture are stylish and versatile, allowing you to use this chair in almost any interior. The cushion is firmly fixed to the frame with straps with velcro. They hold the chair securely and provide the sitting person with unprecedented comfort and the opportunity to relax as much as possible.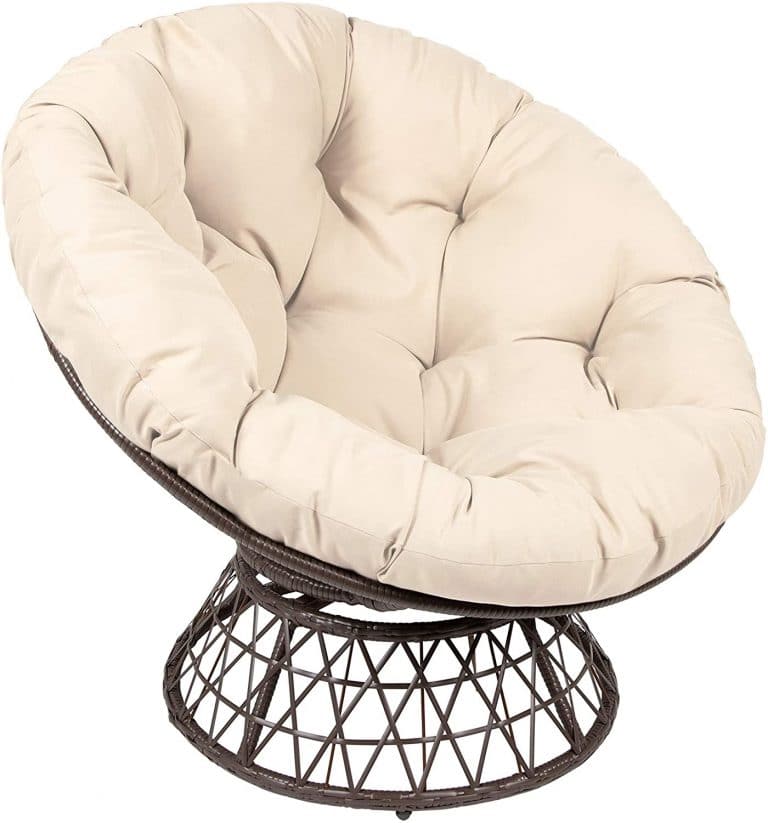 Milliard Papasan Chair with 360-degree Swivel
Material: Steel frame, Wicker rattan, Spun-polyester
Collapsible: No
Color: Brown frame, Beige cushion
Weight: 32 pounds
Dimensions: 37.7 x 35.4 x 33.4 inches
Meet this stylish, sophisticated armchair for unforgettable hours of relaxation both inside the house and outdoors. The chair's voluminous, moderately dense, and cozy cushion deserves special attention. It is protected from accidental sliding and securely fixed to the frame, thanks to the strong straps. The chair can hold up to 265 pounds of weight to accommodate one adult or several children. The represented outdoor papasan chair is also attractive due to the rotating frame. This feature distinguishes the offered chair from any other. Sitting in this chair, you will rotate 360 degrees, changing the picture in front of your eyes, depending on circumstances. The base of the frame is a metal structure, tightly wrapped in resin wicker.
The material looks luxurious but is considered a budget alternative to natural rattan wicker. Dense synthetic fabric cushion and resin wicker frame coating allow you to use such furniture without fear and risk in the garden, outdoor balcony, terrace, the backyard of your home. The rich brown frame color is harmoniously complemented with an attractive beige cushion. Despite the synthetic upholstery material (spun-polyester) relaxing in the chair you will not slip or feel cold. The material is pleasant to the touch and extremely easy to care for. Any dirt remains on its surface; remove contaminants easily with a damp cloth. The fabric is weather-resistant, so using it outdoors is a real pleasure!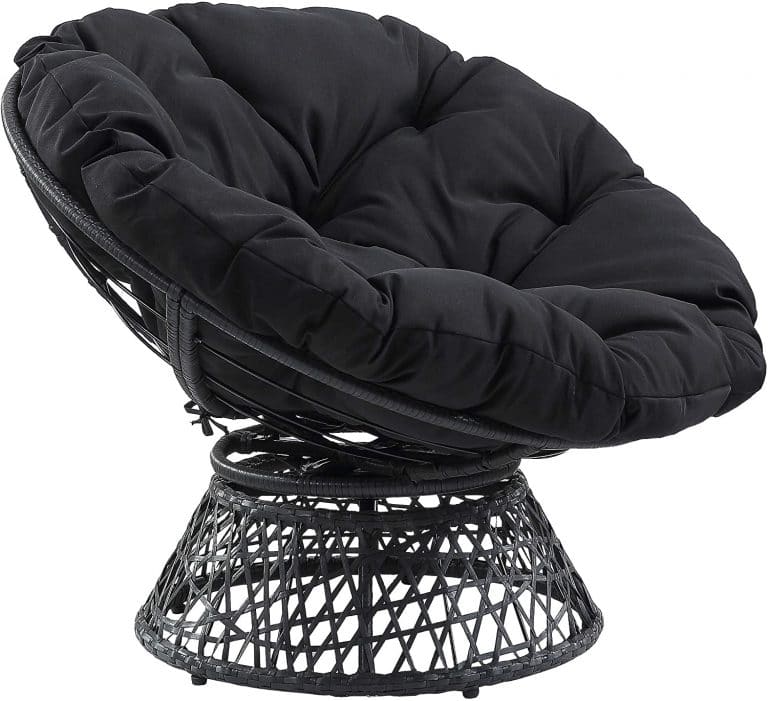 OSP Home Furnishings Wicker Papasan Chair with 360-Degree Swivel
Material: Alloy Steel, Wicker, Fabric
Collapsible: No
Color: Grey frame, Black cushion
Weight: 29 pounds
Dimensions: 36 x 40 x 35.25 inches
This versatile chair with a cushion of luxurious black color will be the best furniture attribute of any room of your home or apartment. It can perform a full function of the outdoor papasan cushion Providing you and all the household a great place to relax, nap, or read a book. The sturdy alloy steel frame is all-weather wicker, durable, water, sun, and dust resistant. Thanks to such stable and durable materials, which are not afraid of humidity or temperature changes, you can safely equip such chairs for the outdoor recreation area. The gray frame and black cushion present a classic, universal combination that will suit any interior or exterior.
It's also important to note the practicality of dark colors. They retain a neat appearance for a long time, which cannot be said about the upholstery of light shades. Agree, if we are talking about the use of furniture on the street, then, first of all, many owners think about the product's practicality, its susceptibility to contamination. On the other hand, many users praise this solution for its rotating design (300-degree). The ability to rotate has a calming effect on the psyche, allows for more effective relaxation, and fills with new vitality. A voluminous quilted cushion will give you an unforgettable rest and will not be too demanding in care.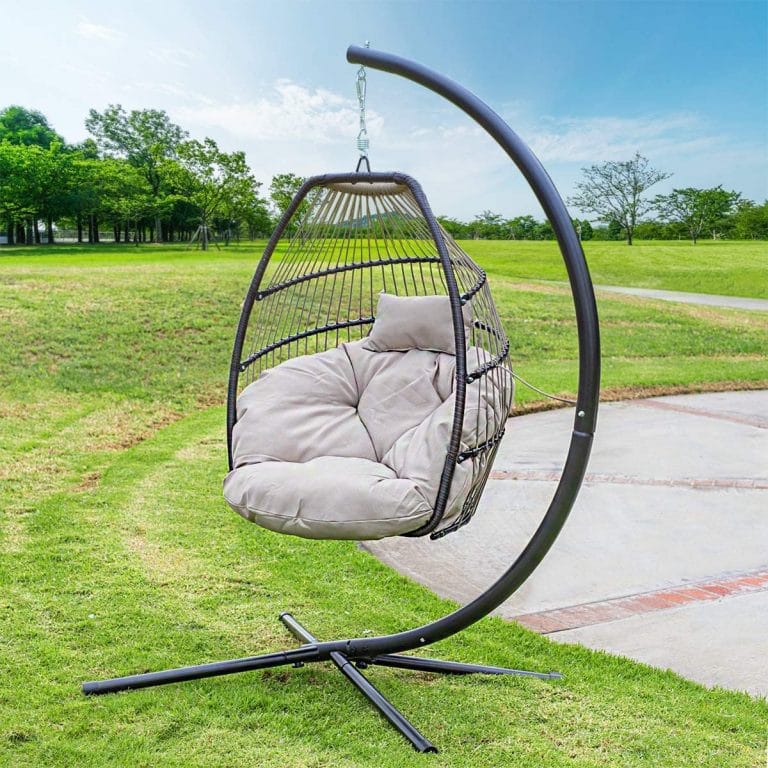 Barton Outdoor Hanging Egg Chair
Material: Metal frame, Polyethylene rattan resin wicker, Polyester cushion
Collapsible: No
Color: Black frame, Beige cushion
Weight: 59 pounds
Dimensions: 50 x 41.5 x 78.5 inches
This rattan hanging chair's frame is made of high-quality material, and has a beautiful beige cushion. The dangling chair is suitable for home usage, garden, patio, balcony, and other areas. Kids can also use it from 6-year old to adult. It has safety straps that can prevent the swinging chair from falling when it is in use. The Barton's swing chair is ready to cope with weight up to 250 pounds. The offered hanging chair is constructed of plastic, metal, and resin. The cushions are made from durable polyester. This product can be used both indoors and outdoors.
Easy assembly is required, with some hardware included with the product. Add total relaxation to your backyard with this stunning hanging chair. It features two astonishing colors, beige or natural, and offers unbelievable comfort for the user. In addition, it suggests a black metal frame and a comfortable cushion that makes it ideal for sitting anywhere in the house. The cushioned seat is comfortable and removable. The chair features high-density foam padding surrounded by soft fabric for the most comfortable seating for added comfort.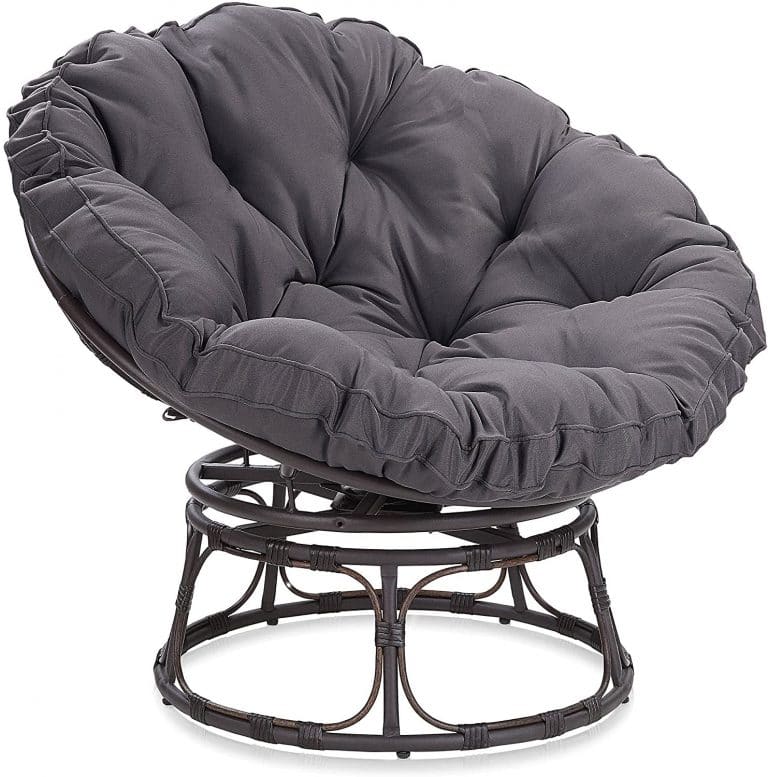 BELLEZE Papasan Chair with Fabric Tufted Cushion and Sturdy Steel Frame
Material: Steel frame, Polyethylene rattan, Polyester cushion
Collapsible: No
Color: Black frame, Dark Grey cushion
Weight: 39.2 pounds
Dimensions: 42.2 x 42.2 x 36.2 inches
Give your home a fresh, modern look with the Belleze Papasan Chair with Fabric Tufted Cushion and Sturdy Steel Frame. This round swivel chair has a sturdy frame that allows for 360-degree smooth swiveling and an unusually voluminous, soft cushion that comes in a luxurious gray shade that will complement any decor. Durable polyester fabrics used in the cushion and frame materials are water-resistant, allowing you to use it at home or outdoors without fear. The choice of colors, design and materials enable these furnishings to retain a neat appearance for a long time. This furniture piece is easy to clean – wipe it with a damp cloth or vacuum it occasionally.
Constructed with a solid steel frame and covered in durable polyester, this Papasan Chair will be the perfect addition to your living, family room, or anywhere else that you want to create additional seating. It's firm yet comfortable design is as resistant to moisture as the cushion padding, ensuring that it will provide years of use. This expertly crafted chair has the best cushioning found in much more expensive products and exceeds all relevant industry standards and safety requirements. You can sit back, relax and enjoy the comfort of this lovely chair. Belleze Papasan Chair is lightweight with a strong metal frame. It can hold up to 250 lbs.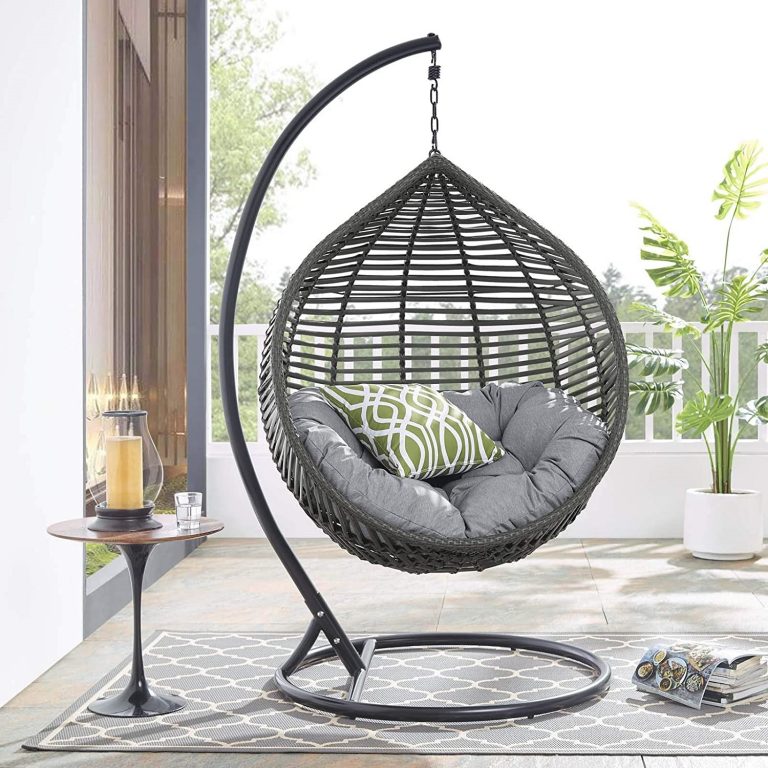 Modway Garner Outdoor Patio Wicker Rattan Teardrop Swing Chair
Material: Steel frame, Wicker synthetic Rattan, Polyester cushion
Collapsible: No
Color: Black frame, Grey cushion
Weight: 60 pounds
Dimensions: 28.5 x 41 x 47 inches
Chill out this season with this stylish outdoor swing chair. Featuring a solid gray quilted cushion and a black frame that's harmoniously complemented by woven synthetic rattan, it's both elegant and inviting. The sturdy steel frame provides support for the drop frame and is powder-coated to ensure sturdiness. This handy yet sleek piece fits nicely into any outdoor space. Whether it's by the pool, in the garden, or in your backyard, this stylish swing chair will add a soothing touch to your outdoor space.
The Modway Chair is sure to make a lasting impression on adults and children alike. It is crafted from aluminum, resin wicker, and polyester fabric which makes it lightweight yet durable. Made of heat-resistant foam, the chair features a comfortable seat and backrest, which can support up to 265 lbs of weight. This swinging chair can easily convert from an everyday piece of furniture to something that is much more: an outdoor accessory! This swing is a comfortable, durable, and stylishly constructed outdoor oasis you will love to lounge in. The seat is large enough to accommodate one adult or several children comfortably. Enjoy relaxing leisure time in this cozy chair with today's most popular colors inspired by modern design trends.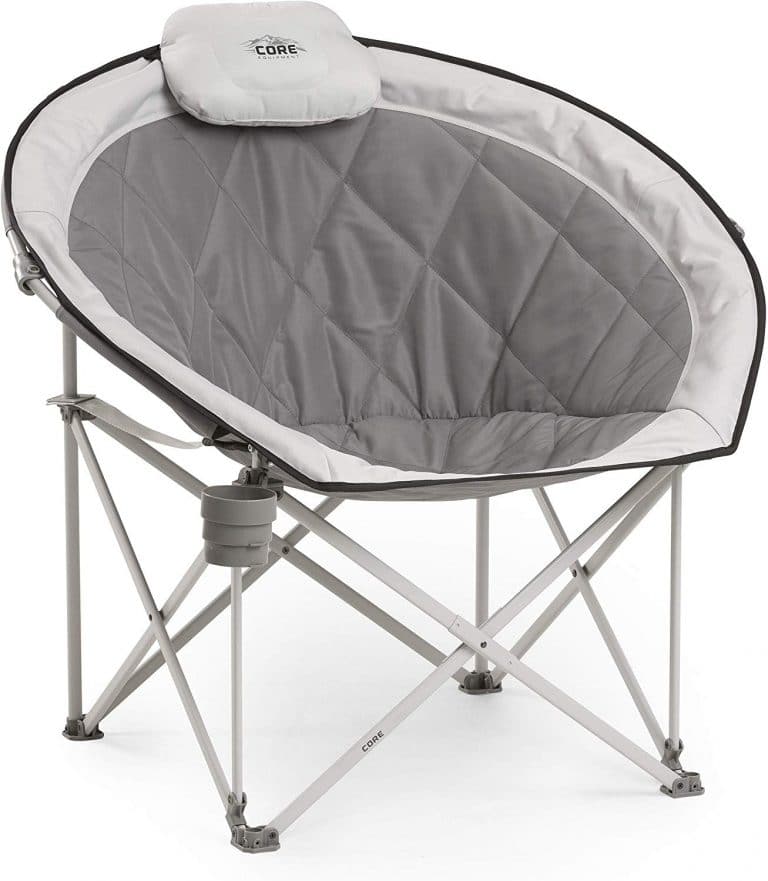 Core Equipment Folding Oversized Padded Moon Round Saucer Chair
Material: Steel frame, Polyester cushion
Collapsible: Yes
Color: Grey frame, Grey cushion
Weight: 11 lbs
Dimensions: 40 x 29 x 37 inches
This egg-shaped folding chair is great for camping, outdoor recreation, fishing, and just outdoor recreation. The eggs are foldable to fit easily into the trunk of a car or provide convenient storage. The gray color is practical and non-staining; it keeps its clean and fresh appearance for a long time. This egg-shaped folding chair is great for pretty much any outdoor activity. This small, lightweight chair is perfect for camping, picnics, outdoor gatherings, and sporting events. The chair is comfortable and folds up easily. The soft headrest and cup holder are small details that make the product more functional, pleasant, and easier to use.
This is a perfect chair for camping or backyard BBQs. The offered folding chair model has a wide variety of uses throughout your daily routine. The durable steel frame can support a person weighing up to 300 pounds, and the chair cover with a convenient carrying strap makes it easy to transport. Additionally, the cover helps to keep the chair clean, protects it from dirt and dust. With this sturdy folding chair, you can expect years of reliable service. It can support people of various weights, and the chair cover is lightweight and convenient, so you can easily carry it around. Thanks to its adjustable height, this folding chair is ergonomically comfortable to sit on for a more extended period of time.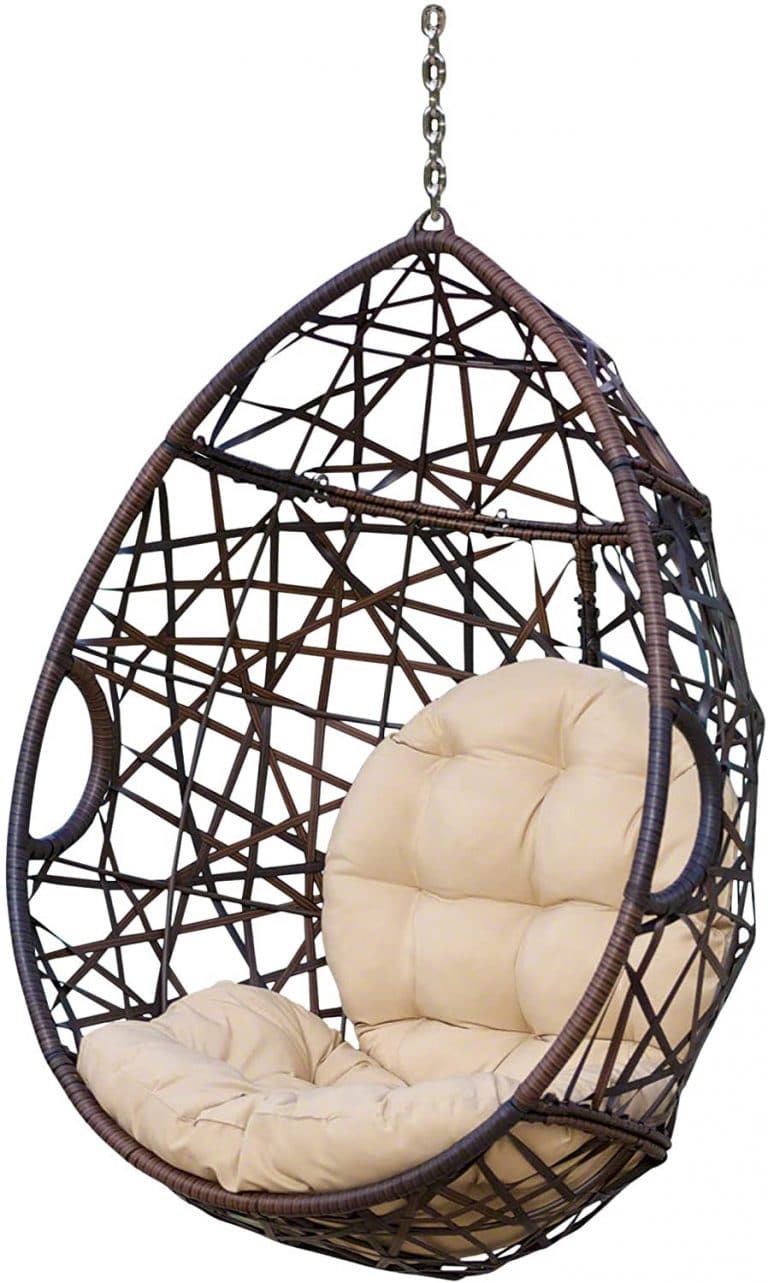 Christopher Knight Home Tear Drop Hanging Chair
Material: Water Resistant Fabric, Faux Rattan, Polyester cushion
Collapsible: No
Color: Brown frame, Beige cushion
Weight: 34.2 pounds
Dimensions: 38 x 23.5 x 48 inches
This product is a frame with a soft, voluminous cushion without a stand (should be purchased additionally). The manufacturer reminds you of the need for specific installation before using the furniture. It is important to note that the product is intended for teenagers over 12 years old and adult users. The frame material is waterproof rattan. The cushion of the chair is made of dense, high-quality polyester. The stylish and unusual shape of the frame instantly attracts the eyes and causes genuine excitement. There are special recesses for hands on the sides of the frame (it is convenient to hold while getting up from the chair).
The exquisite wicker frame looks exceptionally stylish. The weaving is done by hand. Both the cushion and the frame are resistant to sunlight and humidity, so this piece of furniture can be installed for outdoor use. The teardrop chair from Christopher Knight Home is built for comfort and durability. Crafted from all-weather wicker, it's perfect for relaxing indoors or out. The brown frame cradles a smooth beige cushion that invites you to sit awhile and relax. The represented swing chair offers a straightforward and simplistic design making it suitable for any setting. Hanging from the ceiling or reliable stand, this fun-filled relaxing option for an indoor or outdoor space is designed for all who love to look at the stars at night.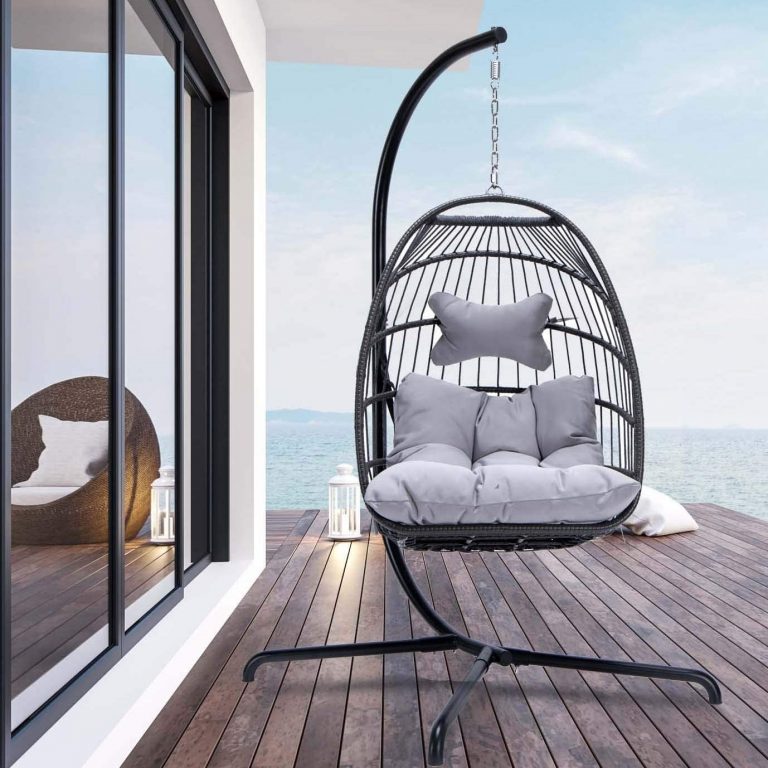 Indoor and Outdoor Patio Wicker Hanging Swing Chair
Material: Steel frame, Resin rattan, Polyester cushion
Collapsible: No
Color: Black frame, Grey cushion
Weight: 59.5 pounds
Dimensions: 45.67 x 29.72 x 7.68 inches
This comfortable swing chair can be swung both ways and gives a sense of freedom in space. Thanks to its wide seat, it can accommodate any adult up to 350 lbs. A set of two cushions – the larger cushion for sitting comfortably and a smaller one for placing your head conveniently – allows enjoying your time spent on the patio swing for as long as you want. This improved model is designed to introduce you to the comfort that you deserve! Relax in an oversized swing chair and rest your body while enjoying an afternoon nap or reading a good book alongside the rest of the family. Made from a quality steel frame and durable material, this Indoor-Outdoor Patio Wicker Hanging Chair will help you enjoy your free time and add comfort to the patio or garden.
A good-looking, laconic, and revolutionary seating solution for all patios and balconies. A wicker hanging chair with a very comfortable cushions design, suspended from the roof or protected by a pavilion. It can be used in three different places, being exposed to the sun, rain, or wind. Slip into this comfortable hanging chair for a refreshing way to relax or dine outdoors. The durable, all-weather black frame is made of steel and features a rustproof treatment and double bolted connections for added stability and strength. The grey cushions are composed of polyester fabric, which is both water and UV-resistant.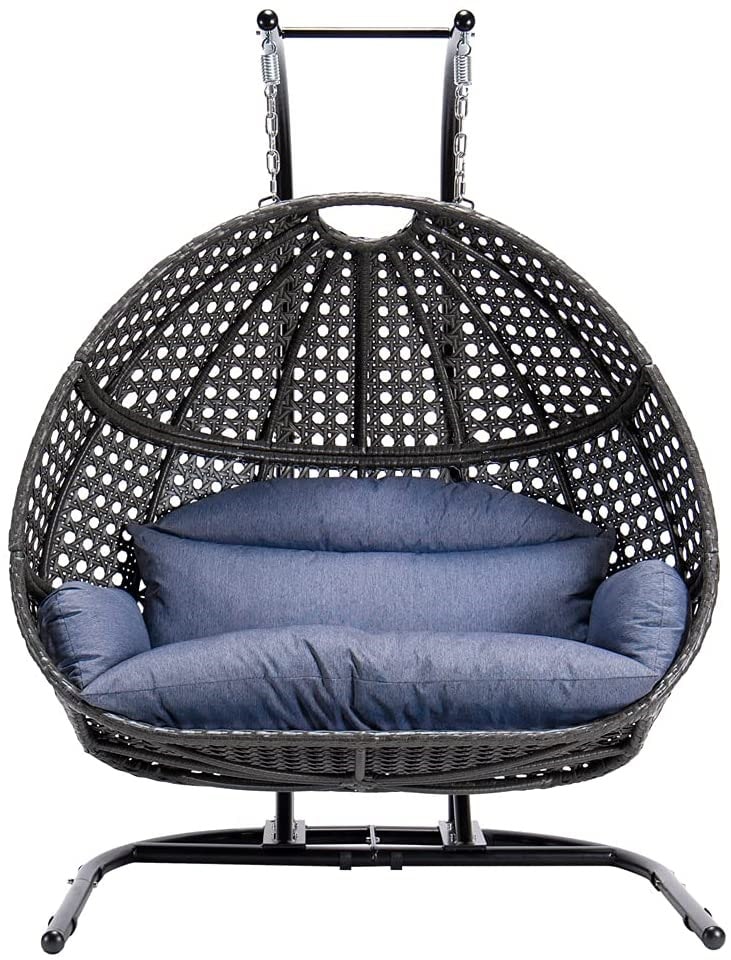 Lambgier Double Hanging Egg Chair with Stand
Material: Alloy steel frame, Polyethylene rattan wicker, Polyester cushion
Collapsible: No
Color: Black frame, Blue cushion
Weight: 149 lbs
Dimensions: 63 x 31 x 21 inches
This double armchair swing for a couple of lovers or friends is an unusually stylish furniture solution. Get rid of the boring and monotonous chairs with this wonderful alternative to the strict classic furniture. The reinforced construction of the alloy steel frame guarantees the safety of the resting people. Soft, voluminous cushions are responsible for your comfort and support of the whole body. The highest quality materials are used in the production of furniture – alloy steel (for the stand), polyethylene rattan (frame), water-resistant cover (cushion). The frame structure consists of three tubes securely fastened together.
The chair is fixed to the frame with two metal fasteners (in the form of chains with carabiners). This is a design piece for your garden. Hanging chair offers a modern style, comfortable rest; it fits any environment, providing extra space for reclining. Place this chair inside the house or set it outdoors. All materials are resistant to various weather changes, and therefore the chair is not afraid of rain, sun, dust. Despite the high reliability of the construction, it should not be overloaded (2 is the maximum number of resting people). The cushion is removable and washable, making it easy to clean up after such events as picnics, barbecues, parties, or other gatherings.
Guide to Buying the Best Outdoor Papasan Chair
Can Papasan Chairs be used outdoors?​
Many potential owners of papasan chairs are perplexed and wonder if such products may be really used in the fresh air? Experts assure that this furniture in the face of papasan outdoor chair, especially of high quality, can and even should be used outdoors. Typically, manufacturers of such papasan outdoor cushion warn about the possibility of using chairs outdoors.
If your dream is a perfect papasan chair outdoor exploitation will be guaranteed by its high-quality materials (cushion and frame as well). Usually, the manufacturer informs the purchasers about the ability of outdoor usage of such cushioned furniture.
What peace of cushioned furniture may be really used outside your house? These are the papasan cushions outdoor, that are characterized with durable frame made of natural or artificial (rubber) rattan; cushion made of thick waterproof fabric; robust and sturdy construction.
Modern outdoor papasan cushion is a real finding for those who are planning the home exterior. If you want to equip a recreation area near the house – in the garden or near the pool (or pond), take into account the idea of buying a papasan chair outdoor. Such an outdoor papasan chair can withstand any weather conditions, but ideally, one should keep them indoors on the days of non-use. Nevertheless, the excellent strength parameters of natural rattan allow such furniture to withstand different weather phenomena such as rain, humidity and air temperature differences. Each outdoor papasan cushion is a reliable rounded chair that can bring a twist to the exterior of your home or cottage. You can choose a product of any size and color, focusing on potential users (children or adults).
In addition to the combination of armchairs and cushions, you can also choose a simpler and cheaper option, an alternative to the standard papasan armchair. We are speaking of papasan outdoor cushion. This is a cushion for outside relaxation. If such solutions are intended for outdoor use, durable, heat-resistant jacquard is usually used as basic material. Sometimes the manufacturer uses special Teflon impregnation in the fabric for cushions' creation. As a result, such a product becomes ideal for usage in the fresh air – practical and hardy. If you plan to buy such papasan cushions outdoor exploitation will not damage it, be sure.
Are Outdoor Papasan Chairs with Cushion good for your back?
We have already noted that papasan chair outdoor cushion is perfect for relaxation while being out-of-doors. But we haven't spoken about its influence on human health. May it damage your back or cause any orthopedic diseases?
They say about holding a huge number of testing for such a cushioned furniture, including outdoor hanging papasan chair. The results are stunning. None of papasan chairs, if used correctly, can cause even minimal harm to the human body, in particular, the back. It was noted that regular sitting in such chairs, on the contrary, relaxes the back, gives a good rest to the spine and the entire body as a whole. A strong and dense cushion reliably supports the back fixed on the chair frame. Papasan cushion outdoor exploitation is especially useful – you are resting and breathing fresh air simultaneously! Isn't it really great? Apply this tip to outdoor double papasan cushion and get a double dose of satisfaction and ideal relaxation time!
Parents planning the arrangement of a children's outdoors zone are often concerned about the health of their children. Experts are in a hurry to reassure them. Outdoor papasan chair cushion, as well as individual papasan cushion outdoor, do not harm those who sit in them. As a rule, healthy children are active, and therefore unlikely to sit in a chair all day. And even if your child belongs to calm children and likes to spend time sitting on a sofa or in an armchair, you can still not worry that papasan products will harm him or her.
Such furniture solutions are categorically excellent products for a healthy and properly organized relaxation. That is why you can safely use these soft chairs of various sizes and colors when arranging the territory near the house, pool, in the garden. They will be the best addition to the lawn and may give you unforgettable minutes of bliss and tranquility. With papasan seats, you can be calm about the health of your back.
Papasan double armchairs are especially comfortable for a joint rest. Outdoor double papasan chair can give maximum comfort to two people at once –  both children and adults. Double papasan can withstand two medium-sized adults and provide good back support.
Can you hang a Outdoor Papasan Chair?
Among all the varieties of papasan armchairs available on sale today, a separate category includes solutions that should be hung. A special mechanism allows you to use these chairs in the format of a comfortable swing equipped with a soft and comfortable pillow. Therefore, answering the question about the possibility of hanging seats, you can safely answer Yes, in particular, if it is provided in advance by the manufacturer.
What nuances should be paid attention to while choosing the best and the most reliable outdoor hanging papasan chair? The durability of such a quality chair is largely dependent on the quality of the materials from which it is made. Therefore, it is worth choosing products of the middle or highest price category. You can often find very unreliable and even dangerous constructions among the cheap papasan hanging chairs. Due to the fact that the chair is a hanging one, it must have a fairly reliable frame.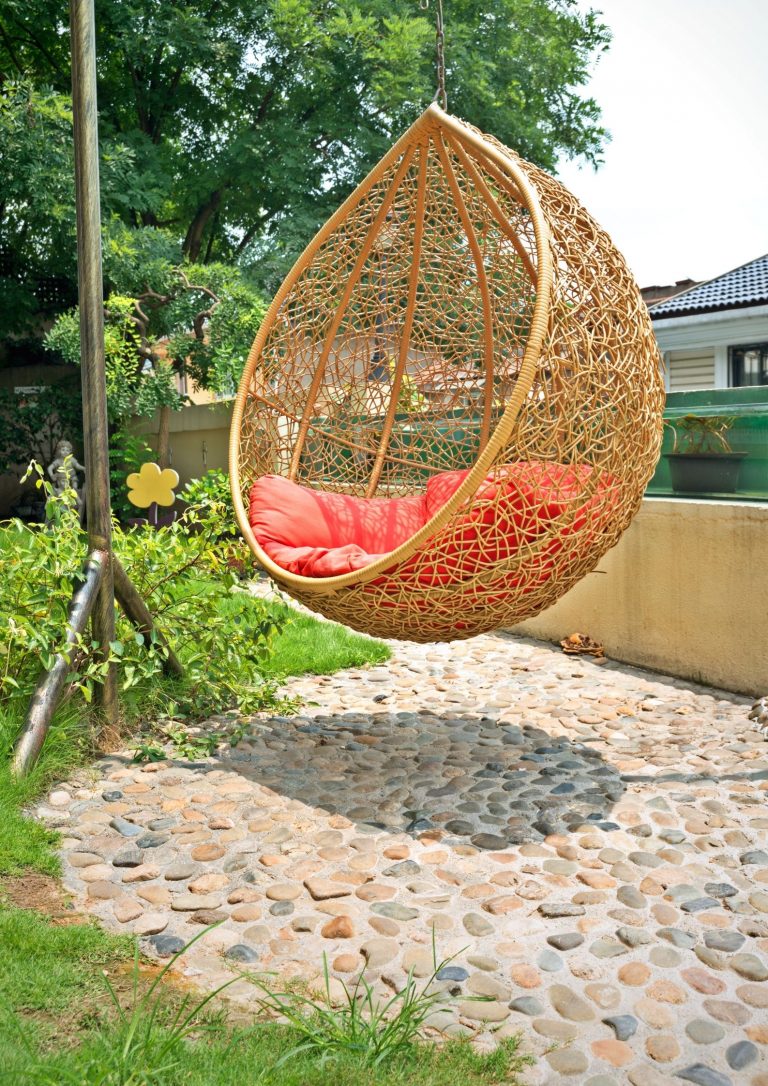 The seat must be stable and protected from accidental rolls and falls. If necessary, as with any other papasan chair, you can buy an extra cushion– an additional papasan chair outdoor cushion. Why might you need a spare cushioned seat for such outdoor furniture? It is no secret that such chairs are regularly exposed to moisture, dust, sunlight. Despite the fact that the manufacturer is trying to use the most stable materials in the creation of such an outdoor papasan chair, the cushion gets dirty sooner or later. And if the frame can simply be wiped with a damp cloth from dust, then the cushion is better to wash from time to time. Therefore, when buying an outdoor papasan chair cushion for outdoor use, it is better to stock up with an extra pillow. In addition, cushions of different colors will allow you to add new colors and refresh your exterior.
When assembling a chair after purchase and hanging it, you should use mechanisms and devices strictly from the set (from the concrete manufacturer only). Thus, you will assemble a reliable design and ensure your safety during the operation of such a furniture. It is also important to consider the carrying capacity of a particular product. Try not to exceed the weight specified in the instructions from the manufacturer – in this case, you will ensure the integrity of the product and protect yourself from injuries.
Who makes the best Outdoor Papasan Chair?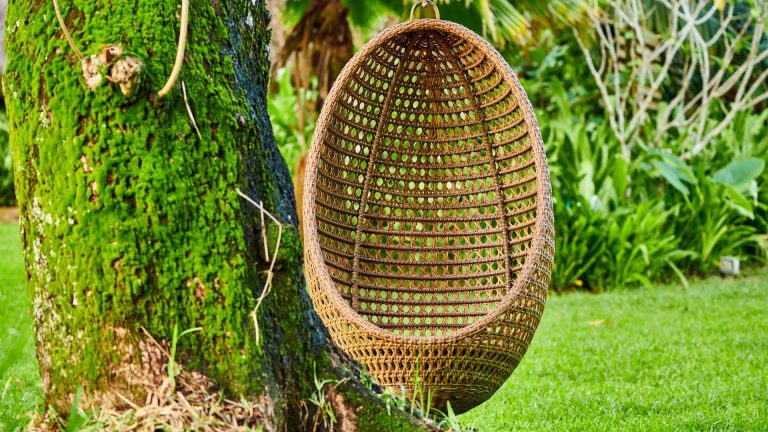 Who produces papasan chairs nowadays? At the moment, there are a lot of companies that deserve respect and appreciation primarily from the consumer. The modern market for upholstered furniture is replete with brands that offer customers a very high-quality and stylish products, including papasan furniture.
You can easily buy papasan chairs from many reputable companies directly on the Internet without leaving your home or office. It is especially convenient that you can familiarize yourself with the entire volume of reviews from real buyers before the acquisition. Take advantage of other people's experience and tips to choose a really high-quality outdoor papasan cushion for a summer residence, a country cottage or a private house.
To make the chair look decent for a long time and be convenient in the process of use, it is worth choosing the best and worthy products. Pay attention to the material of the frame and outdoor papasan cushion. The chair cushion should ideally be removable so that you can always remove and wash it as needed. Besides, a removable pillow is an additional opportunity to update the chair (you can always buy a new pillow and fix it on your papasan chair). This option is especially important for furniture that will be used outdoors, as the environment (temperature extremes, high humidity, direct sunlight, dust) will adversely affect the product.

No matter what you are planning to purchase – single or outdoor double papasan cushion. This product needs careful use and regular cleaning. Only in this case, the outdoor papasan chair will serve you for many years.
Outdoor furniture exploitation rules
Classic papasan chairs and swings can be used outdoors, but only if their materials are resistant to humidity changes and direct sunlight. Usually, the manufacturer states in the product description whether or not it can be installed and used outdoors. For the most part, furniture made of synthetic rattan performs well in all kinds of weather. Therefore, it is often used for balcony and patio furniture, as it looks great in any outdoor area, especially when it is decorated with colorful cushions and pillows. For instance, Blazing Needles outdoor papasan cushion with resin wicker frame and the polyester cushion will ideally add your exterior (lounge zone near the house or in the garden).
How to take care of outdoor papasan furniture?
The care of such furniture begins with its proper installation and positioning. Planning to acquire this or that papasan chair outside area in which this furniture will be placed must be clearly planned. Take care of a smooth surface to prevent accidental chairs' overturning. It is also good to place the furniture under a canopy. This way, you will prolong its service life (even if the manufacturer allows it to be used outdoors). How to take care of papasan outdoor furniture? If you use it properly, you are already taking care of its original appearance. Do not leave such chairs and swings in the rain or direct sunlight for a long time. If possible, protect their cushions with removable covers (they can easily be freshened in the washing machine). If the chair gets dirty, do not use aggressive detergents. In most cases, the dirt can be easily removed with a damp cloth. Do not exceed the allowed weight limit of the chair so as not to break its frame and not to hurt yourself.
thepapasan.com is a participant in the Amazon Services LLC Associates Program, an affiliate advertising program designed to provide a means for sites to earn fees by advertising and linking to Amazon.com.