How Are The Papasan Chairs Made?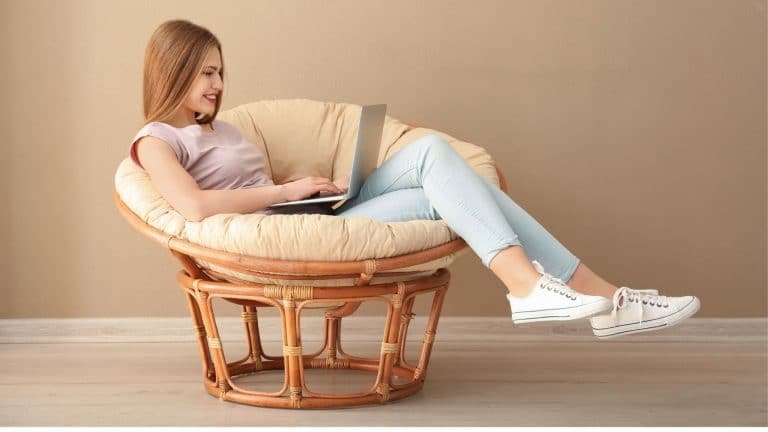 LAST UPDATED: February 28, 2021
The issue of furniture production has always worried every potential conscious consumer. Today we invite you to talk about the materials and production methods of papasan chairs. These furniture attributes have firmly entered our life because such units personify coziness, comfort, and maximum convenience. Both inside and outside the house (by the pool, pond, on the terrace, or lawn in the backyard), they create an unusually stylish and pleasing interior. 
Guide On The Papasan Chairs Origin
In virtue of the best papasan saucer chairs one may perfectly organize interior or exterior house decoration. Let's will find out from what materials and how are the papasan chairs made.
Where did the papasan chair originate?
Speaking about this kind of furniture's origin, no one knows for sure the concrete place of their first development. Nevertheless, according to the stories that have survived to this day and documented information, the first papasan chairs were created in the territory of South East Asia. Some researchers note that the first copies of such cozy and practical chairs appeared in the Philippines.
In short, you are unlikely to find officially confirmed information about the exact place of such furniture creation. Most likely, this indicates that such chairs are many years old and they were invented a long time ago. In any case, no matter what country and specific inventor this product is, today it enjoys a frenzied and fully justified demand. Oriental motives are evident in every modern papasan chair. These are the following nuances – the rounded base shape, preference for natural materials, proven reliability of the entire structure. Each papasan chair is beautiful in its own way, both visually and in use.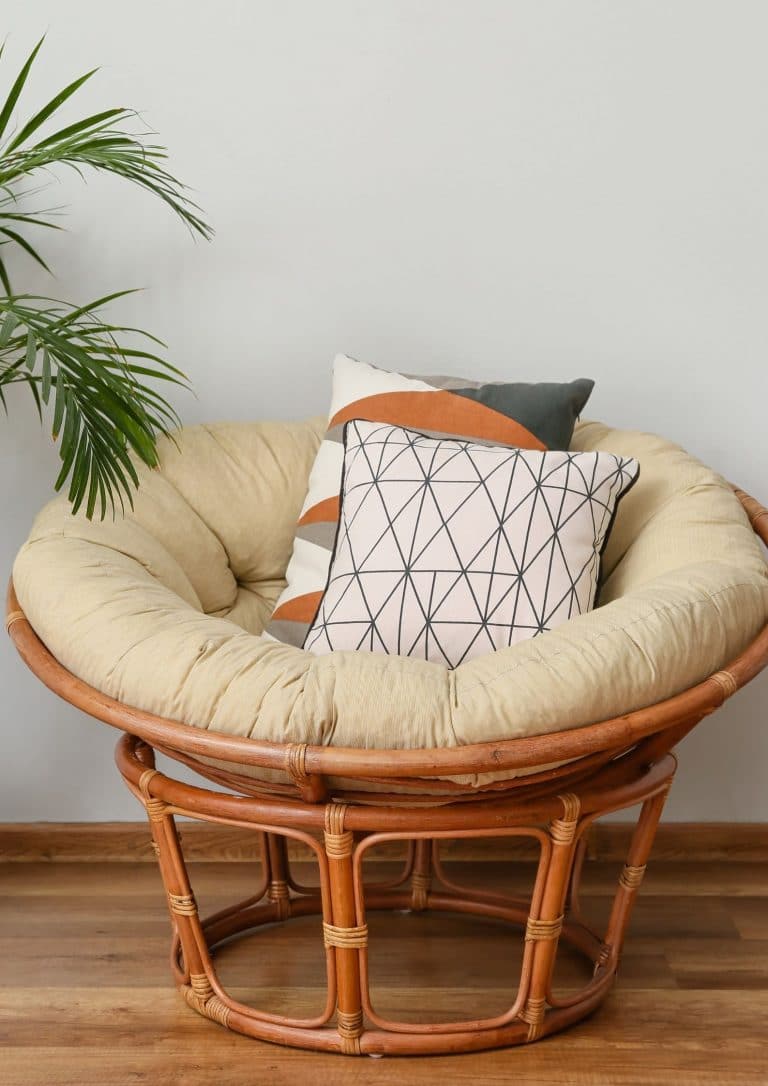 What are the papasan chairs made of?
What are modern papasan chairs made of? This question arises for every buyer planning to acquire the best papasan rocking chairs or other types of such furniture. Original papasan solutions are produced mainly from natural materials. These are rattan or bamboo fibers. According to which principles were these materials selected? People noticed that endurance and resistance to various external influences distinguish the climbing plants bark even in antiquity.

All this indicated the possibility of using such materials for the household, everyday attributes production, including furniture. It should be noted that these chairs were originally made by hand. To this day, many companies follow the mentioned tactic. But it is worth noting that handicraft has always been valued expensively, so such furniture has never been cheap.

Of course, the modern furniture market is ready to offer you more budgetary papasan solutions, but no less stylish, beautiful, and attractive. Metal and plastic act as base materials in such furniture. Wicker plastic furniture, imitating rattan, looks luxurious and gorgeous, and its price is not so scary. But the democratic price tag of such papasan chairs is not their only advantage. Resin wicker, miraculously imitating natural rattan, is quite hardy and durable material. Unlike natural materials, resin fibers are water-resistant and not afraid of dust and dirt. Such furniture can be easily washed with a water hose using mild detergents. It is forbidden to wet natural rattan chairs. An abundance of moisture can cause irreparable damage.

These chairs are mainly made by weaving. Rattan, bamboo, or resin wicker fibers are tightly intertwined to form a dense, strong canvas. Then it is stretched and fixed on a metal or wooden frame.

The cushion of any papasan chair is usually made of thick fabric. Most often, these are synthetic materials or a combination of synthetic and natural fibers. The abundance of colors, textures, patterns, and designs is a pleasant surprise. Some armchairs have a tightly fixed, non-removable cushion; others allow you to remove the pillow in order to wash its cover or, altogether, to acquire new colors and textile solutions (original interior change).
Compressed holofiber or other synthetic material (hypoallergenic, durable, does not absorb moisture and dust) is used as a filler for such cushions.
Where are the papasan chairs made?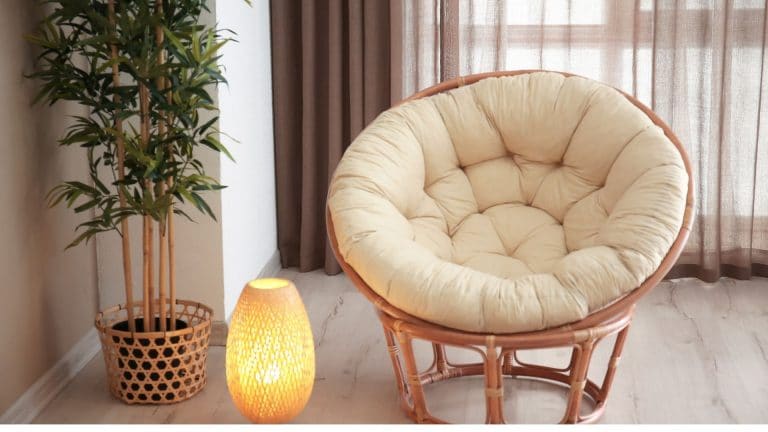 In which countries are the best and most comfortable papasan chairs made today? According to the information we have, the mass production of natural rattan and, accordingly, the well-established production of chairs is today recorded in Sri Lanka, the Philippines, Malaysia, Indonesia. There are a lot of companies specializing in the production of incredibly comfortable, durable, and, of course, visually attractive chairs in all these South East countries. You can purchase products from the leading manufacturers of the East in a remote format. Online shopping opens up horizons previously inaccessible to all of us and makes it possible to compare prices for papasan furniture from different suppliers. As a result, you buy the most successful and convenient products in your opinion to create a stylish and cozy interior.
thepapasan.com is a participant in the Amazon Services LLC Associates Program, an affiliate advertising program designed to provide a means for sites to earn fees by advertising and linking to Amazon.com.