How to Fix a Hanging Papasan Chair?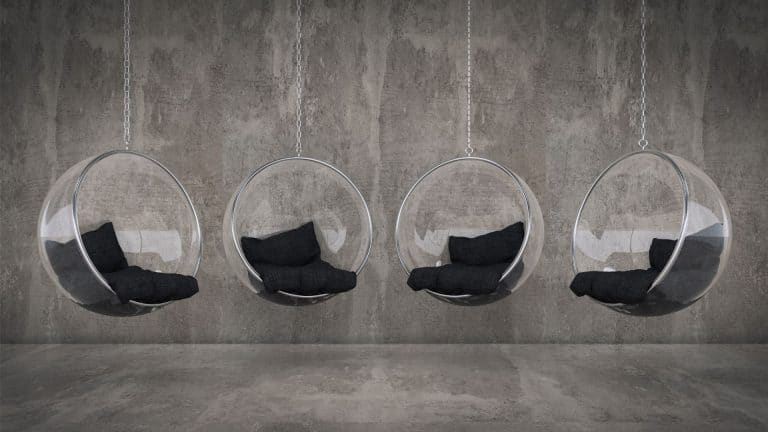 LAST UPDATED: MAY 15, 2021
The mentioned hanging papasan chair is a separate type of furniture that deserves the consumers' attention. Such soft and incredibly cozy furniture is often used to organize the area near the house, in the backyard, in the garden. Nevertheless, modern interiors often involve the use of hanging chairs inside the house.
Guide for Hanging Papasan Chairs Purchasers
Learn how to correctly fix these chairs, ensuring a safe and truly enjoyable operation for children and adults. Hanging upholstered items as well as egg chair with stand provides convenient and entirely secure exploitation. It features a characteristic rounded frame made of plastic or metal and complemented by a soft, fluffy cushion.
Can you hang a papasan chair?
Modern papasan chairs delight with the originality of forms, high-quality materials, and exquisite design. Suspended armchairs, reminiscent of a well-known standard swings, are in particular consumer demand. This furniture is highly valued both by adults and children. Can you hang your papasan chair? Of course, if its design and construction allow it. Manufacturers usually equip such chairs with strong ropes, cables, or chains for reliable furniture fixation.

All hanging papasan solutions present on the furniture market today can be classified into two large groups. These are chairs that one may suspend from the ceiling or a particular beam. The next hanging chair group includes solutions, supplemented with a special frame (for secure chair fastening). The second group of armchairs includes egg-type solutions, convenient and cozy.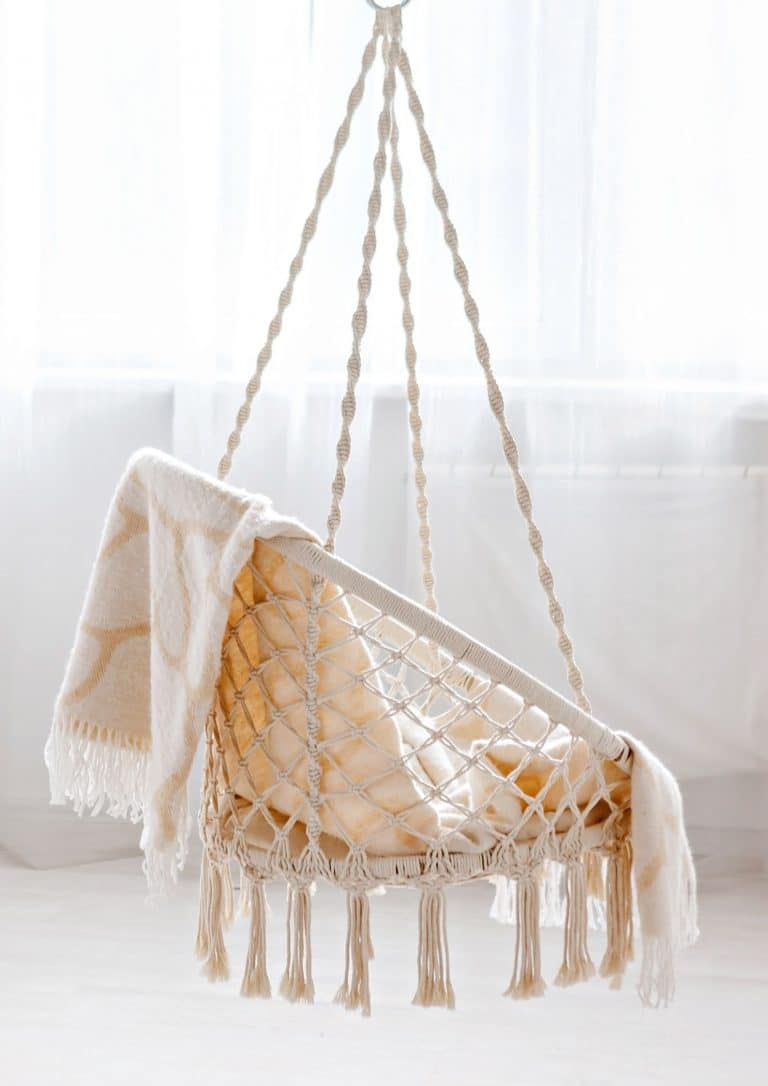 The first category of chairs is an excellent solution for creating cozy home interiors (such products look exceptionally stylish in a kids' or teenager's room). The second category of chairs attracts with such a parameter as mobility. Move it easily from one place to another (allow to set and exploit it inside and outside). Use them to complement your patio or lawn outside your home.
How to hang a papasan chair correctly?
If you do not know how to hang the chair in compliance with all safety requirements properly, refer to the instructions or user's anual. Any responsible manufacturer always supplements his products with detailed instructions regarding the assembly, installation (fixation, suspension) of the chair, and subsequent maintenance. Before the chair fixation, it is essential to make sure that the rope or chain is reliable and intact. If its integrity is broken, you should first purchase a new rope and then follow the procedure for fixing the suspended papasan chair. And do not forget to read all the manufacturer recommendations in advance carefully. The required set of fasteners is usually included in the basic chair package. If necessary, you can always buy additional elements that will fail or be lost after a while. It is strictly not recommended to use self-created or repaired fastening systems. Note that they are not able to provide the required level of security.
Using hanging papasan chair with stand
The vast majority of hanging papasan chairs is represented by products with a comfortable, heavy stand. This stand serves as a solid fixating element responsible for the stable, secure position of the furniture structure. The stand is usually made of robust and durable metal, coated for a more attractive look with the resin wicker or any other synthetic material. The outside coating serves as a decoration and protects the metal from harmful moisture and sunlight effects.

The rubber covering of the hanging papasan chair frame is easy to maintain – it is enough to wipe such a stand from time to time with a clean damp cloth. Before purchasing and using the hanging chair with a stand included, make sure it is heavy and stable enough. The product must guarantee safe operation (protection against accidental chair overturning).
Outdoor hanging papasan chair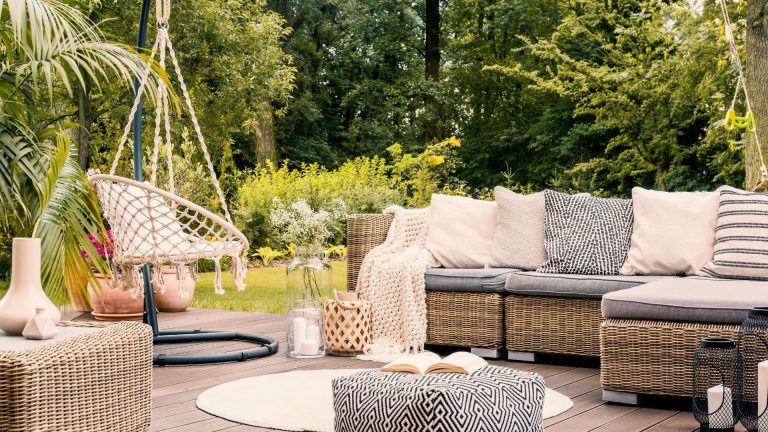 Take a look at hanging papasan chair solutions while organizing an outdoor lounge area near your house. These sophisticated chairs are the perfect complement to your pool or backyard area. They are very comfortable for relaxing in the fresh air with children or in the company of best friends. Rocking in such a chair slightly, sipping your favorite drink, you can have a delightful time, relax and give yourself a great mood.

Most of the outdoor hanging chairs are made of durable materials (both frame and cushion). Usually, these are synthetic but very pleasant in appearance and touch materials that are not susceptible to moisture and sunlight. Such chairs are unpretentious in everyday maintenance and retain a representative, stylish appearance for a long time. In order to keep them perfectly clean and neat, it is enough to wipe these chairs with a damp and then dry cloth.

Hang papasan chairs strictly following the manufacturer's recommendations. Before installing such swing chairs, always ensure that the fastening structure (rope, fixing elements) is intact.
thepapasan.com is a participant in the Amazon Services LLC Associates Program, an affiliate advertising program designed to provide a means for sites to earn fees by advertising and linking to Amazon.com.