How To Hang An Egg Chair?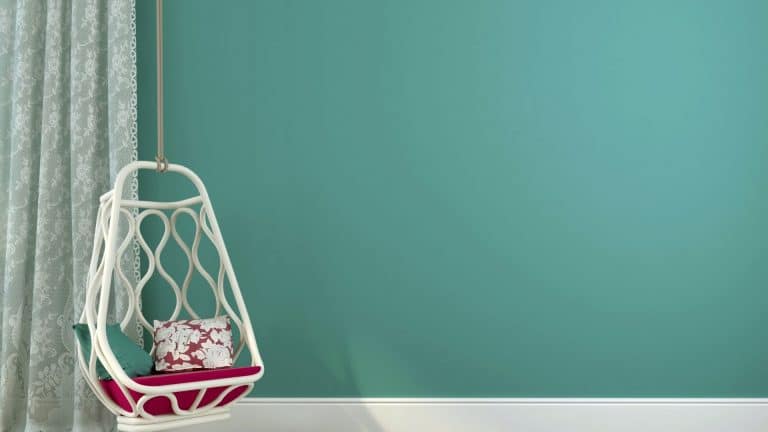 LAST UPDATED: AUGUST 3, 2021
With a hanging egg shaped chair you never have to worry about finding floor space for it. Remove the tedious task of the perfect spot for your new chair detecting. Hanging egg chairs can be suspended from a metal frame (sold separately) or from the ceiling. Perfect for getting together with friends around a coffee table – the hanging egg chair easily swings back and forth.
Guide for Egg Chairs Purchasers
You might think that hanging an egg chair should be a complicated job. But, following the instructions and using some devices while installing the furniture, you may hang it safely and quickly. So, don't waste your time and read an article about papasan hanging chair items' fixation right now!
How to hang an egg chair from the ceiling?
When buying a hanging egg chair, it is worth thinking in advance about how and where you will install it. Some models of such furniture include in their basic package stand for hanging; others require the owner to purchase such an accessory additionally. In any case, assess in advance the functionality of the furniture, think about the location where you want to install it, order the right set of additional elements for hanging (if they are not included in the package). Any egg seat that was made to hang can also be suspended from the ceiling. In this case, it is crucial to have a special hook or beam with a hook on your ceiling. Before you buy such furniture, it is worth planning the work that will need to be done to equip your ceiling with a secure and robust hook. Even at the repair work stage, some fix a hook in the ceiling (it can be removable, which is very convenient) to have the opportunity to place a swing or an egg chair. Very often, such solutions can be found in the children' or teenagers's rooms.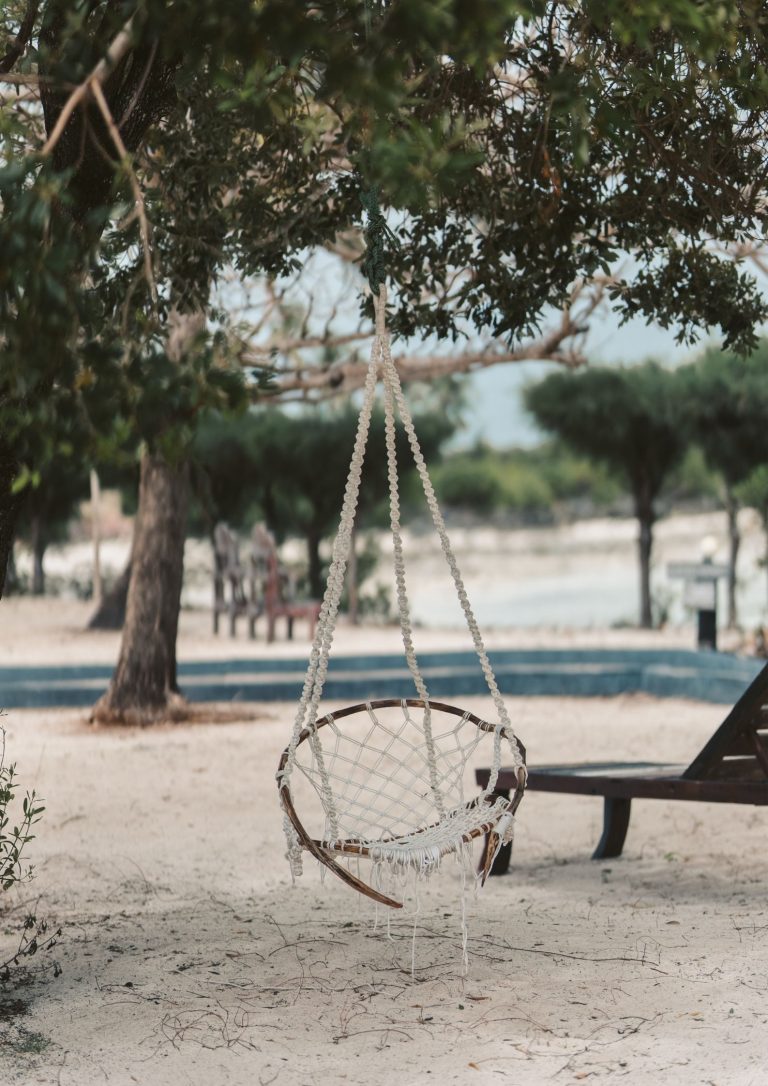 Hanging an egg chair indoors
Hanging chairs and armchairs can be fixed and used both inside and outside the house. Planning to install such furniture inside the house, you need to consider several factors. The first one we've mentioned above is the technical possibility to install such an armchair in the house (the presence of a solid fixing element in the form of a hook). What else do you need to consider when installing such an unusual but comfortable swing chair at home? Also, evaluate the safety of maneuvers that such a hanging chair can perform (possible movements trajectory). This way, you will prevent accidental bumping of furniture against walls or other interior elements.
To ensure the resting person's maximum safety, it is recommended to mount such a chair swing in the center of the room (away from lamps and massive elements of interior décor). You will need a drill, a special screw with a hook, robust rope or chain (of the required length) to install such a chair. It is recommended to take on such work, having at least minimal skills with a drill. Make a hole in the ceiling beam, and place the screw into it. Then ask for somebody's help. Thread the chain or rope with one end into the loop on the top of the chair. Ask your assistant to give you the chair and fix the other end of the chain or rope in the screw which is placed into the ceiling beam. Finally, check that the construction is secure.
How to fix an egg chair from a tree?
Living in a country house or vacationing at the cottage in the warm season, you will definitely want to make its backyard cozier. To carry out the plans, you can fix a hanging egg chair on the tree branch. Use a chain or rope for this purpose. The main thing is to make sure the branch is strong and thick enough. It is also essential that its angle allows the egg chair to swing comfortably and safely. Pay attention to the strength of the chain or rope; you may also need to apply knowledge of knitting the most strong nautical knots.

Did you know that today you can find a special rope with carabiners for installing hammocks, swings or egg chairs? Such an accessory can be an indispensable aid in fixing hanging furniture. It ensures reliability and safety of installation, allowing you to comfortably enjoy rocking in a stylish comfortable chair. Usually, this rope with a carabiner is made of durable materials that are resistant to water and sunlight. Using this solution, you do not damage the tree by drilling live branches and at the same time give your family the joy of enjoying the fresh air in a cozy swing.
How to hang an egg chair with a rope?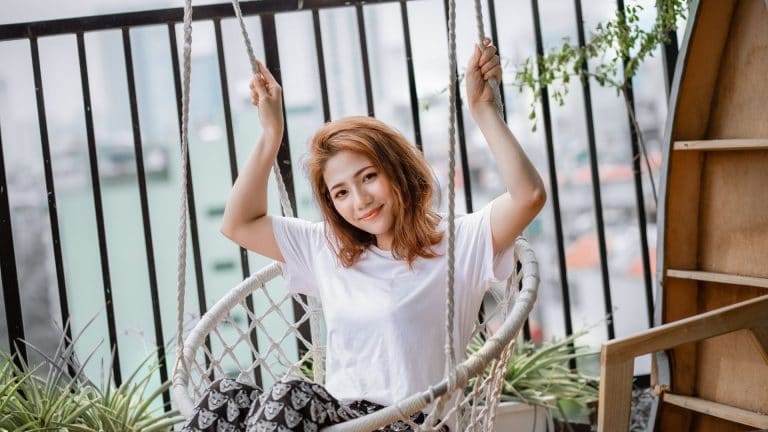 There is nothing complicated about setting up an egg chair with the help of the rope. The algorithm is simple and straightforward. First, determine the best place in your opinion to install this furniture. Make a mark with a pencil in the place where the hole will be drilled. Next, using a drill, make a hole of the right diameter and install dowels. Now use a screwdriver to screw in the hook and hang the chair on it. Always make sure that the rope you use is strong and durable. Its density and sturdiness must be in accordance with the dimensions of the armchair and its permissible load-bearing capacity.
thepapasan.com is a participant in the Amazon Services LLC Associates Program, an affiliate advertising program designed to provide a means for sites to earn fees by advertising and linking to Amazon.com.