What are the Advantages of a Moon Chair With Canopy?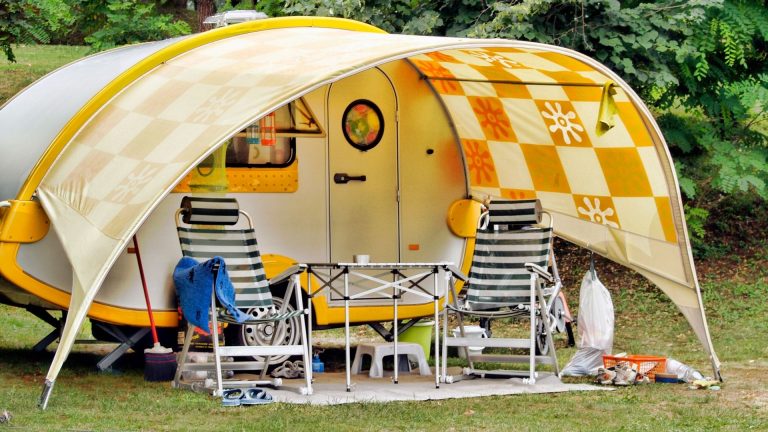 LAST UPDATED: JULY 1, 2021
Outdoor activities should always be planned in advance. It is not only about preparing the necessary set of food and clothing, but also about furniture. Folding chairs with a round design are in high demand among travelers and lovers of recreation in the country. Moon chair solutions with several additional options (accessory pockets, cup holders, comfortable arm- and headrests) are especially in demand. Moon chairs with canopy occupy a separate furniture niche.
Guide for Moon Chair With Canopy Purchasers
Some outdoor egg chair types may also be equipped with a comfortable and practical canopy that perfectly protects from the sun. Let's find out what types of such furniture present on the modern market, and which one is better to give preference to.
Basic types of moon chairs with canopy
The modern outdoor furniture market never ceases to amaze with exquisite and at the same time convenient upholstered solutions. Folding camping chairs equipped with a small canopy will definitely win your heart and stay in it forever. This comfortable chair is difficult to confuse with other furniture. It already has everything you need for a comfortable and relaxing stay in the garden, in the country, near the river, lake or on the seaside. Are you planning an RV-camping trip? Be sure to take such a chair with you.
All canopy chairs are divided into several types, depending on the purpose (for children or adults), size, type of structure (folding or non-folding structure), canopy type (removable or fixed). If you plan to use such furniture in one place (for example, only in the country house), then you can choose non-folding chairs with a non-removable canopy. In turn, for frequent trips, it is better to choose chairs that can be folded (foldable moon-type solutions).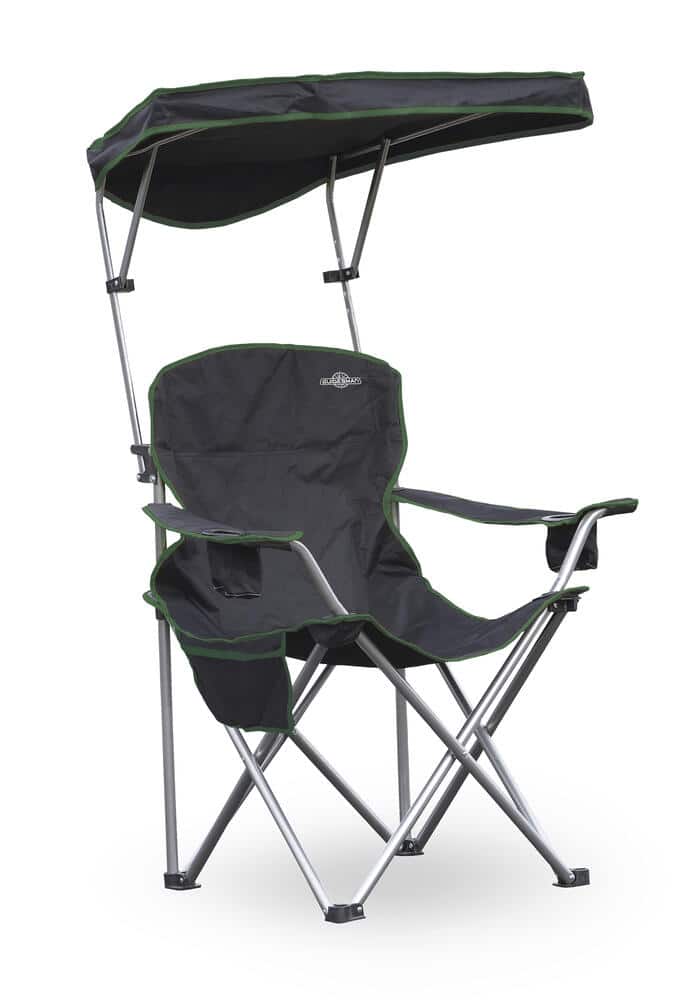 It is also good if they are equipped with a removable canopy. This accessory can be attached or detached at any time, which will make the use of the chair as comfortable as possible. The canopy is usually made of a fabric similar to that of which the chair seat is sewn. This allows the unity of style to be maintained.
What is the best moon chair with a canopy?
The answer to this question is purely individual. The main thing is to consider those criteria that are fundamental specifically for you or your family members. Some parameters may seem like advantages to one buyer, while another will regard them as evident disadvantages. Therefore, choose a chair with a canopy based on your personal needs, requirements, and wishes. In search of a reliable manufacturer, you should familiarize yourself with customer reviews on the network or consult with friends or acquaintances competent in this matter. Option assuming the ability to attach and detach the canopy when needed is the most convenient and practical. Ideally, this accessory should be removable.
Moon chair with canopy and footrest
What other comfortable accessories can complement a modern outdoor moon chair? In addition to a canopy that perfectly protects from the annoying rays of the sun and drizzling rain, manufacturers of such furniture can also offer you a footrest or ottoman. Some foldable chairs are initially added with such a comfy stand. Other armchairs can be sold without such a footrest, so you can always buy this accessory and give yourself a luxurious outdoor recreation.

Likewise, the vast majority of moon chairs are sold without canopies. But if needed, you may purchase these items additionally. They are usually equipped with universal fittings and can fit almost any chair. The main thing is to select suitable matching colors and materials of a similar type.

Canopy and footrest are two options significantly increasing the furniture's comfort level. Once you have allowed yourself to relax in such a foldable moon chair, you will no longer agree for less. Canopy provides reliable protection against UV radiation and gives pleasure to the shade even in the summer heat. The footrest allows you to rest your legs, eliminates swelling, relieves pain and unpleasant muscle tension.
Moon chair with canopy for beach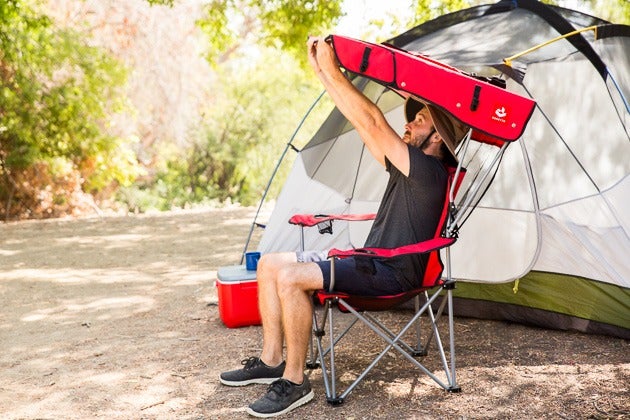 Moon chair with canopy may become a perfect gift for those who adore beach rest. This option will be most beneficial for the elderly who like to spend time on the river bank or seaside. Agree, it is difficult for the elderly to rest on a rug or bedspread put on the floor, no matter how soft it is. A stylish moon chair with comfortable armrests, a headrest, and a canopy that creates a pleasant shade over your head is the best solution for relaxing on the beach. This solution is no less convenient for those who do not like to sunbathe but prefer to read books or enjoy refreshing drinks sitting in a cozy armchair. Moon chair with a canopy made of thick fabric will become your favorite beach or camping furniture. When folded, it takes up a minimum of space in the car's trunk. So, any of your vacations will now be held together with such a comfortable chair!
thepapasan.com is a participant in the Amazon Services LLC Associates Program, an affiliate advertising program designed to provide a means for sites to earn fees by advertising and linking to Amazon.com.